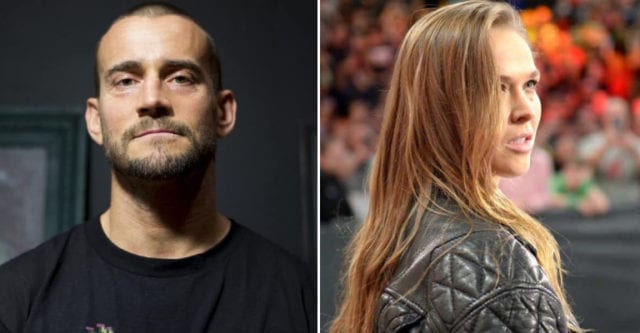 CM Punk is currently gearing up to participate in the second professional mixed martial arts (MMA) fight of his career. This weekend (Sat. June 9, 2018) Punk will take on fellow 0-1 record-holder Mike Jackson on the main card of the UFC 225 pay-per-view (PPV).
Prior to jumping into the MMA world, Punk was a mega-star in the world of professional wrestling. The former WWE Champion walked away from it all in January of 2014 citing several issues with the company. Just a few months later he signed a multi-fight deal with the UFC and began training at the Roufussport camp.
On the contrary, former UFC women's bantamweight champion Ronda Rousey signed a full-time WWE deal earlier this year and made her official in-ring debut this past April in New Orleans as a part of WrestleMania 34.
Punk, who recently speaking at a media scrum to promote UFC 225, revealed that he actually gave some advice to The Rowdy One before her professional wrestling debut (quotes via MMA Fighting):
"The only thing I told her was to just have fun," said Punk. "I don't know what it's like back there in this current environment. I know she'd probably get treated differently, just as I know I probably get treated differently here. The only thing I ever told her is, 'I know you've got a lot of people telling you, do this, don't do this' — whatever you do, when you go out there for WrestleMania, make sure you have fun. Period."
Punk admitted that he didn't watch Rousey's WrestleMania match, as she teamed up with Kurt Angle to defeat the team of Triple H and Stephanie McMahon, aside from catching a few clips here and there. The former WWE Champion's passion for the business has seemingly died and it simply doesn't catch his interest anymore:
"No, I did not," CM Punk said. "I saw a couple of clips here and there. And still, when I say it's hard for me to watch wrestling, it's not like an anxiety thing, it's not like an, 'ugh, I can't do it.' I literally, I can't get through eight seconds without being like, 'OK, umm, can I change the channel? I'm bored, I gotta watch something else.'

"It's like going to a baseball game at [New York Mets stadium] CitiField. I like Wrigley Field, it's old school. Going to a baseball game at CitiField, it's like a guy gets ball four and they blow off fireworks and there's LED screens on everything. Wrestling now is completely like that. There's LED screens everywhere and there's flashing lights and I feel like I'm gonna have a seizure."