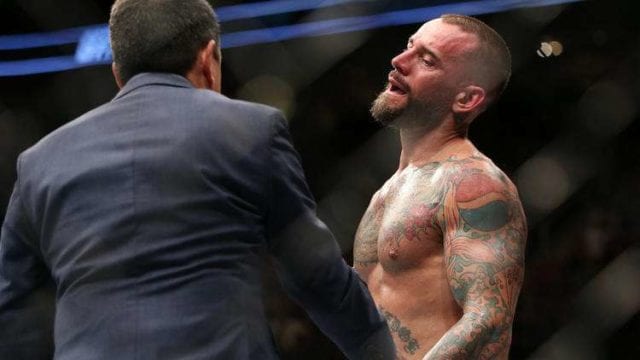 CM Punk still has his head up high even though his pro-MMA career didn't go accordingly and that has yet to stop him from competing.
He lost in his MMA debut against Mickey Gall at UFC 203 in September of 2016 by first round submission. Despite not having a ton of experience, White gave the former WWE champion another shot at fighting inside of the Octagon.
As seen in the opening bout of the main card for the UFC 225 pay-per-view event at the United Center in Chicago, Illinois, fellow welterweight Mike Jackson was able to beat Punk, real name Phil Brooks, by unanimous decision.
Now after two straight losses, Punk is not likely to fight again under the UFC banner. In a recent interview with 411 Mania, Punk talked about his future in the sport.
"From January until my fight, I was inundated with offers to do all kinds of other stuff," Punk revealed. "But focus had to be on the fight and the camp and all that stuff. So, what I'm doing now since my fight is I'm finishing all these other projects that I've been doing. Today's my first day off from a four-week movie shoot," he continued. "It's week three, and this is like the first day that I'm off. Prior to that, I was up in Toronto working on a Soska Sisters remake of the legendary Cronenberg film, Rabid. It's a film I'm working on now. They're kind of futzing with the title, but I think they've settled on 'Girl on the Third Floor.' And there's a whole bunch of other stuff in the queue I'm kinda just working on and working my way through."

"As soon as I wrap here, I'll be right back in the gym," Punk said. "I think the main difference about how life used to be and how I am now is instead of worrying about what's next while the current project is going on, I'm more in the moment," he said. "I'm enjoying what I'm doing. I think that's why I love MMA training so much just because you're there, and you're not worried about what's behind. I'm worried about what's in front of me right now."

"I don't know, I'm focused on this movie right now," he said. "You'll have to ask me when we wrap, which is in a couple weeks."
It's safe to say that there's a good chance that Bellator MMA or even PFL would be willing to give him a contract to fight.
If you enjoyed this story, please share it on social media!