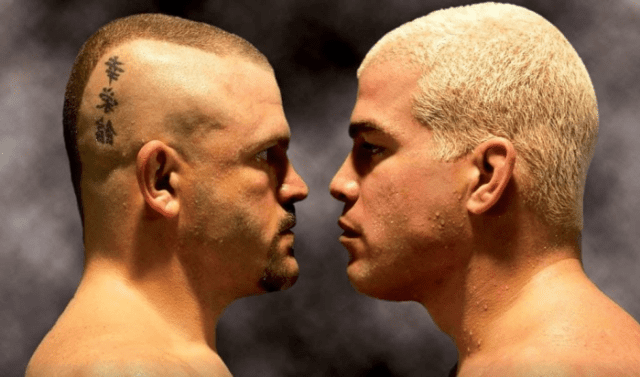 Chuck Liddell and Tito Ortiz have finally agreed to make a third fight happen.
After months of both fighters talking about this fight and taking shots at each other, the terms of a contract for a third fight has been agreed upon.
This fight won't be promoted by the UFC or Bellator MMA but rather under the banner of Oscar De La Hoya's Golden Boy Promotions. Over the past months, both Ortiz and Liddell have already gone on record by stating that they would be coming out of retirement to fight once again.
On Monday, Brett Okamoto of ESPN confirmed Golden Boy that has signed promotional agreements with Liddell and Ortiz. As of this writing, there is no date or location for this fight but an announcement with the official details should be coming soon.
What we do know is that this fight will air on pay-per-view and mark Golden Boy's first MMA event.
"I'm proud to announce we've signed a deal for the fight between Chuck Liddell and Tito Ortiz," said De La Hoya, in a statement to ESPN. "This will be huge for sports fans around the world. Ortiz and Liddell are two of the most recognized fighters in MMA history. They are legends in the sport.

"Everyone remembers their rivalry helped put the sport on the map, and we're excited to host the next and final chapter of this historic rivalry."
Liddell and Ortiz have fought twice throughout their legendary careers, with "The Iceman" knocking out Ortiz at UFC 47 in 2004 and UFC 66 in 2006.
Since that second fight, however, Liddell has lost five of his six bouts with four of those losses coming via stoppage. He then retired in 2010 and hasn't competed in nearly eight years.
Ortiz, meanwhile, last competed at Bellator 170 in January 2017, scoring a first-round submission victory over Chael Sonnen. Prior to that, he had won two of his three previous fights.
"It feels great to sign a deal, to be honest with you, it's as exciting as I knew it would be," Liddell told ESPN. "Golden Boy offers something different. We're partners in this. And I never get sick of punching Tito."