Chris Weidman targets UFC 290 return in July following leg injury: 'I'm pretty much there'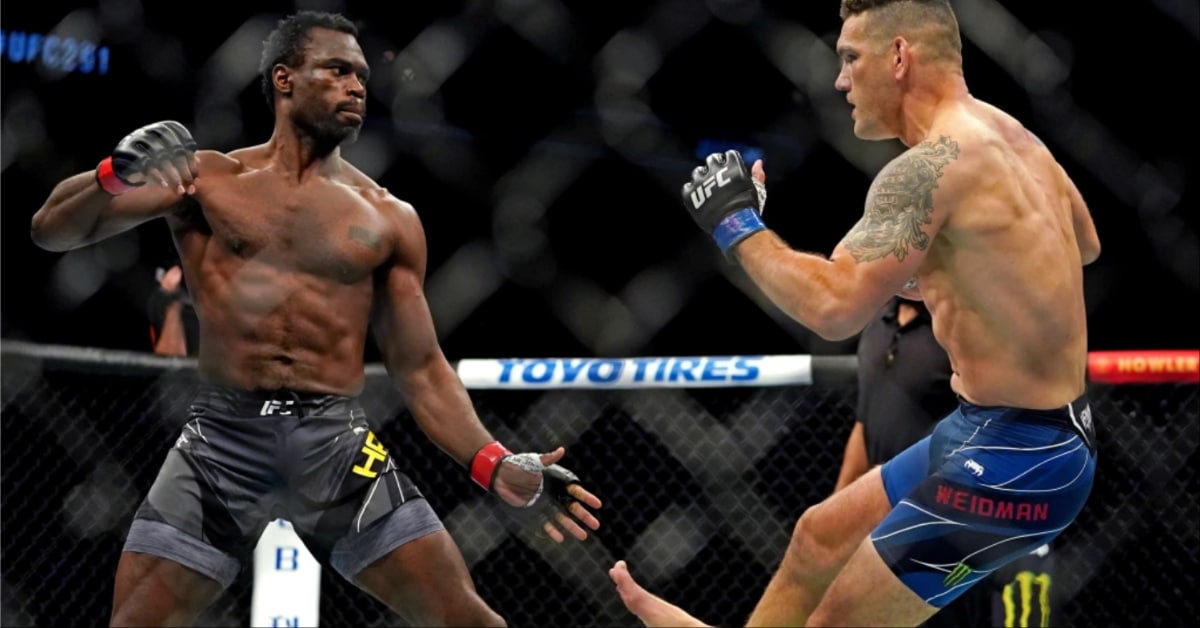 Former UFC middleweight champion Chris Weidman is readying himself for a return to the Octagon after suffering a horrific injury two years ago.
Weidman suffered one of the most grisly injuries in the promotion's history on April 24, 2021. Stepping into the cage for a main card matchup against Uriah Hall at UFC 261, 'All American' delivered a leg kick, the first blow of the bout, and immediately snapped his leg in the process. The injury quickly drew comparisons to a similar injury suffered by Anderson Silva. An injury that ironically came against Chris Weidman.
During his appearance on the latest episode of UFC Unfiltered with Matt Serra and Jim Norton, Chris Weidman detailed his road to recovery.
"I got a titanium rod through the middle of my shin bone – right through the whole (bone), from the top of my knee all the way down to the low part of my ankle to the bottom of the tibia," Weidman said. "On paper, I think I'm pretty good. For me to break my bone and then through the rod, I don't think that's going to happen. A compound fracture is not going to be happening. But you know what? My goal is to kick as hard as I possibly can, so maybe it does happen. I just want to defy the odds. Imagine that.
"I'm good. I'm pretty much there. When I'm up on my toes and stuff like that and I start bouncing, I get like a little pain on the shin and stuff. But they're saying that is just based on the quad and the calf needs to get a little bit stronger still. When that happens, I'll be good. I'm just doing physical therapy and still working on that" (h/t MMA Junkie)
Chris Weidman Eyeing Return to the Octagon During International Fight Week
Chris Weidman also revealed that he is eyeing a return to the Octagon later this year, specifically mentioning International Fight Week which will play host to UFC 290 this July.
"I think in the summer – sometime in the summer," Weidman said. "I was saying June, but I'm thinking maybe International Fight Week. Sometime around that time period, I'll be good to go (at) 185. I got down to 210 for this grappling event and my weight's not flying back up again, so I'll be good. I'll be good to make 185 now."
Reliving the horrific moment, Chris Weidman did his best to detail his mindset after seeing his leg snap and the subsequent pain that he felt once realizing what happened.
"As soon as I broke my leg and I saw it, I go, 'Holy crap!' I saw the bones and everything," Weidman said. "I just remembered Anderson Silva screaming in pain, like someone was murdering him. And I know this is going to suck and here comes – and as soon as I felt the pain kick in I was just begging people 'Please!'
"Now they're moving my leg around. They're trying to hold it into place as they get me on a stretcher and all this crap, and the bones are moving around. And the pain – I can't even explain the pain. The pain was the worst thing I could ever imagine. I kept begging them to give me pain pills: 'Give me something quick. Put me to sleep. Get me on painkillers. Knock me out. I cannot deal with this.' This is not meant for human beings to deal with."