Chris Curtis offers his take on Sean Strickland's stunning UFC 293 victory: 'We all knew he could win'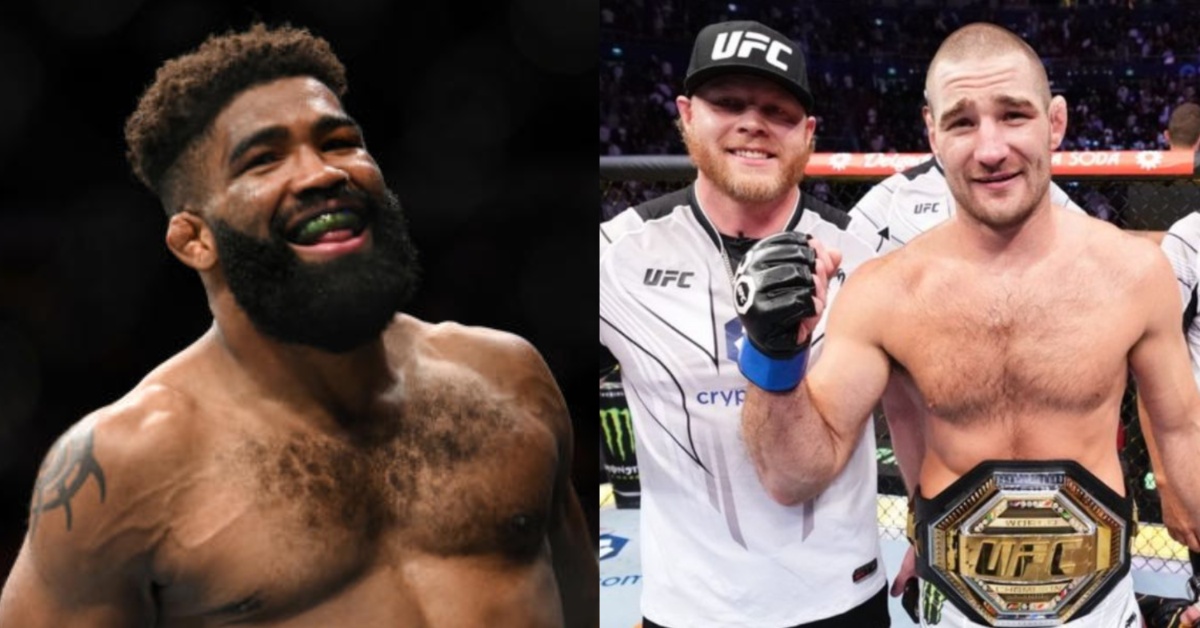 Training together at Xtreme Couture in Las Vegas, Chris Curtis probably knows more about Sean Strickland's style and skill than anyone. Still, that didn't stop 'The Action Man' from being absolutely stunned by his dominant performance against Israel Adesanya at UFC 293.
Strickland delivered perhaps the performance of a lifetime in his first shot at a world title. Stepping in on relatively short notice against the man many consider to be the greatest middleweight of all time, 'Tarzan' dictated everything that happened inside the Octagon for 25 minutes en route to scoring one of the biggest upsets in UFC title fight history.
Following the contest, Adesany's coach at City Kickboxing, Eugene Bareman fielded questions on his behalf and suggested that 'The Last Stylebender' simply had an "off night." However, Sean Strickland's teammate, Chris Curtis, had a much different take while discussing the UFC 293 headliner on The MMA Hour with Ariel Helwani.
"If you watch Sean spar anybody, it goes very similar to that," Curtis said. "I've seen him spar a bunch of people. You can get better fighting against Sean, but every time someone has their first rounds with Sean, it goes exactly this way. Where people are like, 'What the hell is going on?' So everybody's like, 'Izzy looked off.' I've seen this a thousand times. You can get better at fighting him, but when you initially run into him you are just confused.
"Everything he does is, on paper, wrong. It's not the way you're supposed to move. He moves weird, he throws weird, he kung fu blocks, he's really good at shutting down the things you're supposed to be good at. You hear at one point Izzy say, 'I can't find my jab.' It's hard to find your jab against Sean because he creates so much random traffic with his jab or when you start jabbing he's parrying weird, he's kung fu blocking.
"In most combat sports, especially kickboxing and boxing, everything is predicated off of your jab. Everything sets up with your jab, so when he just takes that away from you, no, it's not there, you can't out-jab Sean. He's going to win that battle. He's either going to counter you or just make your jab pointless. Look at Izzy, he's throwing jabs, he's getting his arm blocked up high, a few times he'd throw and Sean just bats his arm up and away. … So all that bullsh*t about Izzy looked different, no, you look confused like I looked confused and everyone else looks confused when they spar Sean because it's like, 'What are you doing?' No, that's bullsh*t, I've seen this happen for seven years and this is what he does" (h/t MMA Fighting).
Perhaps even more shocking is the fact that the UFC never intended to book Sean Strickland to challenge Adesanya for the middleweight title in The Land Down Under. Originally, the plan was to have the division's top-ranked contender, Dricus Du Plessis, step in two months after his stunning second-round knockout against Robert Whittaker at UFC 290. Unfortunately, Du Plessis was unable to commit to an eight-week notice after suffering a toe injury in July.
The promotion seemingly scrambled to find anyone other than Sean Strickland, but in the end, it was Adesanya who took credit for pushing the UFC into booking the fight.
"Sean is probably the toughest human being that I've met when it comes to fighting," Curtis said. "I love fighting, he's probably the only person I genuinely know who enjoys fighting more than I do. I knew he could win this fight, I didn't think he would make it look that easy. I don't think he thought that he would make it look that easy.
"We all knew he could win, we were like, 'Sean's tough as nails, he's patient, he's aggressive, he can do this. He's got to make it an ugly war and get Izzy to fight a dumb fight.' No one ever thought that he would out-kickbox Izzy. I'm watching and I'm like, 'This is not what you trained, oh my God.'"
Chris Curtis Was Expecting Sean Strickland to Try and Wrestle Adesanya at UFC 293
Given his status as a 7-to-1 underdog, many fight fans, and Curtis himself expected Sean Strickland to put his ground game to work considering it has been a bit of an Achille's heel for 'The Last Stylebender' in previous outings. Needless to say, nobody expected 'Tarzan' to beat Adesanya in a kickboxing bout. And certainly not as decisively as he did.
"Honestly, the pressure, yeah, but we really hoped he would wrestle," Curtis said. "Watching Sean spar, he would shoot, but he was still just kickboxing people, fighting like Sean, so you knew that was going to be a part of it but you're hoping that he'd mix in wrestling. Make it hard, drag him down, wear him out.
"Everybody's like, 'Is he going to wrestle?' I was like, 'He's trained to wrestle, but it's Sean, so he's going to get in there and…' I said he's probably going to in there and have a kickboxing match. Lo and behold, he went in there and he freaking won a kickboxing match against Izzy. I don't think anyone saw that coming."
Strickland has never been particularly known for his knockout power. With 20 career fights in the UFC, 'Tarzan' has only secured four finishes by way of knockout. But that didn't stop Strickland from nearly ending things in the first after landing a massive right hand that sent Adesanya crashing to the canvas.
"People don't realize, Sean actually hits hard," Curtis said. "It's not like "he's going to knock you out in one punch" hard, but it's enough thudding to where it stuns you. So when Izzy went down I went, 'OK, he's down, he's landing shots' and part of me was like 'Oh my God if he finishes Izzy in one round, the world's going to implode.'
"You're excited and it's crazy but then you've got to remember the Pereira fight and I'm like, 'Bro, don't take a bad risk here.' You're kind of like, 'Win the fight, win the fight, but please don't screw up here.' And it's crazy because I've never seen someone bat a thousand like that, he just did everything right. I don't think he made a mistake that fight."