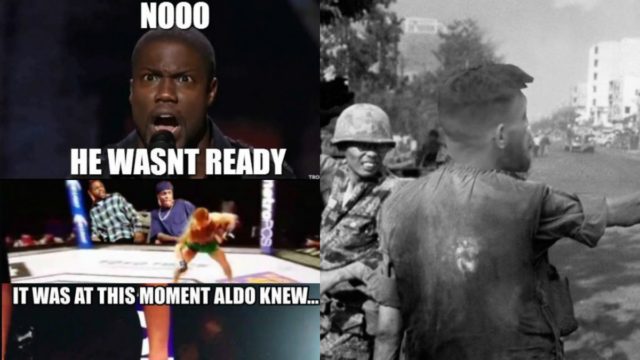 UFC 194 went down tonight, and Conor McGregor's shocking knockout against Jose Aldo has been captured in Meme form. Have they gone too far this time?
Unbeaten in ten years, potentially one of the greatest mixed martial artists ever, and the pound-for-pound king, Jose Aldo took on Conor McGregor at UFC 194 tonight. It was not what many expected to happen, as the first meaningful blow from Conor McGregor destroyed Aldo's chin. Knocked out cold was 'Scarface' and 'The Notorious' finally completed his rise to the top of the 145-pound division.
Aldo was obviously crushed by the loss, and it took him a few moments to even realise what had happened. Similar to the Ronda Rousey fights of old, McGregor's win has swept across the web in a neat and very short video:

Extremely impressive to say the least, but what's apparent is that MMA fans don't need to have a 'cocky' or arrogant fighter to make fun of when they face hard times. Even a quiet and humble fighter like Aldo can be subject to some pretty harsh ridicule.
A flood of hurtful (but also funny) memes have exploded across the MMA forums online, and they need to be seen to be believed. Does he deserve this kind of rough treatment? Probably not, as he's risked his life in the octagon to bring us some classic moments, but Jose Aldo nonetheless has been 'memed.'
Skip to page 2 for the full spread of UFC 194 memes…
If you enjoyed this story, please share it on social media!