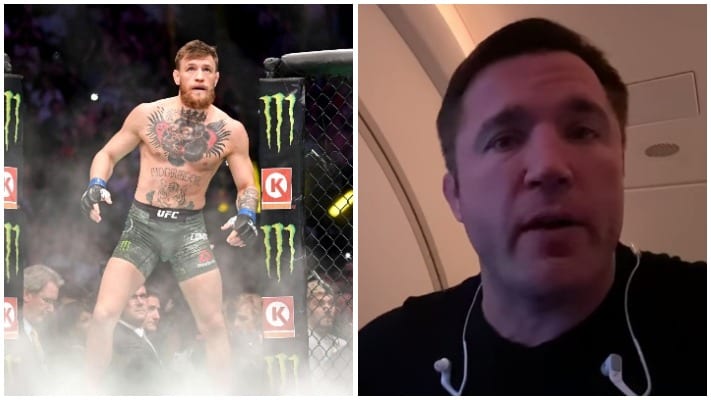 Chael Sonnen seems confident Conor McGregor is returning.
"So I got a little inside scoop and I don't even know if this is that well kept a secret but Conor is coming back. Okay, great. I think we all knew Conor was coming back," Sonnen said in a recent video.
While the likelihood is early 2020, the question then turns to who his opponent would be. For the UFC, a lightweight title rematch with Khabib Nurmagomedov would obviously make sense. However, Tony Ferguson is the deserving contender and seems to be getting the next shot.
Sonnen then speculated that all the talk of a Frankie Edgar fight had died down, making that an unlikely option. Donald Cerrone, meanwhile, is on a two-fight losing streak.
In the end, it all boils down to Justin Gaethje and that's who Sonnen feels should face the Irishman in his return:
"A lot of people want to see Conor and Khabib just because of that feud and to have that going," Sonnen added. "But those same people are going 'look, Conor doesn't deserve a title fight.' I think that's a little bit of a stretch. I think we can all agree that Tony does deserve a title fight but if you took him out of the equation, you still got Conor who has got three world championships.
"But if that's the camp you're in, okay great. We're not talking title fight. We're just talking about a fun fight against a fun fighter in Gaethje who deserves something special to happen."
Sonnen then added that things could change, especially with Al Iaquinta and Dan Hooker competing at UFC 243 where the winner could call out McGregor.
Talk of a McGregor vs. Gaethje fight, however, increased after the latter's win over Cerrone last month. The pair were even slated to fight earlier this year according to McGregor. However, the former champion suffered a hand injury which wrecked those plans.

Regardless, is that the fight you want to see McGregor have next?