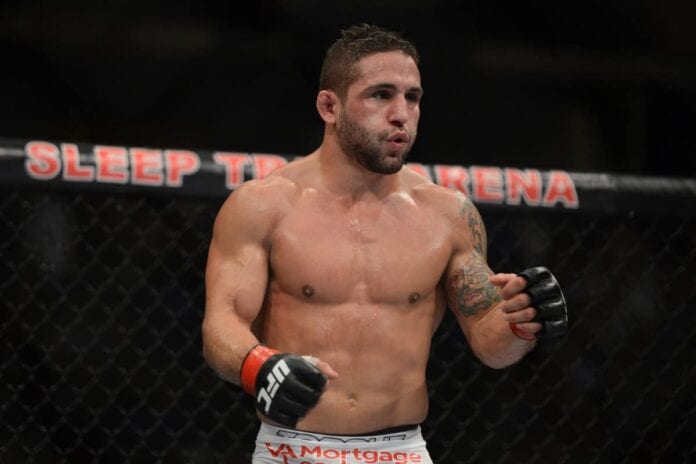 With UFC featherweight champion Jose Aldo suffering a bone bruise to his rib just weeks out from his mega fight with Conor McGregor at UFC 189, the UFC has made former title challenger Chad "Money" Mendes the standby in case Aldo can't compete, although as of now the original fight is a go.
However, it seems as if the situation is a win-win for Mendes. He'll either get a chance to fight for an interim title, or if he doesn't, he'll still get paid anyway according to Yahoo Sports:
"For the record, White said Thursday that Mendes will be paid, regardless of whether he fights. White said the UFC does that frequently, and said it paid Jessica Eye to train and be ready as a backup to fight Ronda Rousey at UFC 184 in February if Cat Zingano wasn't able to make it."
Interestingly, Mendes was unaware if he would be paid or not, but he was all over the opportunity:
"Honestly, I don't know," he said. "I guess we're still talking. I don't really know. But they offered me the chance to be the stand-by fighter for UFC and, paid or not, I was all over it. I was 100 percent going to do it."
Like many fighters in the 145-pound division, "Money" is not a huge fan of McGregor, and the two have exchanged their fair share of trash talk. Apparently that's what it's all about for Mendes, noting that the "Notorious" one has made it personal, and that he would love to punch the Irishmen.
Continuing on, the Team Alpha Male standout claimed that he sees a lot of holes in McGregor's game and behind the talk, he doesn't see the Irish superstar as a champion:
"This guy has talked and talked and talked and for the last year, he's made it personal," Mendes said of McGregor. "I'm going to thoroughly enjoy punching him in the face. Getting in there and getting a belt against a guy like him, who in my opinion has a lot of holes in his game, is something I couldn't pass up. He's good. Don't get me wrong. He's got talent, but when you put aside the mouth and the marketing skills, he's not the kind of guy I see as a champion."
Whether it's at UFC 189 or not, Mendes and McGregor will likely meet sometime in the future. How would "Money" fair against the "Notorious" knockout artist?