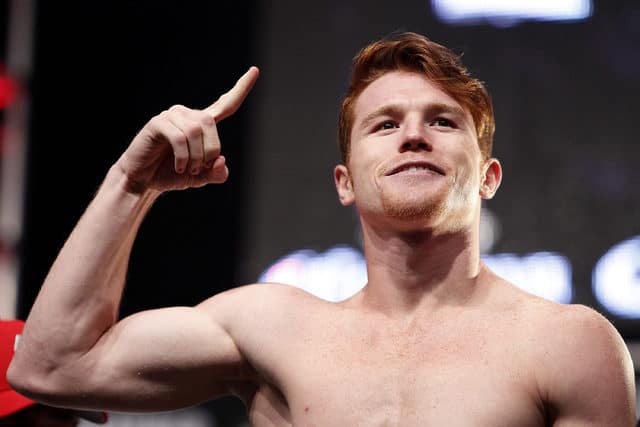 With the so-called "Fight of the Century" going down last weekend as the long-awaited, and highly-anticipated showdown between boxing's top fighters in pound-for-pound king Floyd "Money" Mayweather and Manny "Pac-Man" Pacquiao taking place at the MGM Grand, fans were disappointed when the bout didn't live up to the hype. The millions of fans who bought the pay-per-view (PPV) criticized "Money" for his effective, yet boring style and many were even saying that the glory days of boxing were over and the sport was irrelevant.
Do you think boxing is dead?
Enter Saul "Canelo" Alvarez, the fighting pride of Mexico. You may know "Canelo" most for his battle with Mayweather, in which he obviously lost, back in September 2013. However, at only 24-years-old, and having already competed in 46 professional bouts, Alvarez is being primed as the future of boxing, a man who can keep the historic sport alive, and he proved himself tonight.
40,000 fans came out to Minute Maid Park in Texas tonight (May 9, 2015) to see "Canelo" take on troubled-slugger James Kirkland, a bout that was also broadcasted on HBO. Fans who took the time to tune into this slugfest, which only lasted three rounds, undoubtedly saw more action then they did in the 12 rounds between "Money" and "Pac-Man".
Both men came out firing, with the underdog Kirkland actually seeing some success in the first round. The Texas-native landed a few solid shots on the Mexican, even putting Alvarez into the corner and unloading on him. However, "Canelo" stayed strong and battled back, showcasing his power by knocking Kirkland down and almost ending the fight by the end of the round.
The second round was a less active one for Alvarez, with some fans thinking he may have punched himself out. Kirkland looked to have recovered well, but he was not ready for what was in store for him in the third.
The fighting pride of Mexico came out ready to kill in the third frame scoring another knockdown of the Texan. "Canelo" then landed a picture perfect right hand that put Kirkland out cold to score his 32nd knockout victory:

With his Mexican heritage, star power, and willingness to actually fight, "Canelo" has all the makings of a superstar. Do you think Alvarez can bring boxing back to the limelight?