Cult MMA idol Nick Diaz has seen support from many unlikely places in the last six weeks, ever since receiving a five year ban from the Nevada Athletic Commission in mid September. The Stockton slugger had a fan-made White House petition to overturn the decision reach well over the 100K required signatures, and was showed love from many well known faces in the world of sports and pop culture.
Having overcome the first hurdle, one fan sees an opportunity to help Diaz even further, ad has set up a 'Go Fund Me' page to assist banned former Strikeforce welterweight champion in clearing his monetary debt with the commission. Check it out: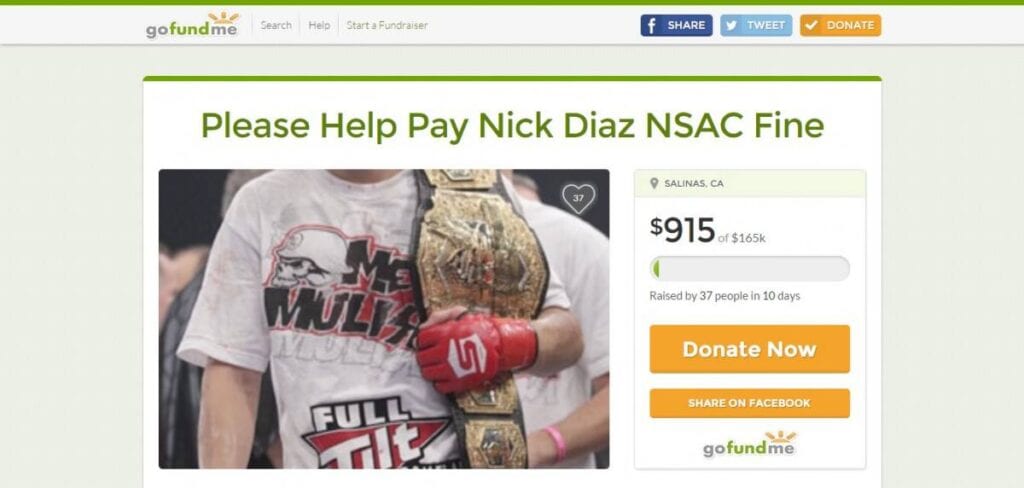 ""To help Nick Diaz Pay the 5,000.00 fine from the Nevada State Athletic Commission. In the event his fine is dropped or reduced the unused funds will be donated to charity. My name is Butch Carroll from Salinas Ca. I am a MMA / UFC fan supporting Nick Diaz. All funds will be used to pay Nick's Fine. A check will be presented to Nick Diaz made out to NSAC. To cover the ridiculous fine imposed on him."
To see the page and donate, click here. It's amazing how fans and sports personalities have rallied to help Diaz in his time of need, and is truly unparalleled in MMA history. The public perception on Marijuana has changed very much in recent times, with many fighters coming out and saying they use Cannabis in one form or another.
We'll keep you updated on the progress of Nick Diaz's go fund me appeal, but if it's anything like the White House petition, it won't be long before Diaz has a $165,000 check waiting for him.
Stay tuned.