Priscila Cachoeira attempted to expose Miranda Maverick's breasts in UFC 291 clash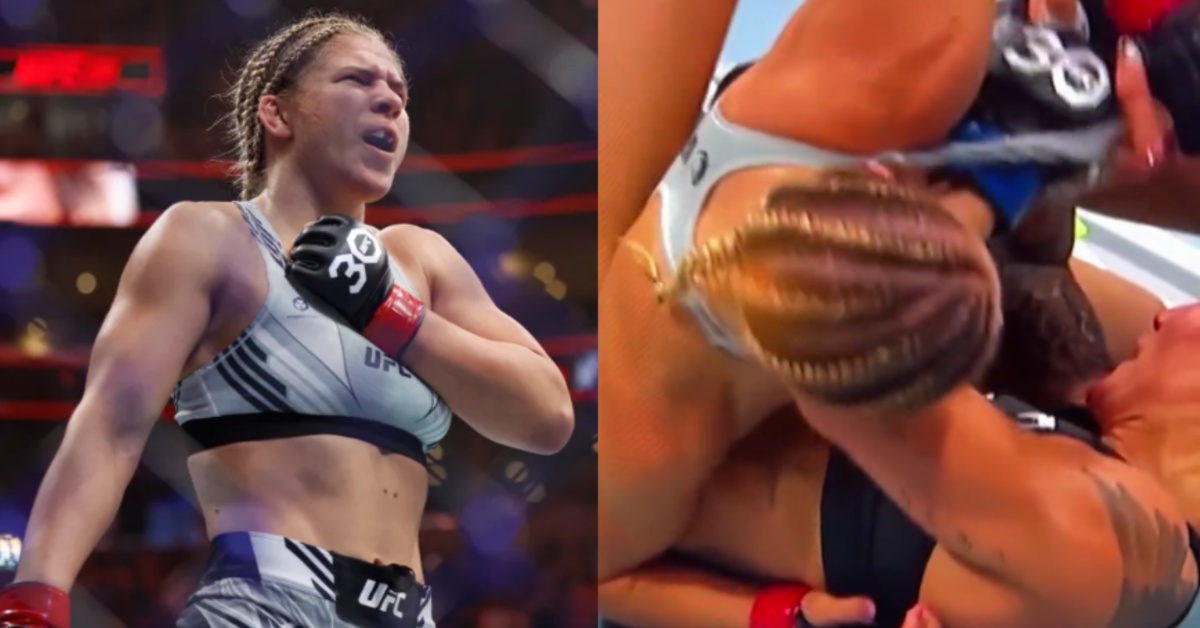 Miranda Maverick walked out of the Delta Center in Salt Lake City with an impressive victory, but it didn't come without a heaping dose of frustration as her opponent, Priscila Cachoeira, seemingly attempted every dirty tactic in the book to avoid taking a loss.
On Saturday night, Miranda Maverick scored a third-round submission by way of armbar against the Brazilian standout, but along the way, Cachoeira was guilty of multiple fouls, including some fairly egregious fence grabs. Unfortunately, that wasn't the worst. In the third round, Maverick dragged Cachoeira to the mat and immediately moved into side control. As she begins to reign down elbows on her opponent, Cachoeira can be seen pulling the top of Maverick in an attempt to expose her breasts and stop the onslaught of strikes.
Following the event, Miranda Maverick suggested that the clearly intentional attempt to manufacture a wardrobe malfunction should have resulted in a point deduction. Maverick also accused Cachoeira of intentionally keeping her fingers straight throughout most of the contest.
"At some point, you gotta say it's a point [deduction]," Maverick said during her appearance at the post-event press conference. "She stuck her fingers up straight the entire fight pretty much and there was no chance she was just trying to push me off. There was no flat hands. I had warned the ref beforehand and to be honest, he did about as good of a job as I've seen any ref do. I said 'Listen, I don't want poked in the eyes in this fight.' That was my main priority and he was like, 'Alright, we'll watch out for it.'
"You know, I hope the whole world didn't see me, but they probably did," Maverick said while gesturing to her chest. "I guess that's part of the risk of fighting, but it's very frustrating and it made me go in there that much angrier every round."
Cachoeira Tries Cheap Tap Out Trick to Get Out of Miranda Maverick's Submission Attempt
Priscila Cachoeira wasn't quite done pulling out tricks from up her sleeve. Just past the two-minute mark of the third round, Miranda Maverick was able to snatch Cachoeira's arm and lock in an armbar. Cachoeira attempted what is commonly referred to as a 'Brazilian tap.' That is where a fighter taps once in the hope that their opponent will loosen the hold. Fortunately, Maverick didn't fall for it and continued to put on the pressure until Cachoeira had no choice, but to legitimately tap out.
Sadly, this is not the first time that Priscila Cachoeira has been observed blatantly attempting to skirt the rules while on the losing side of things. At UFC 269, Cachoeira was forced to tap out to a rear-naked choke during her bout with Gillian Robertson. But before submitting, Cachoeira attempted to jam her thumb into Robertson's eye socket in hopes of breaking the hold.
Whether or not Cachoeira deserves to be dubbed the dirtiest fighter in the game is subjective, but there are an ample amount of examples to at least earn her a nomination. But as former UFC light heavyweight champion Tito Ortiz once said "If you ain't cheatin', you're not trying."
Miranda Maverick moved to 5-3 under the UFC banner on Saturday night, winning three of her last four bouts inside the Octagon. She improved to 12-5 overall in her MMA career.