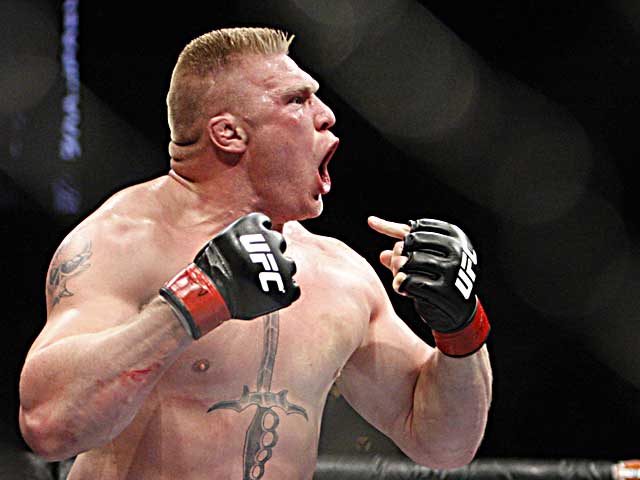 It seems as if the talk of a potential return to fighting for former UFC heavyweight champion Brock Lesnar never seems to go away. The problem has always been that Lesnar is currently under contact with World Wrestling Entertainment (WWE). However, as his WWE contract comes to an end this spring, the talk will likely hit an all-time high.
Obviously, the WWE would like to resign Lesnar and keep him around due to his superstar status, and they are in the process of trying to do just that. However, it has been reported that the former UFC champ's contract discussions with WWE have hit a standstill, which is good news for the UFC and possibly even Bellator.
The former collegiate All-American was supposed to appear on Monday's edition of Raw, but he was nowhere to be found. Reports say that after discussions with WWE CEO Vince McMahon withered, Lensar left the arena. MMAFighting has the full scoop:
"Sources close to the situation have said Lesnar and WWE CEO Vince McMahon reached an impasse regarding terms of a new contract, and neither would budge. The issue was described as resolvable, but not yet resolved. McMahon was attempting to sign Lesnar prior to his deal expiring, where, on the free-agent market, he could play WWE, UFC and Bellator against each other."
"Lesnar has four scheduled appearances left before his contract expires, television appearances on March 9 in Pittsburgh, March 23 in Los Angeles and March 30 in San Jose, as well as headlining WrestleMania, on March 29 at Levi's Stadium in Santa Clara, Calif."
Lesnar's potential comeback to the Octagon, would be huge for the UFC as the former champion is one of the biggest draws in the history of the promotion. It also wouldn't be too hard for Lesnar to find a fight, and he could be in for quite a big one.
After his ultra-impressive first-round knockout of Antonio "Bigfoot" Silva at last weekend's (February 22, 2015) UFC Fight Night 61, Frank Mir noted that he would be interested in a trilogy match with Lesnar. The two have split their first two bouts, and had arguably one of the biggest rivalries the sport has ever seen.
Will Lesnar leave the WWE for one more run at UFC glory in the heavyweight division he once ruled?