Not everybody is a fan of the proposed boxing match between UFC lightweight champion Conor McGregor and Floyd Mayweather Jr. Add Sugar Ray Leonard to that list.
McGregor has taken over the combat sports world with his witty antics, ability to predict the outcomes of his fights, ridiculous knockout power, and overall brash personality. It mimics that of Mayweather, who captivated the world of boxing in a very identical way.
The only difference between McGregor and Mayweather in their respective sports, however, is the fact that nobody ever beat "Money" inside the squared circle. Enter Conor McGregor, a man who has built the bulk of his reputation off of defying the odds.
Only recently have talks of a potential boxing match between McGregor and Mayweather reached a serious level, as UFC President Dana White confirmed that he and McGregor had come to terms on a deal for the bout. Now all that remains is for Mayweather to sign his end of the contract and an official date and venue to be selected. That's easier said than done, however, as Mayweather is known for being difficult when it comes to meetings at the negotiation table.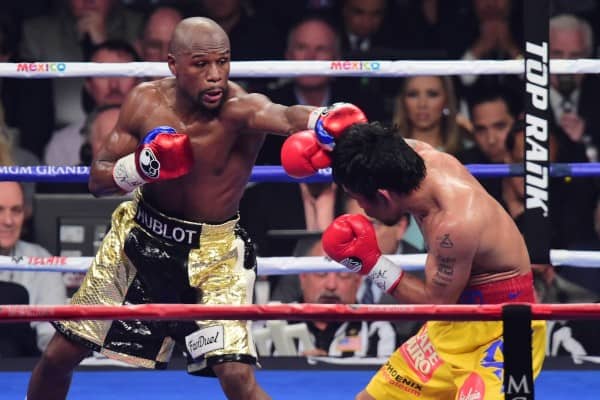 Manny Pacquiao" width="600″ height="400″ />While the combat sports world eagerly awaits official confirmation for what would be the biggest fight of this generation many of boxing's biggest names are speaking out against the fight; such as Oscar De La Hoya, and now, Sugar Ray Leonard.
Leonard recently did an interview with Fight Hub TV to discuss the possible bout, and called the fight flat out 'garbage' (quotes via Bloody Elbow):
"To boxing purists, it's garbage," Leonard said. "To fans in general, it's the fight of a lifetime."
Whether you're for or against the fight happening, it's hard not to agree with one aspect of Leonard's argument – general fans are just interested in the spectacle in the fight happening where boxing purists already know to expect a 12 round snooze fest.
Mayweather hyped a superfight with Manny Pacquiao for years before the pair actually got down inside the ring, and the fight they delivered was way off from people expected. While the aspect of Mayweather potentially suffering his first ever loss inside the ring is always on the line when "Money" shows up to fight, not many can appreciate the legend's ability to evade his opponents as one of the greatest defensive fighters of all time.
For McGregor, who has never been in a professional boxing fight in his career, to take on one of the greatest boxers to have ever laced up a pair of gloves is absolutely mind-boggling to some people – but the potential spectacle of an event that these two mega-stars have the ability to put on is just too hard to pass up.