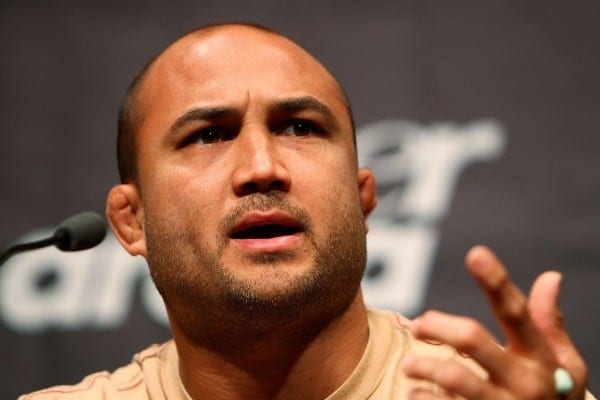 Legendary former UFC lightweight and former UFC welterweight champion BJ "The Prodigy" Penn is set to make his return to action against rising prospect Yair Rodriguez at UFC Fight Night Phoenix on Jan. 15, 2015. Penn hasn't competed since retiring in 2014 and he hasn't won a fight since 2010.
Initially, many had felt as if Penn should've been booked against a fighter in a similar situation him as opposed to a 24-year-old surging contender, but "The Prodigy" doesn't feel as if the bout is 'difficult at all':
"So, what you're saying is when I make this look easy on Jan. 15, I'm the f—— man, is that what you're telling me?" said Penn, on ESPN's 5ive Rounds podcast.

"It's not a difficult [fight] at all. He's a very good guy, but I feel like I'm training with very good guys. I have a good team around me and I don't feel anything is anywhere near out of my league."
Penn will be competing in the 145-pound division upon his return and he said that this decision was made based off of the fact the he has his eyes set on a third world title in a third different weight class:
"There's more opportunity for me to get three UFC belts at 145 than going to 185," Penn said. "I already feel really confident nobody will be able to get the 155- and 170-pound belts. I want to get one more world title. Three titles at three weight classes, and without a doubt 145 is my best option."
In order to accomplish this goal, Penn has relocated from his native Hawaii to New Mexico to train under the tutelage of highly-touted trainer Greg Jackson. Aside from his plan to add another title to his trophy case, Penn said that he's returning simply because he 'missed' fighting:
"I just like fighting again," Penn said. "Standing in front of people, sparring every day, punching people, getting into a fist fight every morning. I missed it. I can't live without it right now. While I can still lift my arms up and do sprints, all these things, this is what I want to do. This is what I love to do. This is the best way I know how to make an honest living."
What are you expecting from "The Prodigy" next month?