BJ Penn (16-14-2 MMA) has sounded off that CTE is real labelling the theory "fake," in a response to a comment he received on his most recent social media post.
Penn hasn't seen the inside of the cage since 2019 after to his unanimous decision loss to Clay Guida (38-23 MMA) at UFC 237.
However, it has been over 12 years since MMA fans last saw 'The Prodigy's' hands raised inside that Octagon.
That win came against the legendary Matt Hughes (45-9 MMA) at UFC 123, as Penn managed knockout Hughs in emphatic fashion in round one.
BJ Penn denies the existence of CTE
The former UFC lightweight champion has claimed on his social media that there is no explanation for the existence of CTE, no more so than coronavirus.
Penn further denied that the likes of Muhammed Ali and Jim Brown ever had the condition despite contrary belief and evidence.
"What is CTE again? Did Ali have that? What about Jim Brown did he have that? CTE is as fake as the coronavirus," BJ Penn stated. 
When asked whether CTE is real or fake on another comment, Penn replied by questioning the validity of covid vaccine and whether that was real or fake.
"Real quick, is the coronavirus vaccine real or fake?"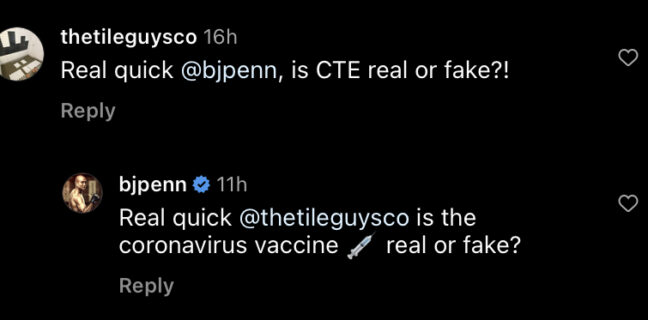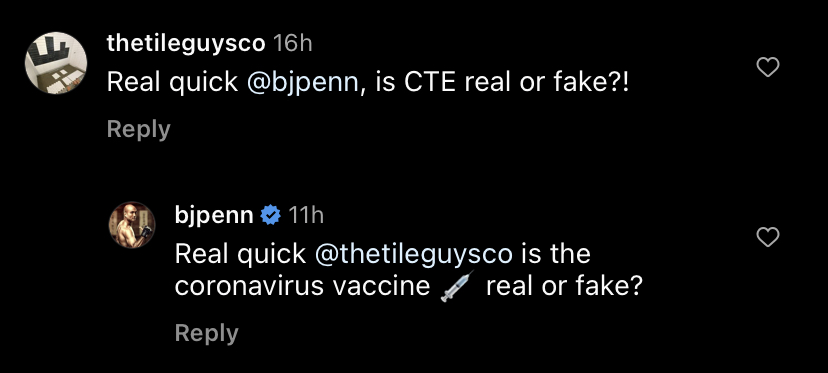 For many MMA fans it will be interesting to learn more about BJ Penn views on CTE and his reasons for not believing in it.
For a fighter who fought for so long and suffered a substantial amount of brain damage, it's confusing to understand why Penn is so against the theory, could this potentially be an effect of CTE?
Do you agree or disagree with BJ Penn's view on CTE?