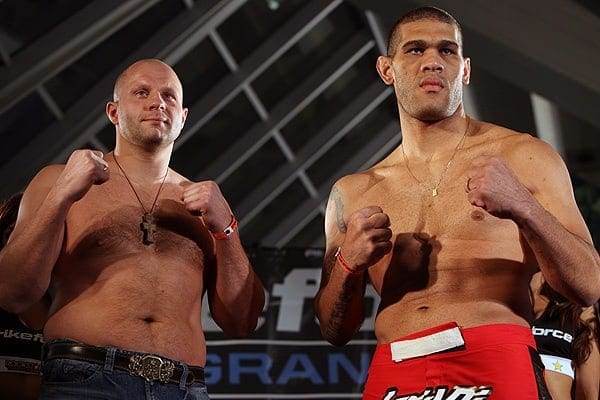 Fedor Emelianenko has rekindled his fighting flame, recently announcing his comeback from a short lived retirement to the world he once dominated, and opening the gates to floods of speculation. The obvious puzzle is where Fedor could fight upon his return, but also there is intrigue as to the opponent the Russian MMA (mixed martial arts) legend will meet. The queue is stacked with calls from well known former opponents Andrei Arlovski and Fabricio Werdum, but that would mean Emelianenko overcoming big hurdles and signing with the UFC, and the negotiations didn't end well last time around.
The best fights are clearly in the UFC, at least from a fan's perspective, but really he could end up anywhere on the globe, especially if Vadim and co. over at M-1 Global have any sway in the decision. One former opponent who has kept quiet until now is Antonio Silva, who beat Emelianenko with a ugly TKO back in the Strikeforce days. Check out what 'Bigfoot' told Sportbox via Bloody Elbow about the return of 'The Last Emperor':
"This is great news," Silva told Sportbox.ru. "I never hid the fact that I am a big fan of your legendary fighter. Fedor is certainly a great athlete and a person worthy of respect. His return is a great moment, as he is a real legend."
"If Fedor would sign a contract with the UFC, I do not see any problems [with a rematch]."
Silva's recent 1-3-1 NC run is less than stellar to say the least, but maybe a rematch between the two would make sense. Emelianenko left the sport facing less than elite competition, and a fight with ex-opponent 'Bigfoot' could be a good tester as to where Fedor's skills are after such a lay off. Indeed, if he can't get past the skidding Brazilian giant, he might want to consider going to Japan for some more 'fun' fights.
Silva's win over Fedor in 2011 came as the ex-Pride FC champion's second in a row, as he was submitted in one of the biggest upsets ever against current UFC heavyweight kingpin Fabricio Werdum. Just talking about these final days of Emelianenko's first fighting stint reminds us fans of how much can change in just a few years, and the volume of talent that Scott Coker's Strikeforce had in their prime days.
Would you be interested in winding back the clocks four years and watching Fedor take on Silva again, or should the Russian sambo master seek a home with WSOF, Bellator or somewhere more Eastern?