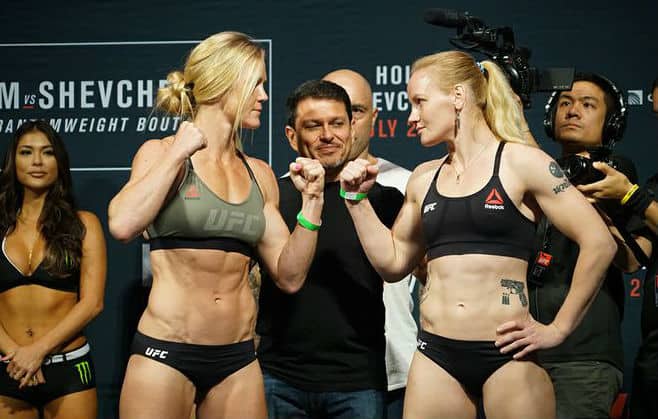 UFC on FOX 20 is here, and it goes down today from the United Center in Chicago, Illinois. The prelims will air on UFC Fight Pass at 4PM/3PM ETPT and FOX Sports 1 at 6PM/3PM ETPT while the main card will air on FOX at 8PM/5PM ETPT.
The main event will be a women's bantamweight bout between Holly Holm and Valentina Shevchenko while the co-main event will be a lightweight bout between Edson Barboza and Gilbert Melendez. Bojan Mihajlovic vs. Francis Ngannou and Kailin Curran vs. Felice Herrig round out the main card.
According to oddsmakers, Shevchenko is a -165 favorite over Holm, who is a +145 underdog. Other odds for the main card include Barboza being a +165 underdog against Melendez, who is a -190 favorite.
Dmitry Smolyakov -155 Over 1½ +115
Luis Henrique +135 Under 1½ -135
Jason Knight +165 Over 2½ -225
Jim Alers -190 Under 2½ +185
James Moontasri +185 Over 1½ -170
Alex Oliveira -225 Under 1½ +150
J.C. Cottrell +195 Over 2½ -235
Michel Prazeres -235 Under 2½ +195
Alexander Yakovlev +200 Over 2½ -225
Kamaru Usman -240 Under 2½ +185
Godofredo Pepey +160 Over 2½ -155
Darren Elkins -185 Under 2½ +135
Eddie Wineland +140 Over 2½ -220
Frankie Saenz -160 Under 2½ +180
Kailin Curran -110 Over 2½ -190
Felice Herrig -110 Under 2½ +165
Bojan Mihajlovic +500 Over 1½ +155
Francis Ngannou -700 Under 1½ -175
Gilbert Melendez +185 Over 2½ -190
Edson Barboza -225 Under 2½ +165
Valentina Shevchenko +180 Over 4½ -165
Holly Holm -220 Under 4½ +145