Bethe Correia Seriously Angers Ronda Rousey With Suicide Comment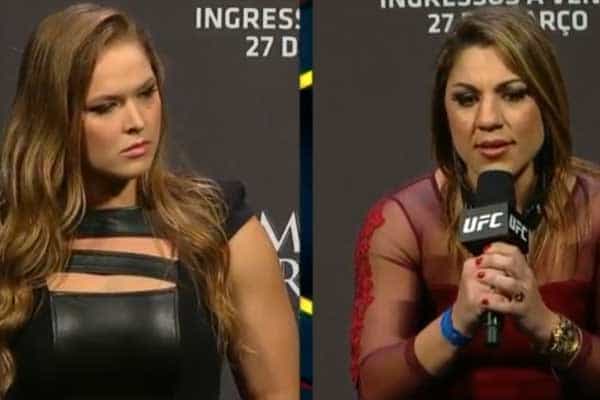 Feisty UFC women's bantamweight Bethe Correia first burst on to the MMA main stage back in 2012, and just three years later she is booked in to face the greatest female fighter ever; Ronda Rousey at UFC 190. Not only has 'Pitbull' defeated Rousey's stable mates Jessyman Duke and Shayna Baszler during her 9-0 run, she has been calling out 'Rowdy' at every opportunity. Rousey was quick to answer the call, but has also been preoccupied with ludicrous statements like these.
The taunting has continued by Correia, and she has certainly stepped it up a notch now and made things very personal. Check out what the Brazilian contender told Combate via MMAMania.com:
"I want to knock her out, show to everyone that she is a lie. She wants to stand up with me, let's see. I want to humiliate her and show the word she has no MMA. She is focused on movies, books. I am much stronger, I come from a developing country, where people are struggling to survive, not to starve. It is very different from her life of reality. Under pressure, she is proving weak. When her mom put pressure on her, she ran away from home. When she lost, it was because of drugs. That's not a superhero."
"She is not mentally healthy, she needs to take care of herself. She is winning, so everybody is around her cheering her up, but when she realizes she is not everything that she believes she is, I don't know what might happen. I hope she does not kill herself later on (laughs)."
Things are made even worse when you discover that Rousey's father actually committed suicide when she was a child, and the women's bantaweight champ seems really pissed off judging by her most recent Tweet:
@bethecorreia suicide is no joke or selling point. My father will be with me the day I hand you the comeuppance you deserve.

— Ronda Rousey (@RondaRousey) May 28, 2015
So things certainly just got a got hotter in the Rousey vs Correia rivalry. The undisputed champion has made mincemeat of much nicer and more polite opponents in all of her recent showings, perhaps Correia should have though about what she said here. Then again there is always the chance this is a well-plotted play by the promotion, although it's highly doubtful considering the extremely sensitive subject matter.
All that aside, someone is going down at UFC 190, and I don't think it'll be the champ, how about you?