Bethe Correia: I Only Need Two Punches To Knock Out Ronda Rousey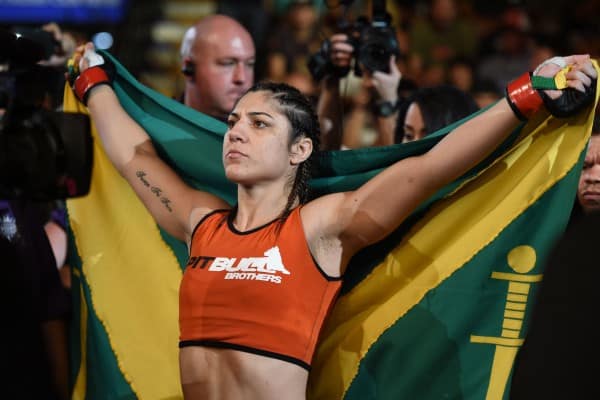 UFC women's bantamweight title contender Bethe Correia may have made some negative headlines with her recent insensitive comments directed at champion Ronda Rousey, whose father committed suicide, but that doesn't mean she's going to take any time off from hyping her upcoming grudge match with 'Rowdy' at August 1's UFC 190 from Rio de Janeiro, Brazil.
Correia supposedly didn't know that to be the case and promptly issued an apology to Rousey, yet she was back at the trash talk during a fan Q&A session (via MMA Fighting) before today's (May 29, 2015) UFC Fight Night 67 weigh-ins from Goiania, Brazil.
Not surprisingly, the topic of Correia being compared to recent Brazilian title challenger Vitor Belfort, who dropped a title bid against dominant champion Chris Weidman at last Saturday's (May 23, 2015) UFC 187, came up.
Both Belfort and Correia's situations paralleled in the fact that they were both facing undefeated American champions with a penchant for the ground game, but Correia noted that she's not going to end up letting the fear and pressure get to her like Belfort:
"I don't fear anything. Fear comes, and I reject it. Vitor has a lot of qualities, but I'm different than him. He has the conditioning and psychology of a great fighter, but he's not like me. I'm a fighter that grows under pressure. I don't put my head down under pressure. I don't get desperate and give up.
"What happened with Vitor is that he lost himself with the pressure. It was an important title for him. He's a great athlete, but the pressure of the title was a big weight for him. But I believe a lot in myself, in my striking. I will win."
Undefeated at 9-0, Correia believes that she not only has more heart than Belfort, but also is not afraid to go to the ground with a world-class mat practitioner like Rousey:
"I don't have any problems with going to the ground with her. People think you will be submitted if you go to the ground with her. If I go down, I come back stronger. I walk straight forward and get better. I grow in situations like that. Pressure makes me wake up.
"I believe I can beat Ronda. I have a good team around me, good jiu-jitsu and judo trainers, a good team working on my striking, and I will be able to defend her armbars. I won't fall into her game and make the same mistakes the other fighters who fought her before did. I will make her fight my fight."
Her fight would obviously be to keep the contest standing, where she's dismantled Rousey's good friends Shayna Baszler and Jessamyn Duke. Lately, 'Rowdy' has looked lethal standing up as well, but Correia stated she'll only need two punches to hand Rousey her first-ever loss:
"I will only need two punches to beat her. The first punch will be to knock that mole off her face. I want to take that mole out of there. And the second punch will be to knock her out. I need two punches."
Photo Credit: Kyle Terada-USA TODAY Sports