Ever since the day that he shockingly vacated his long-held UFC welterweight title and announced an indefinite leave of absence from the sport that he had ruled for so long, the questions have surfaced regarding if and when Georges "Rush" St-Pierre would return to competitive mixed martial arts (MMA).
For the longest time, however, it seemed to be just that: questions and hopes. Now it seems as if it may be something more.
St-Pierre stirred the pot when he recently said that he was getting that "itch" back, but in today's crazy fight world, one must take everything with a grain of salt.
It seems to be more than just an "itch", however, as "Rush's" boxing coach, Freddie Roach recently announced that the former champion would be a doing a six week mini-camp to see if he still has the urge and hunger to compete.
If all goes well, we could very well see the greatest welterweight of all-time back in the cage in 2016.
That being said, let's take a look at the best opponents for St-Pierre if he chooses to return: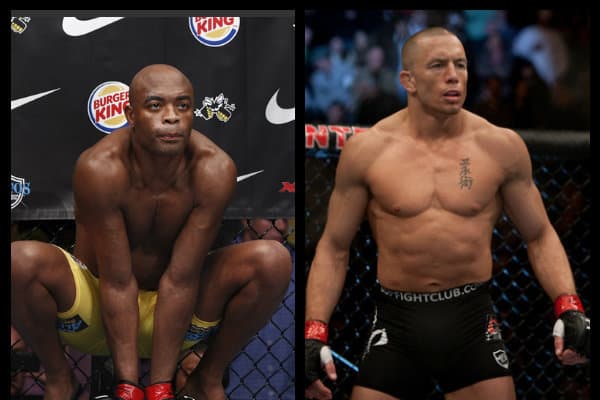 Anderson Silva
For years, when fans tried to figure out just who was the best fighter in the world, a debate between Georges St-Pierre and long-time former middleweight king Anderson Silva would soon follow.
Many felt as if Silva was No. 1 with his record setting 16-straight UFC wins, and 10-straight title defenses, while St-Pierre sat at a close No. 2, owning nine consecutive title defenses.
Just one weight class apart, the idea of a potential super fight between the two was constantly talked about, and dreamed about, and at points it seemed as if it was close to fruition. Ultimately, the fight was never made.
Now, both men are no longer title holders. While St-Pierre obviously vacated his belt, "The Spider" seemed to have experience a downward spiral of sorts.
He was shockingly knocked out by current champion Chris Weidman at UFC 162, then snapped his leg in the rematch at UFC 168, losing two-straight bouts that left his future unclear. After a miraculous recovery, Silva returned last January to score a victory over Nick Diaz, but it would soon be made clear that he had tested positive for anabolic steroids, putting a beating on his reputation.
Silva was given a one year suspension, and will be eligible to fight next January. At age 40, the Brazilian has shown no indication of retirement, and he will be returning right around the time that GSP could be making his possible return.
Why not make the super fight that never was?
Although both men aren't the same as they were years ago, it'd be hard to believe that fans wouldn't tune in to see two of the best of this generation finally square off.
The bout would also make sense for the Canadian as it would give him a tune up against a fellow ageing veteran rather than being thrown to the sharks of the welterweight division.
Could you imagine UFC 200 next July: Silva vs. St-Pierre?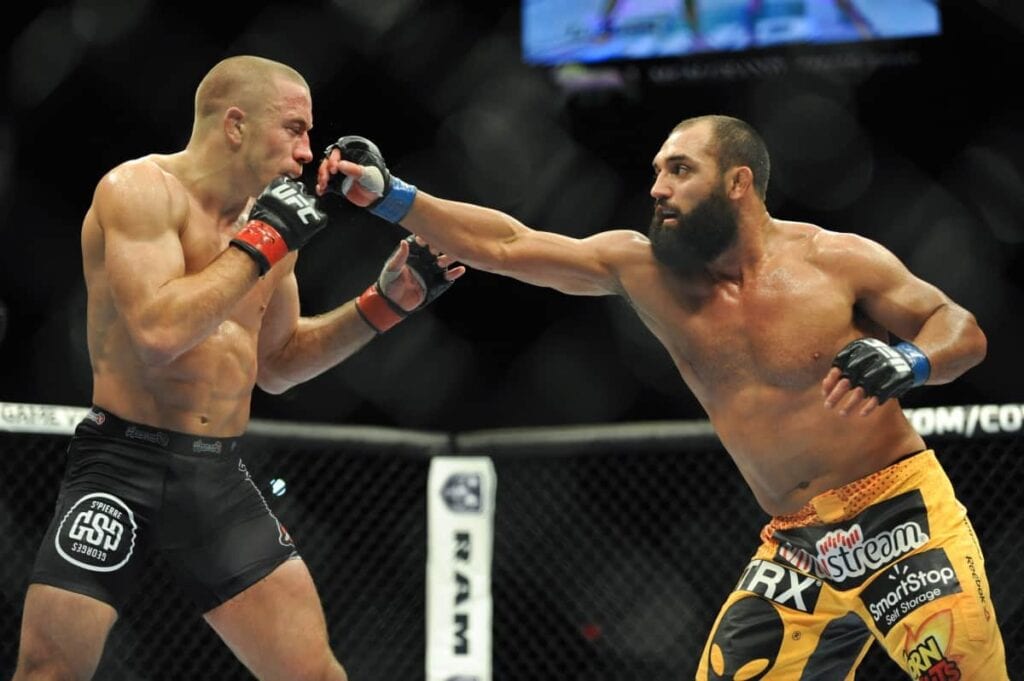 Johny Hendricks
This would be a no brainer. Johny Hendricks is the last man that St-Pierre stepped into the Octagon with back in November 2013.
"Rush" would ultimately be battered and bruised throughout the fight, but ended up walking away with a highly-controversial split-decision victory which many felt should have been awarded to Hendricks.
"Bigg Rigg" is now a former champion, but remains near the top of the 170-pound division. Hendricks has always expressed interest in a rematch with St-Pierre, and I'm sure GSP wouldn't mind attempting to erase the memory of the last fight.
A bout with Hendricks would also give us an idea of where "Rush" stands at this stage of his career.
The Winner of Robbie Lawler vs. Carlos Condit
St-Pierre technically never lost his title. He wasn't beaten to lose it, he vacated it. For all we know, he could still very well be the champion if he had stuck around.
Since his departure, the division has changed quite a bit. "Ruthless" Robbie Lawler has assumed the role of champion, and has looked like an animal in the process. He will put his belt on the line for the second time at January 2's UFC 195 against a former foe of St-Pierre's in Carlos Condit.
Despite a two-year layoff, I wouldn't be surprised if "Rush" was given an immediate title shot upon his return, and he undoubtedly deserves one, although a tune up fight may be smarter.
If Condit were to upset Lawler, a rematch between he and St-Pierre would definitely be an exciting bout, as the first one was.
And if Lawler retains his title, the stars could align for an absolutely massive 170-pound showdown. Lawler has looked rejuvenated and has proved himself to be elite fighter over the last few years. Matching him up with a motivated, and hungry St-Pierre could be the key to an MMA fan's heart.
In the end, would you like to see GSP return, and if so, who should he meet?