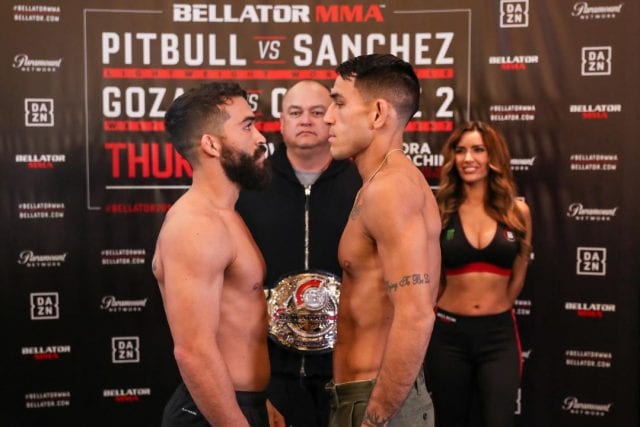 Bellator 209 results are underway as the Viacom promotion holds this latest event on television for fight fans around the world to watch the show. 
It's once again fight day here at LowKickMMA, and the talent on display tonight (Friday, November 16, 2018) will come in the form of Bellator 209. Headlining the card are Patricio "Pitbull" Freire and Emmanuel Sanchez, but there's a whole bunch of great fights also taking place on the rest of the main card. 
Patricio "Pitbull" Freire and Emmanuel Sanchez meet in a featherweight title bout in the main event. In round 1, Freire came right at him and got into this fight but Sanchez accidently landed a nut shot. There was a pause in the action but things got going once again with Sanchez landing some nice leg kicks that landed to the forehead at one point. Sanchez dropped him with a big right hand but Freire got right back to his feet. The champ clinched with him up against the fence briefly. In round 2, they continued to keep the fight on the feet with some nice exchanges in the pocket. Freire does have a slight advantage and even knocked him down in the near end of the round before going for a jumping guillotine choke but Sanchez got out of it. They clinched up against the fence before Freire got a takedown. In round 3, Sanchez was attempting to get his leg kicks going around and even missed an axe kick. Freire started to bust him up with strikes and do some damage with his combos. Freire took him down to end the round where he got full guard.  In round 4, Sanchez took him down with a nice sweep right out of the gate and got guard but the champion scrambled to his feet only to connect with a single leg takedown. Sanchez well-defended the position and got back to his feet. In round 5, Freire scored an early round takedown and got his back where he landed a series of strikes. However, Sanchez was able to get back to his feet but not for long as Freire got the takedown. They would clinch there way up to the feet. Freire got the unanimous decision win to retain his featherweight title.
Haim Gozali and Ryan Couture meet in a welterweight bout in the co-main event. In round 1, they kept the fight standing for the majority of the round until late with Couture clinching up with him and trying to get a takedown. In round 2, everything changed as Couture went back to the basics as he took him down to the ground where he was able to score a takedown and land some ground and pound until Gozali was able to scramble back to his feet in the middle of the round to go back to striking. Couture continued to work for another takedown and used his grappling well. In round 3, Couture scored a takedown right out of the gate and just put him on his back and landed some major strikes. Guzali did do a good job of defending but couldn't get up. Couture got the decision win.
Phil Davis vs. Vadim Nemkov is next in a light heavyweight bout. In round 1, they had some nice striking in the early going with Davis attempting a takedown but was stuffed. They got back to their feet to continue the striking exchange. Davis was struggling with his range and missing a lot of strikes while Nemkov was staying on the outside and using a ton of footwork in order to try to get inside. Nemkov went for a takedown but was stuffed to end the round. In round 2, Nemkov started mixing up things with leg kicks that are starting to add up. Davis was looking to counter strike and was not interested in taking the fight to the ground. This pace didn't drop off but the volume of strikes did. Davis clinched with him late in the round only for Nemkov to take him down but Davis right back up. In round 3, there was much of the same. Davis started to load up on his shots but nothing was finding a home. Nemkov continued to keep range and pick careful shots. Davis got a late round takedown. Nemkov got the split decision win
Opening the main card on the Paramount Network is Adam Keresh vs. Kirill Sidelnikov in a heavyweight bout. In round 1, Sidelnikov punched him with a series of strikes before scoring a takedown where he got side control. Keresh was able to scramble back to his feet where he landed a big head kick then a right hand to drop him for the win.
Bellator 209 Results
Here are the results for this event:
MAIN CARD (Paramount Network/9:00 PM EST)

Bellator Featherweight Championship: Patricio "Pitbull" Freire (c) def. Emmanuel Sanchez by unanimous decision

Welterweight: Ryan Couture def. Haim Gozali by unanimous decision
Light Heavyweight: Vadim Nemkov def. Phil Davis by split decision

Heavyweight: Adam Keresh def. Kirill Sidelnikov by KO (Head Kick) at 1:12 of Round 1.

PRELIMINARY CARD (Bellator.com/7:00 pm EST)
Female Featherweight: Olga Rubin def. Cindy Dandois by unanimous decision
Khonry Gracie def. Ron Becker by unanimous decision
Aviv Gozali def. Anton Lazebnov by submission (armbar) Round 1
Nika Ben Tuashy def. Nisim Rozales by TKO (punches) Round 1, 0:47
Itzik Rubinov def. Ion Pop by unanimous decision
Simon Smotritsky def. Matan Levi by unanimous decision
Christos Nicolaou def. Fadi Haiyadre by TKO (punches) Round 1, 4:48
Andrei Barbarosa def. Honor Kelesh by unanimous decision
Viktoria Makarova def. Yulia Sachkov by TKO (strikes) Round 1
Denis Palancica def. Kirill Medvedovsky by unanimous decision
Sidemar Honorio def. Ejargew Tariku by unanimous decision
Jamil Ibragimov def. Jackie Gosh by TKO Round 1
If you enjoyed this story, please share it on social media!