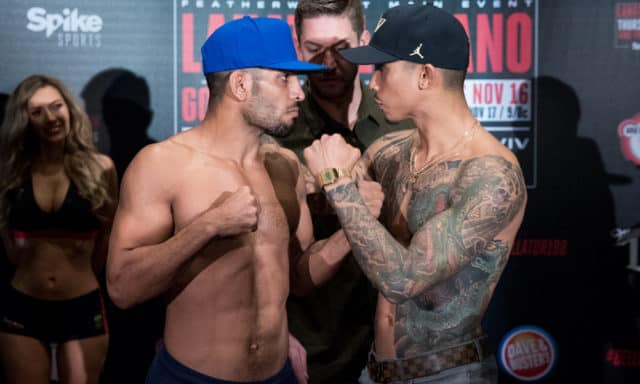 It's once again fight day here at LowKickMMA, and the talent on display tonight (Friday, November 17th, 2017) will come in the form of Bellator 188. Headlining the card are Noad Lahat and Jeremiah Labiano, but there's a whole bunch of great fights also taking place on the rest of the main card.
Noad Lahat and Jeremiah Labiano meet in a featherweight bout in the main event. In round 1, Lahat got poked in the eye early. Lahat pressed forward and landed some leg kicks. Lahat clinched with him up against the fence and landed some knee strikes to the gut. Labiano was able to separate and they went back to striking. Labiano fell down after throwing a head kick that missed and Lahat was able to get on top in guard. Labiano was complaining of an eye poke. Lahat was trying to posture up and did so by slamming. In round 2, Labiano was talking some trash and begged to him to stand with him. Lahat was kicked in the nuts. Labiano clinched with him up against the fence and landed some knee strikes to the gut. Lahat took him down and got full guard on top halfway through the round. Lahat stayed on top for the majority of the round until Lahat landed a strike to the back of Labiano's head. As a result, a point was taken away from Lahat. Labiano took him down but Lahat went for a kimura then a knee bar but couldn't get it. In round 3, Labiano clinched with him right away and pressed him up against the fence. Lahat dragged him down to the ground and got half guard. Lahat was able to land some good punches and elbows while in this position. The judges gave the win to Lahat by decision.
Arsen Faitovich and Haim Gozali meet in a welterweight bout in the co-main event. Faitovich scored an early takedown and got full guard but Gozali locked in a triangle choke for the win.
Jason Radcliffe vs. John Salter is next in a middleweight bout. Salter went for a takedown and got it in the opening minute. He had Radcliffe pinned up against the fence but not a ton of action. Salter got his back and rained down strikes. He was able to lock in a rear-naked choke for the win.
Opening the main card on Spike TV is Denise Kielholtz vs. Jessica Middleton in a flyweight bout. Kielholtz was throwing leather early and trying to get inside. Middleton was throwing leg kicks but caught her. Kielholtz clinched ant judo tossed her to the ground. She locked in the scarf hold submission for the win.
Here are the results of this event:
Noad Lahat def. Jeremiah Labiano by unanimous decision
Haim Gozali def. Arsen Faitovich by submission (triangle choke). Round 1, 0:45
John Salter def. Jason Radcliffe by submission (rear-naked choke). Round 1, 1:55
Denise Kielholtz def. Jessica Middleton by submission (scarfhold armbar). Round 1, 1:16
Related Posts
If you enjoyed this story, please share it on social media!