Bellator 180 Results: Ryan Bader Edges Out Phil Davis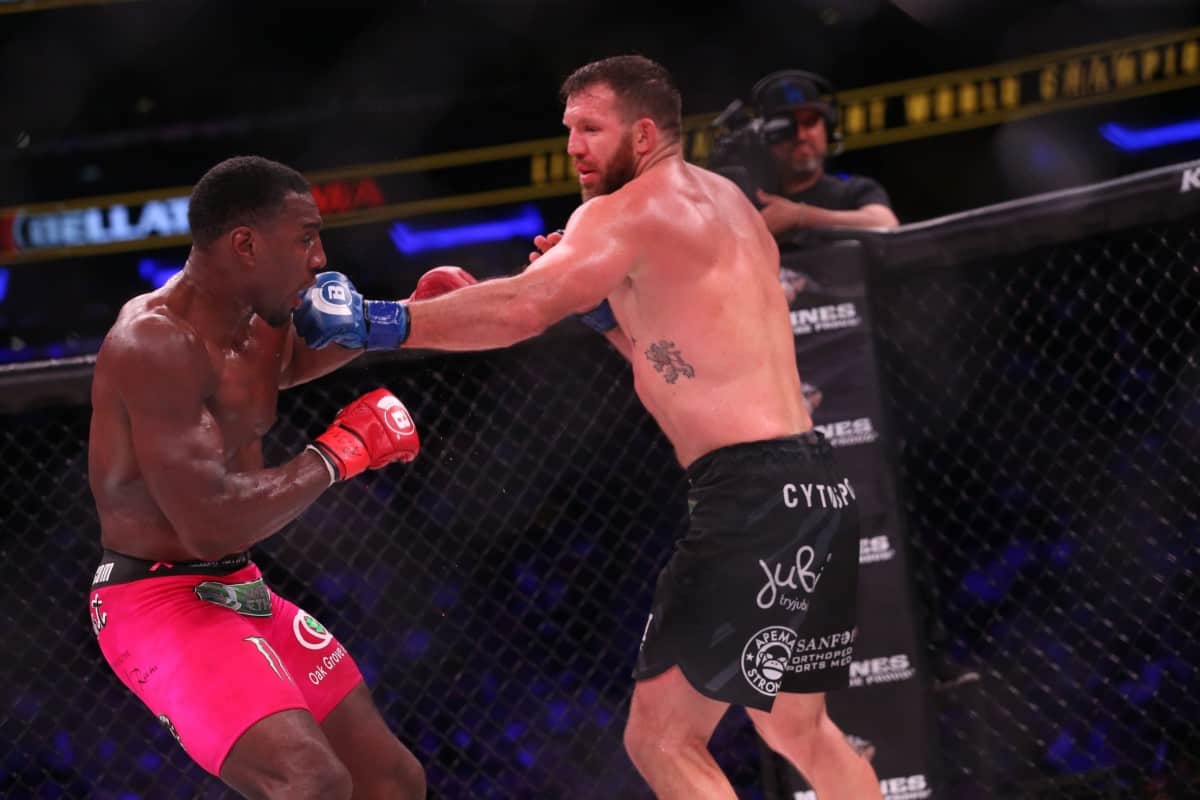 It's once again fight day here at LowKickMMA, and the talent on display tonight (Saturday, June 24th, 2017) will come in the form of Bellator 180. Headlining the card are Phil Davis and Ryan Bader, but there's a whole bunch of great fights also taking place on the rest of the main card.
Phil Davis and Ryan Bader meet in a light heavyweight championship bout in the main event of Bellator 180. In round 1, Davis clinches with him right away. Davis misses a takedown and is forced to separate to the center of the cage. Davis went for another takedown midway through the round, but Bader stuffed it. The two fighters were feeling each other out, and there was not a ton of action. Bader charges in and lands a left, but he's only having success when he runs after Davis. In round 2, Bader was pressing the action and mixing up his strikes as well as kicks quite nicely. Davis misses a wild head kick. Bader still tentative, looking to counter. Still feeling each other out. The fans started booing in the middle part of this round. Davis went for a takedown, but Bader stuffed it. Bader is working his jabs heavily, and that was his offense at this point. Bader fakes a shot and lands a right hand. Most significant punch from either guy thus far. In round 3, a brilliant superman-to-hook combo catches Bader clean to open the round. A few minutes into the third and there still has yet to be any real action. The crowd is started to get restless. They exchange some decent punches late in the round. There is a wild exchange and a scramble right at the end of the round. Davis winds up on top.  In round 4, referee Dan Miragliotta warns both competitors for lack of activity at the beginning of the round. Davis went for a takedown but ended up clinching briefly before separating. Davis with a faked takedown to left hook. In round 5, Davis comes out throwing more. Looked for a takedown and Bader just threw him off. Davis is more aggressive in this round and starting to let his hands go. Bader scored his second takedown of the fight with two minutes to go, but Davis got right back to his feet. They clinched briefly and then separated. They exchanged to the finish. The judges gave the win to Bader by split decision. Bader is the new Bellator light heavyweight champion.
James Gallagher and Chinzo Machida meet in a featherweight bout in the co-main event of Bellator 180. In round 1, Gallagher charged him right out of the gate then took his time. Gallagher got a double leg takedown inside the first minute then transitioned into full mount. Gallagher in back control now, with the body triangle. Machida has a nasty cut from Gallagher's elbows. Gallagher locked in the rear-naked choke for the win.
Opening the Bellator 180 main card on Spike TV is Heather Hardy vs. Alice Yauger in a female flyweight bout. In round 1, Yauger comes out aggressive and clinches with her up against the fence. Hardy separated from her shortly after that. Hardy is showing some fast hands early. Lands a couple winging hooks. Overhand right looks to be the weapon of choice for Hardy. Yauger clinched with her mid-way through the round and landed some knee strikes to the body before separating. Yauger caught a kick but couldn't get the takedown. Hardy is the smoother striker by far, but she's not doing any real damage to Yauger. In round 2, Yauger with some more decent clinch knees, but at range, things are becoming more one-sided. In round 3, Hardy caught Yauger off balance and dropped her briefly. Hardy was trying for a funky takedown in that clinch exchange. A trip off a single leg. It didn't work. Nice leg kick from Yauger, but Hardy mostly marching her down and picking away with combos. Hardy was bleeding badly over her left eye, and the doctors checked on it. The cut was a result of a headbutt. The fight continued. Hardy blasted her and dropped her, but Hardy let her up. Hardy blitzed her in the corner with strikes to win her pro-MMA debut.
Here are the results for this event:
Bellator 180 MAIN CARD (Spike/8 p.m. ET)
Bellator Light Heavyweight Championship: Ryan Bader def. Phil Davis (c) via split decision (49-46, 47-48, 49-46)
Featherweight: James Gallagher def. Chinzo Machida via submission (rear-naked choke) – Round 1, 2:22
Female Flyweight: Heather Hardy def. Alice Yauger via TKO (punches) – Round 3, 4:47
Bellator 180 PRELIMINARY CARD (Bellator.com/6 p.m. ET)
Welterweight: Ryan Couture def. Haim Gozali via unanimous decision (30-26, 30-27, 30-27)
Lightweight: Anthony Giacchina def. Jerome Mickle via submission (rear-naked choke) – Round 3, 3:40
Catchweight: Hugh McKenna def. John Salgado via submission (kimura) (R1, 4:06)
Catchweight: Matt Rizzo def. Sergio da Silva via submission (arm-triangle choke) – Rnd 3, 3:48