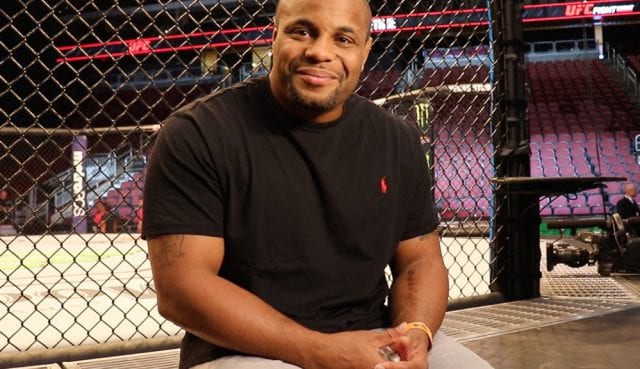 Nice guys don't always finish last. Look at Daniel Cormier.
UFC President Dana White refunded the double champ's front-row tickets to UFC 229 after he helped diffuse the crazy scene.
"DC" jumped into action as all hell broke loose around him and his family as they sat cageside. His teammate Khabib Nurmagomedov had just submitted Conor McGregor in the most watched fight in MMA history.
If only it had ended there. The story is old hat by now. Khabib scaled the cage like a mountain cat and lept at McGregor's coaching staff, namely primary antagonist Dillon Danis. During this week's episode of The MMA Hour, Cormier gave the fans his point of view on the now-infamous night.
Through "DC's" Eyes
"I was trying to go up to talk to him and they kept pushing me," Cormier recalled (transcript via MMA Mania). "But, he kept telling them, 'This is my captain, let him through.' So when I finally got close enough to him I told him, 'Hey, what in the world is going on? What are you doing? You have got to calm down."

"And he said, 'Okay captain, give me my belt.' The dude was worked up. I have honestly never seen him act like that."
Respectable by anyone's standards – Cormier doesn't expect handouts or freebies. The double champ actually paid for his tickets to UFC 229. Cageside seats are not cheap, especially for an event of UFC 229's caliber. However, White did reimburse "DC" for his selfless action in helping calm the melee down.
It Pays To Be Good
"I buy tickets. I buy tickets for my kids to go to the fights. We were given tickets and I buy tickets and then the whole fight happens. Then Dana calls me back and says, 'We are giving you your money back because you helped us calm everybody down. We can't charge you for tickets.'"
You can't argue with that. Sometimes it does pay off to be a nice guy. After all, "DC" has done pretty darn well for himself in winning the heavyweight and light heavyweight championships.
Cormier will face Derrick Lewis in the main event of November 3's UFC 230.