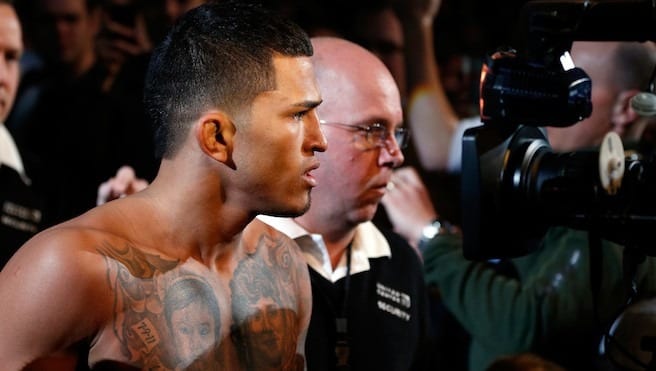 Anthony Pettis says the truth will come out about his 'fatherly figure' Duke Roufus….
This past week in MMA news has been filled with current, future and former UFC stars speaking out about Duke Roufus. The accusations included brutal training methods, physical and mental bullying, and unfair sparring matchmaking. The story came to the surface after the tragic death of Dennis Munson Jr., a student of Duke Roufus and debuting kickboxer.
The renowned trainer and former K-1 super heavyweight has addressed the accusations, and now his student and UFC lightweight champion Anthony Pettis has given a statement to the Milawaukee Journal, as transcribed by MMAFighting.com:
"It's very sad, what happened. We all addressed it when it happened. It happened months ago. I wasn't in town when it happened, I heard about it. Of course, I'm friends with all these guys, I've met all these guys. It's sad. It's a sad thing that happened. We all know when we get in this Octagon or kickboxing ring, anything can happen. It's a rough sport, but no one imagines something like that would happen."
"It just upsets me that people are taking to the blogs and their websites to directly attack the coaching as being the factor in what happened," said Pettis. "There's a lot of things that made that outcome. It wasn't one person's fault. It wasn't his[?] fault, it wasn't the referee's fault. It was a combination of a lot of things that led for this to happen. All we can do is take precautions and be safer next time."
If anyone knows about sparring sessions at Duke Roufus' gym, it's Anthony Pettis, and he seems dead against the accusations being thrown around this past seven days. He continues:
"The thing that gets to me is that they're attacking guys that I look at as fatherly figures. My family, to me. This is a family here. When you attack one of us you attack all of us. I'm not getting too personal with it The truth will come out and then people will see how it is. For every bad story there's 100 people training in the gym that love the culture and love what's going on here."
"The truth will come out," said Pettis. "Everybody knows how Duke is. Duke's not hiding, he's doing interviews. He's talking to the media. The story was one-sided. We didn't address that story at all so it was one side. They can make it look however they want but the saddest thing is Denis dying. That's what it should be about."
The jury remains out on the Roufus allegations, but surely must agree with the sentiments of Anthony Pettis. This was a tragic case of a litany of human errors that caused the death of a young man. Of course the accusations about his trainers cannot be ignored, but hopefully there can be a positive come from this dark story….
Follow @Rorylowkick

Follow @LowKick_MMA

Tweet