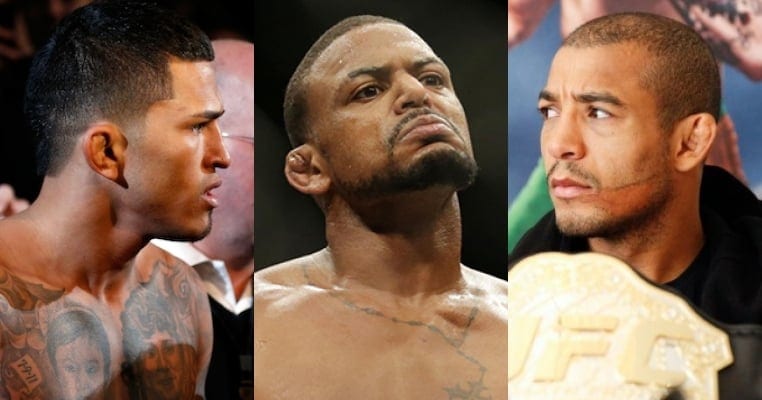 Immediately after Michael Johnson knocked out Dustin Poirier with a devastating two-punch combo in the main event of last night's (Sat., September 17, 2016) UFC Fight Night 94 (highlights here) from Hidalgo, Texas, "The Menace" already has another potential high-profile dance partner lined up.
Following his own impressive win over Charles Oliveira in his featherweight debut at August's UFC on FOX 21, former lightweight champion Anthony Pettis somewhat surprisingly took to Twitter to call out "Menace," who obviously fights at his old home. If he can't get that bout, however, he'll take on interim featherweight champion Jose Aldo:
@ufc I'll take @FollowTheMenace Or @josealdojunior

— Anthony Pettis (@Showtimepettis) September 18, 2016
"The Menace" was quick to answer the callout when asked about it by FOX Sports' UFC's Karyn Bryant:
https://www.youtube.com/watch?v=dsD2lngBN0g
Johnson noted that Pettis just cut down to featherweight after three losses in a row at lightweight, so the callout did confuse him a bit. While he noted he had called out "Showtime" years ago, he was obviously willing to take him on in an effort to sign on for the biggest fight possible:
"If Anthony Pettis fights '55, I'm pretty sure he dropped to '45, didn't he? I'm pretty sure I called him out. Yeah, I called him out a long time ago and he went to '45. But hey, if he wants to fight, Anthony, I'm your man. I'm all for it. He's a great ex-champ and he's a great guy and I would love to fight him."
There's no doubt a bout between knockout strikers like Pettis and Johnson would be a great addition to any event. It may also be the right time for such a fight, as it appears lightweight champ Eddie Alvarez will face featherweight champion Conor McGregor while No. 2 Rafael dos Anjos meets No. 3 Tony Ferguson in the main event of November 5's UFC Fight Night 98 from Mexico City, Mexico. Unless "Menace" faces No. 1 Khabib Nurmagomedov, a fight with "Showtime" is possible.
If that doesn't work out, Aldo has already expressed interest in a fight with Pettis, believing it to be a 'money fight' like Johnson that he would have an easier chance of winning than he would against surging 145-pounder Max Holloway. "Showtime" stormed onto the featherweight rankings at No. 6, and it appears the future is bright for him there.

If he returns to lightweight to face Johnson, we'll just have to wait and see.