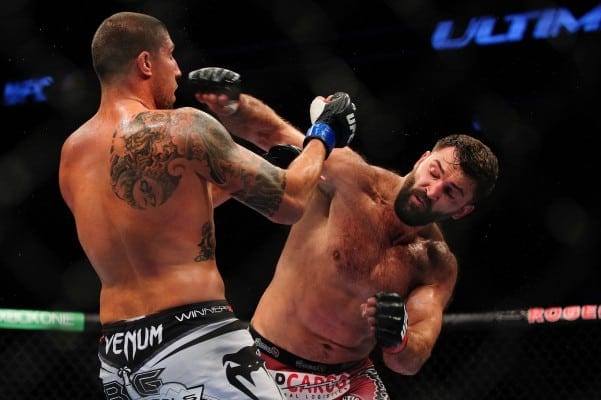 A winner of five-straight, and three-straight since returning to the Octagon, former UFC heavyweight champion Andrei "Pitbull" Arlovski has definitely put his name in the mix of potential heavyweight title challengers.
The heavyweight division has suddenly become very intriguing ever since Fabricio Werdum secured gold with his UFC 188 (June 13, 2015) submission win over former champion Cain Velasquez. Many were picking Velasquez to win, and many were quite impressed by "Vai Cavalo's" performance, but not the "Pitbull".
Arlovski recently spoke on the topic, saying that he was impressed with Werdum before the title fight, but he wasn't necessarily impressed with the newly crowned champion at UFC 188. The Belarusian knockout artist also mentioned that he has a ton of work to do himself:
"When Werdum fought Browne and Hunt he impressed me with his hand speed and boxing technique," Arlovski said to B&S News (Via Bloody Elbow). "But I didn't see any of that in his fight vs Cain. On the one hand, I was glad with that. But on the other hand, I have to develop myself anyway. When you stop developing you start falling down so I have a huge amount of work ahead of me."
Werdum recently stated that he needs some time off, and would like to see a four-man tournament to decide the next title challenger. Being a veteran of the sport at age 36, Arlovski is not looking for any time off, saying that he has a family to provide for, and that a non-title fight next would be fine with him:
"I'm at the age now when it is important to earn money. It's cool to be a champion and all, but I was there three times already. As far as I know Werdum is injured now so to sit and wait for at least 6 months to get a crack at the title is inexpedient for me. My age doesn't allow to sit and to hope for something. I want to go at it right here, right now. I have a family and some obligations. Non-title fight is ok for me next."                               
In closing, Arlovski once again stated that he doesn't need any time off, and he would like to stay active, stay in shape, and develop his game:
"I don't need to have a time off. For me the best is to fight 3-4 times a year, stay in shape the whole time and develop my game all around. Couple of weeks of rest after the fight and I'm ready to train again."
If a title shot is not on the horizon, who would you like to see the "Pitbull" meet next?