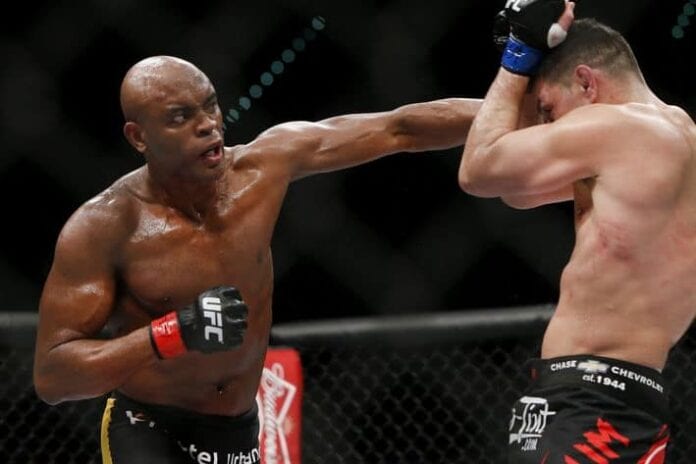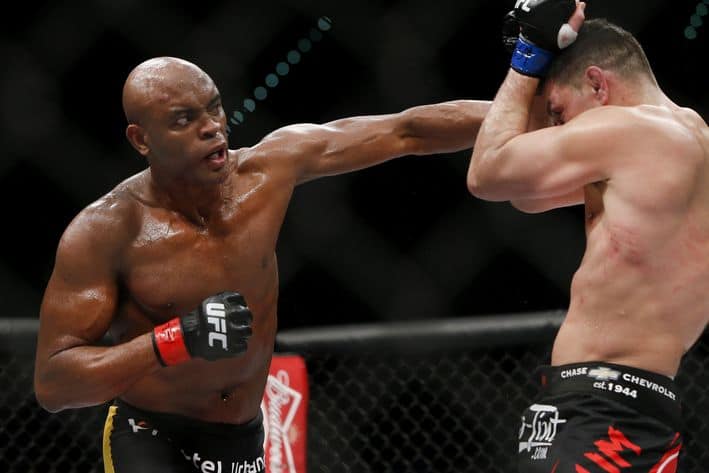 Longtime MMA great Anderson Silva was recently cleared to return to the Octagon soon.
It appeared "The Spider's" otherwise decorated career had been tarnished and was possibly over when he failed a second drug test prior to his scheduled main event with Kelvin Gastelum at last fall's UFC Singapore, yet he was able to fight the case with USADA and prove his failed test was the result of a contaminated supplement prescribed to him by a Brazilian pharmacy.
Able to return on November 10, 2018, Silva has been back in the headlines for a variety of topics, including his callout of UFC double champ Daniel Cormier when "DC" claimed failed tests disqualified he and Jon Jones from being in the conversation for the greatest fighter of all-time. Silva took a different road on a recent appearance on "Ariel Helwani's MMA Show," however, detailing that he lost sponsors due to the perceived violation (transcribed by MMA Mania).
He's now moving on, of course, but did lose money and more importantly, credibility in the ordeal:
"I was working with USADA on the case, and now I move on, it's over for me. In my personal opinion, it's very difficult to be put in that situation, for everybody, when you don't have solution for the case," he added. "In that situation, I lose my sponsors, I lose my credibility. So yeah, it is very terrible. But, now that is finished. Now I am just waiting on the future. But, I did lose money, my credibility. It's tough. The situation tried to destroy my mind, destroy my legacy … my emotional is very terrible."
Silva is far from the only UFC combatant to have failed a test due to contaminated supplements, with heavyweight veterans Josh Barnett and Junior dos Santos both avoiding lengthy suspensions from similar situations.
Barnett ultimately requested his release in order to not have to deal with USADA, suing the supplement company who caused him to fail the test in the process. Silva said he wouldn't be doing that, instead switching to a team of doctors in the United States:
"Definitely not. I moved all my team, my doctors for U.S. All my team I change. I'm working hard for the future now."
With the disgrace of USADA behind him for now,"The Spider" will now move on to focus on his next match-up, which has been rumored to potentially be with rising prospect Israel Adesanya – a man many have compared to a young Silva.

Should he be tasked with such a dangerous opponent after going through so much just to be able to fight again?