Anderson Silva Destroys Daniel Cormier's GOAT Denial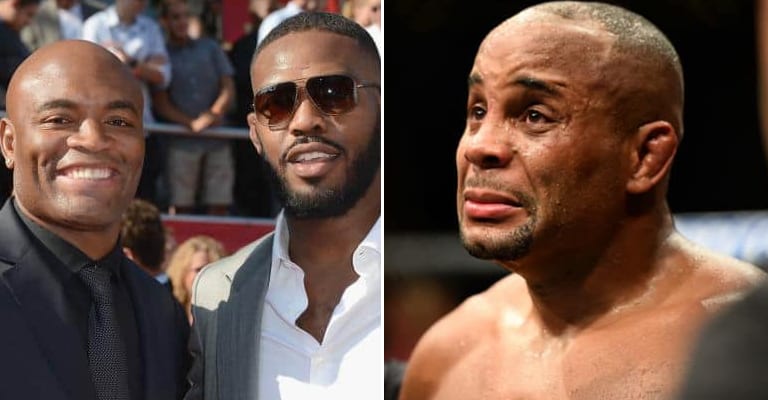 This week, Daniel Cormier claimed that only two fighters could join him in the conversation for MMA's greatest fighter of all-time.
The two high-profile names he left out of the conversation were predictably Jon Jones and Anderson Silva, dominant, dynamic champions who destroyed endless top contenders in the Octagon but also had their careers muddied by drug test failures for performance-enhancing drugs.
Silva responded to the slight in a recent interview with CBS Sports, saying Cormier got lucky when he saved his paycheck at UFC 200 two years ago, and even luckier because he wasn't even the best fighter at light heavyweight:
"So, it's very interesting because I take the fight against Daniel [on two days' notice at UFC 200 in 2016] and I had been training absolutely nothing for months and I had surgery already in my body and I took the fight in saving Daniel money because Jon Jones failed the test. But it's very interesting Daniel talking about that because when you have problems, everybody has problems.

"When you talk about people, you need to be careful because you never know about your life. You never know about your future. I think Daniel is very lucky and completely lucky because never beating Jon Jones, of course, because Jon Jones in my opinion is the best fighter at 205 [pounds]."
Silva continued to go off on Cormier for his UFC 200 performance, claiming "DC" was lucky he didn't take the fight for five rounds and only laid on top of him, which he did. "The Spider" respects Cormier, but said he was crazy to talk about him and Jones:
"When I took the fight, Daniel didn't do nothing. He was completely lucky. He was more lucky because I didn't take the fight for five rounds and just three, and he don't do nothing but just hit the ground and use his weight. Why are you talking? Why does Daniel talk?

"I respect, but Danny don't have to talk about that because I'm very sad about that. That's the first time I saw this news. I respect Danny, but when he is talking about me and Jon Jones, he's completely crazy because Jon Jones is the best fighter. I tried to make everything perfect inside the cage for my fans. I don't know but it's OK … this is Daniel Cormier.""
Silva then expressed his respect for Jones, the man who beat Cormier and is still considered by many to be by far the best light heavyweight in UFC history.
"The Spider" wasn't sure about "Bones'" upcoming hearing with USADA, but hoped he returned soon:
"I don't know. I love Jon Jones, he is my young brother and I hope he comes back fast."
The longtime former champ has had enough of Cormier's trash talk and claims, and now that he's eligible to return after he was exonerated on his second failed USADA drug test, Silva is getting his name back out in the media.
He may not be considered the greatest fighter to ever compete in the UFC by Cormier, yet Silva put "DC's" position in sharp perspective with his comments – even if it is shrouded by Jones' controversy.