Aljamain Sterling compares Dana White to an estranged father: 'I'm gonna show you motherf*cker'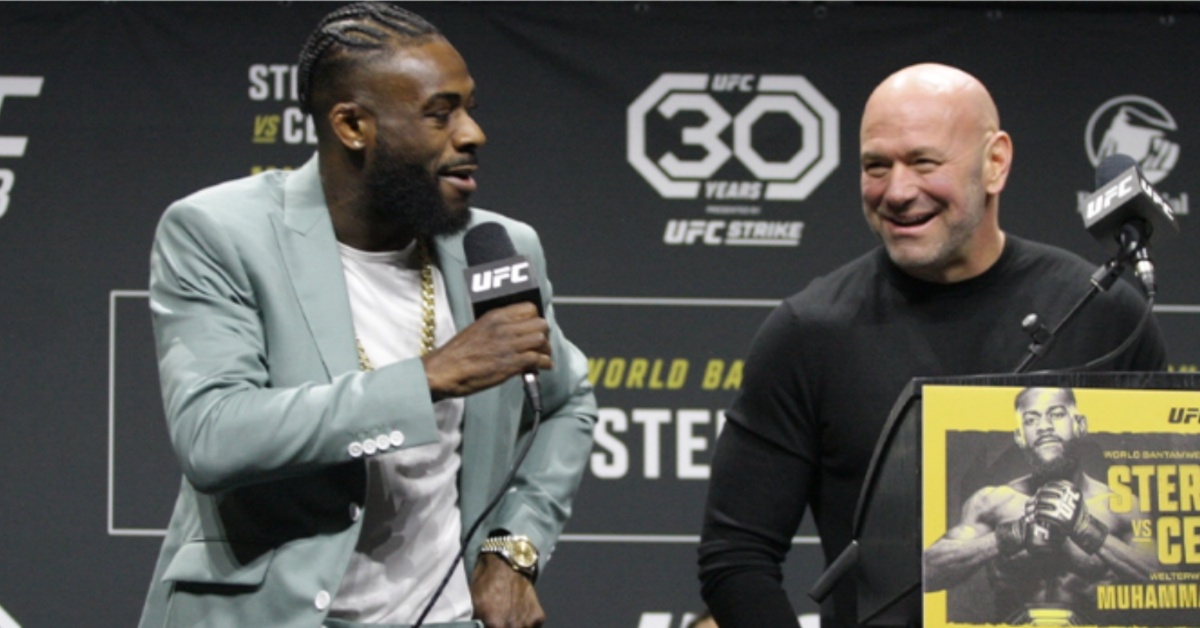 Reigning bantamweight world champion Aljamain Sterling has grown increasingly aggravated by the perceived lack of respect he has received from his employer.
Sterling is set to defend his title against No. 2 ranked contender Sean O'Malley when he returns to the Octagon at UFC 292 on August 19. It will be his fourth defense of the 135-pound crown after taking the title from former champ Petr Yan following a somewhat controversial disqualification when 'No Mercy' threw a blatantly illegal knee while Sterling was down. Since then, Sterling has been vilified by MMA fans, suggesting that his Oscar-worthy acting is what secured the win by DQ and not the blow itself.
'Funk Master' went on to successfully defend the title against Yan in a rematch little more than a year removed from their first meeting, but the win did next to nothing in terms of earning him respect from fans or the promotion. Appearing on BS with Jake Paul, Aljamain Sterling spoke about his rivalry with Yan, suggesting that the UFC had all their bantamweight hopes riding on a guy who, according to Sterling, just isn't that good.
"I felt like the UFC had him as this f*cking golden goose that was gonna make all these eggs for them," Sterling said. "And I don't know, I was like, 'Dude, he's not as good as you guys think.'"
Since closing out his duology with Yan, Aljamain Sterling has moved on to defending his title against two other former bantamweight champions, T.J. Dillashaw and Henry Cejudo. Despite walking away with his hand raised against two of the best, 'Funk Master' still feels like his accomplishments are not being recognized by his boss. Sterling even likened it to a kid trying to impress his estranged father during his conversation with Jake Paul.
"I almost feel like maybe the UFC is almost like my pappy, you know. So I look at them like my dad, where I almost feel like I need to prove something to pops, to be like, 'Oh yeah, you think this, 'I'm gonna show you motherf*cker,' for me" (h/t BloodyElbow).
Aljamain Sterling Unimpressed with Sean O'Malley's Unorthodox Training Methods Ahead of UFC 292
Aljamain Sterling sees the entire process starting again as he goes into his main event clash with Sean O'Malley. 'Sugar' is undoubtedly one of the most popular acts in all of mixed martial arts. The kind of act the UFC would love to parade around as a world champion. That puts Sterling in another position where he feels like the UFC is working against him.
'Funk Master' is also fairly unimpressed with O'Malley's training regimen which has routinely seen the fighter drinking, smoking, and utilizing some fairly unorthodox methods when it comes to preparing for a fight.
"This is what gets me going," he said. "This is what gets me up in the morning and this is what gets me in the gym and push those hours. This, there's times when I do these shark tank drills – I'll do eight rounds. 
"Like, this is the type of mentality, and this type of warfare that I'm preparing for when I go into these fights. Like, I come in ready, and (O'Malley is) doing all this f*cking weird hippie breathing into a balloon bullsh*t."
How do you see Aljamain Sterling vs. Sean O'Malley playing out when the promotion heads back to Boston?