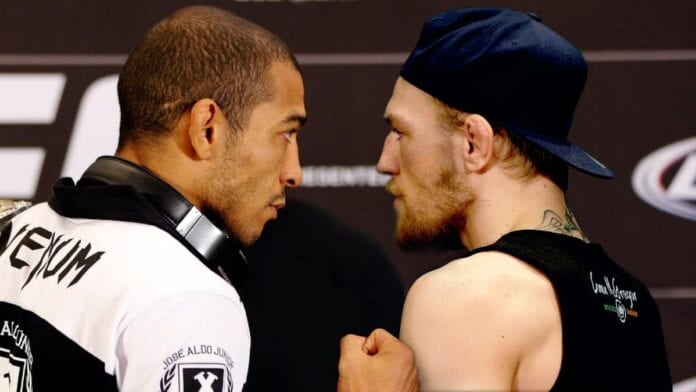 UFC 189 was scheduled to host the biggest fight in the history of the sport, and ultimately be one of the biggest events in mixed martial arts (MMA) history. Things didn't go exactly as planned, however, as featherweight champion Jose Aldo was forced out of his main event bout with Conor McGregor due to a rib injury.
McGregor went on to knockout Chad Mendes to become the interim 145-pound champion, and he and Aldo will now finally do battle at December 12's UFC 194 in Las Vegas to unify the titles.
Recently speaking with MMAFighting, it seems as if Aldo wants to put the injury in the past, and focus on the future and putting an end to the brash, and outspoken Irishmen in the "Notorious" one:
"Recovery was good, and now it's time to focus on the future. It's in the past, we have to look to the future and forget about the injury and anything else. I'm 100 percent already, playing soccer and able to train. Let's hope nothing bad happens so we can get there and put an end to this story."
With the injury pushing the bout back, "Scarface" has now been talking about McGregor for quite a bit of time, and each man has done a ton of promotion. Leading up the UFC 189, the UFC put on an extensive world tour in which the two traveled to many different countries, and cities for media obligations, and although they won't be doing that again, the fight has been a long time coming.
Not only is it difficult to talk about the same opponent for months on end, but McGregor isn't your average fighter either, as he is known for his incessant trash talk. Aldo, however, claims that he's used to this, and said that after UFC 194, no one will be talking about the Irish phenom:
"Yeah, (I'm tired), but I'm used to that already. I can deal with that now. It was supposed to be gone already, but after Dec. 12 we will win and we won't talk about him anymore."

Who will walk away from UFC 194 as the undisputed king of the 145-pound division?