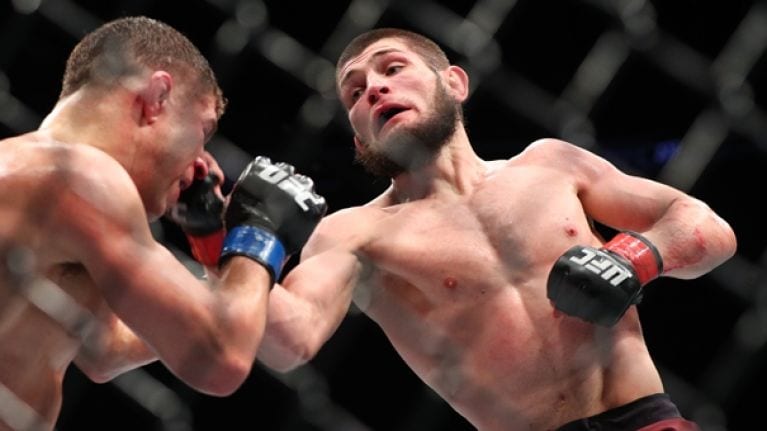 Al Iaquinta thinks that he can dethrone UFC lightweight champion Khabib Nurmagomedov if he gets a second fight.
Iaquinta stepped in on short notice to take on the undefeated champ in the headliner of UFC 223 last April. As many believed would happen, Khabib ended up winning the fight along with the undisputed UFC lightweight title.
For Iaquinta, he stated in a recent interview that he blames his performance in the fight due to the lead-up. He was originally supposed to fight for three rounds, not five, at th event. Thus, if he gets a second fight booked, then he can train for five rounds.
"I didn't really want to exert myself like crazy because I had been sparring three rounds, and at the end of the three rounds I was getting pretty exhausted," he said on BJPenn.com Radio. "It was uncharted territory. Now, five rounds is to my advantage. The longer the fight goes, the better it is for me. I think that it'll be an advantage now rather than, being five rounds that fight [with Nurmagomedov], it was a little bit of a disadvantage."
Iaquinta was scheduled for a three-round fight against Paul Felder at the show but that was canceled due to the changes made to the card. For him, if he can have a 10-week training camp for Khabib, then he thinks his performance would improve.
"If I had even just like five weeks to prepare," he said. "But if you gave me a 10-week camp for a Khabib fight, and I had the time to prepare for him, for his style, prepare my mind. Obviously, he would be doing the same thing, but I think that I would make way more of an improvement than he would."

Iaquinta already has his next fight booked as he'll take on Donald Cerrone in the headliner of UFC Ottawa on Saturday, May 4, 2019, at the Canadian Tire Centre in Ottawa, Ontario.