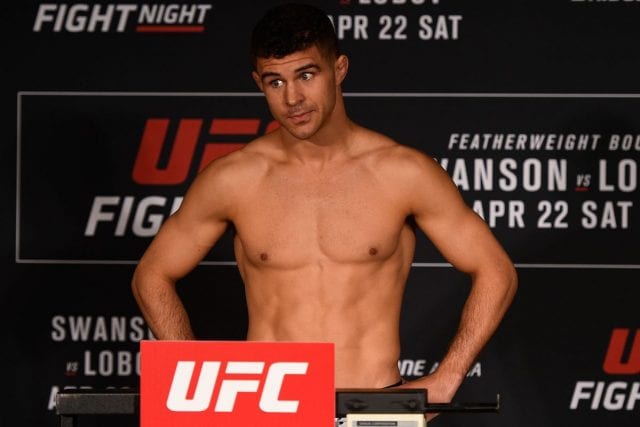 Al Iaquinta took a five-round title fight against current champion Khabib Nurmagomedov on just one day notice to help save UFC 223. Despite losing, "Ragin" Al takes great pride in going five rounds with the best in the world.
Not typically a company man, Iaquinta did the UFC a solid when he stepped up to challenge Nurmagomedov for the lightweight title. Still, there's no second place in MMA, and Iaquinta came up short at UFC 223. However, the pain of the defeat was somewhat soothed when Nurmagomedov smashed McGregor at UFC 229.
But to hear "Ragin" Al tell it, Conor once again fooled people into thinking he actually had something to offer the Dagestani and once again showed he simply has no heart when the going gets tough.
What Al Thinks
"You look great and then when the going gets tough or you get a little tired and things don't go your way, you kind of check out. He pulled the wool over everyone's eyes with all that talk. He built up a great fight and then he shit the bed," said Iaquinta on The Ariel Helwani MMA Show.
Iaquinta believes if anyone deserves a rematch against the champion it should be him. After all, he just took Khabib the full 25 minutes prior to the McGregor fight. Furthermore, he believes the Irishman will just fold like he has every other time in the past given the rematch.
Rematch?
Iaquinta then looked forward to a possible rematch between Khabib and McGregor. He believes the Irish star's lack of heart is not something he can change:
 "He fought good, definitely has a lot of skills. The rematch is not anything he can fix. You can train to defend takedowns, you can train to get back up, train for a million things. The one thing you can not train is to have heart when shit gets real tough," he said.

"When you feel like you are about to die, to figure out a way to live and not have the ref pull you off and save you. That is not going to get fixed if they fight in six months or a year or three years. That is still going to be there, that is not changing. His teammates aren't going to help him in there and all of that money is not going to buy heart. So he can say whatever he wants, I sell real estate, I am number 11, but at the end of the day, he is definitely not tougher than me."
Iaquinta will get a rematch, just not with Khabib. "Ragin' Al" takes on Kevin Lee at the upcoming UFC on FOX 31 event on Dec. 15, 2018, in Milwaukee, Wisconsin.
Do you agree with his views on McGregor?