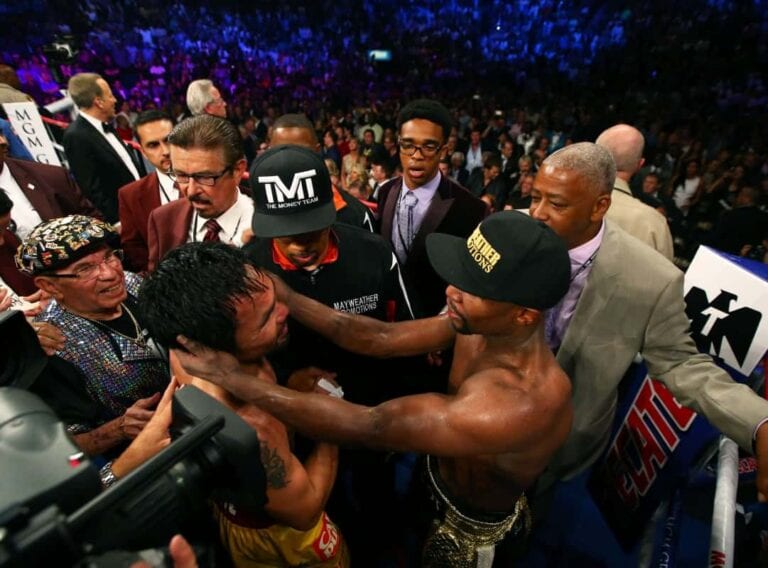 The dust has hardly settled on Floyd Mayweather's "epic" decision victory over Manny Pacquiao last Saturday night (May 2, 2015) from the MGM Grand Garden Arena in Las Vegas, yet talk of a rematch has already begun to swirl.
The blockbuster bout, which was deemed "fight of the century" but largely derided for failing to live up the massive (and possibly unattainable) expectations, was marred by the fact that Pacquiao fought with a torn rotator cuff in his right shoulder that he will undergo surgery for.
"Pacman" requested an anti-inflammatory shot to help deal with the injury in his locker room before the fight, but was denied by the Nevada Athletic Commission (NAC).
That, or perhaps just the allure of another mounting payday that could potentially trump their first fight, has lead Mayweather to speculate about a rematch.
ESPN's Stephen A. Smith reported on today's episode of "First Take" that "Money" texted him saying that he is willing to give Pacquiao another shot next year after he's healed up:
Stephen A. says @FloydMayweather just sent him a text that he will give @MannyPacquiao another shot in a year. pic.twitter.com/FUo9EEfb4U

— ESPN First Take (@ESPN_FirstTake) May 5, 2015
Pacquiao is expected to be out between three to eight months with the shoulder injury, but the possibility of a rematch with Mayweather would come with some uncertainties attached.
The 38-year-old undefeated champ recently stated he was vacating the titles he unified by defeating Pacquiao on Saturday to give younger fighters a chance to win them, something that could take some of the luster away from a potential rematch.
Fans were left with a sour taste in their mouths last Saturday night, and a lot of that could have been due to Pacquiao's shoulder injury slowing him down.
Is this a fight you'd like to see again, or will it always fail to live up to the insane amount of hype?
Photo Credit: Mark J. Rebilas for USA TODAY Sports