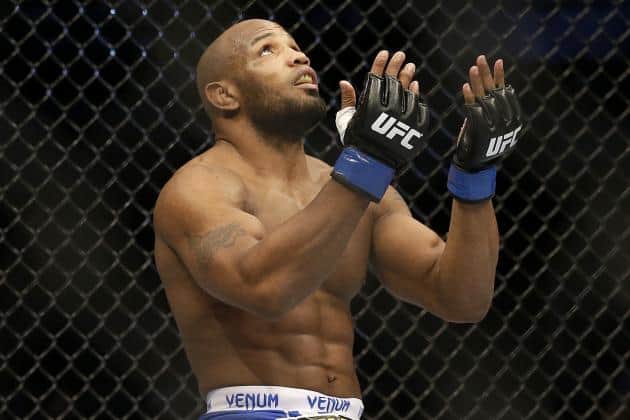 Highly ranked middleweight contender Yoel "The Soldier of God" Romero scored a controversial yet pivotal victory over fellow contender Ronaldo "Jacare" Souza at last December's UFC 194, a win that many felt had put him next in line for a title shot.
Title talks were put on hold, however, when it was reported a few weeks back that Romero was flagged by the United States Anti-Doping Agency (USADA) for a potential violation to their guidelines.
Remaining relatively quiet since, Romero's B-Sample was sent out for further testing, and although it returned positive, he and his manager, Malki Kawa, appeared on today's (February 8, 2016) edition of the MMA Hour to explain the mishap.
Kawa explained that Romero tested positive for a substance that was not listed on the label of a supplement he was taking:
"The substance has a label with a bunch of stuff on it," Kawa said. "None of that is illegal to take. What he got popped for is not on the label. So it's obviously not his fault that he popped for this."
Despite the explanation, "The Soldier of God" did indeed fail a drug test, and as a result, he could be facing up to a two year suspension, although Kawa doesn't necessarily see that happening:
"I don't expect it to be two years," Kawa said. "I don't think two years would be fair."
In the end, however, the manager, admitted that it is the responsibility of the fighter to know what he's taking:
"He did take the supplement," Kawa said. "If you take a supplement, you run the risk of this happening. The responsibility does fall on Yoel."
Romero reiterated this statement as well:
"I think it's my responsibility when I take something. But I think maybe a public warning [would be a fair punishment]. I don't know. … Nobody knows. When you see the supplement, outside it says it's clean, you can take it."
USADA also provided a statement on the issue via Bleacher Report's Jeremy Botter:
"Given that Mr. Romero has publicly discussed his case, we can confirm that he did test positive for a prohibited substance. At this time we are investigating the circumstances surrounding his positive test to determine the appropriate outcome, in accordance with the rules. It is also to remember that there is a full and fair legal process to handle the adjudication of any case, and all athletes are provided full due to process before any decision is reached."

What do you think an appropriate punishment for Romero would be?