The "Notorious" Conor McGregor has transcended the sport of mixed martial arts like none other.
After rapidly rising through the ranks of the featherweight division, the brash and outspoken Irishman completed his journey to the top with a shocking 13 second knockout of former champion Jose Aldo at December 12's UFC 194.
Now known as the undisputed 145 pound title holder, McGregor appears to be diving into deeper waters, as it's all but confirmed that he will square off with lightweight champion Rafael dos Anjos at March's UFC 197.
If he can dethrone yet another Brazilian, McGregor will become the only fighter in UFC history to simultaneously hold two titles at one time.
With a plethora of intriguing fights available to the "Notorious" one, it seems as if his future could be spent primarily at lightweight given the grueling weight cut he goes through to get down to featherweight.
That being said, a recent report has implied that a potentially massive bout could take place at 155 pounds between McGregor and former long-time welterweight champion Georges St-Pierre. While it's still unclear whether or not "Rush" will return to action, his ex-manager recently said that he could drop down to lightweight and that the promotion should look to book him up against McGregor.
While it would be a monumental pairing, it may not be the best choice for the fledgling featherweight boss. Let's take a look at why McGregor may want to avoid the Canadian superstar: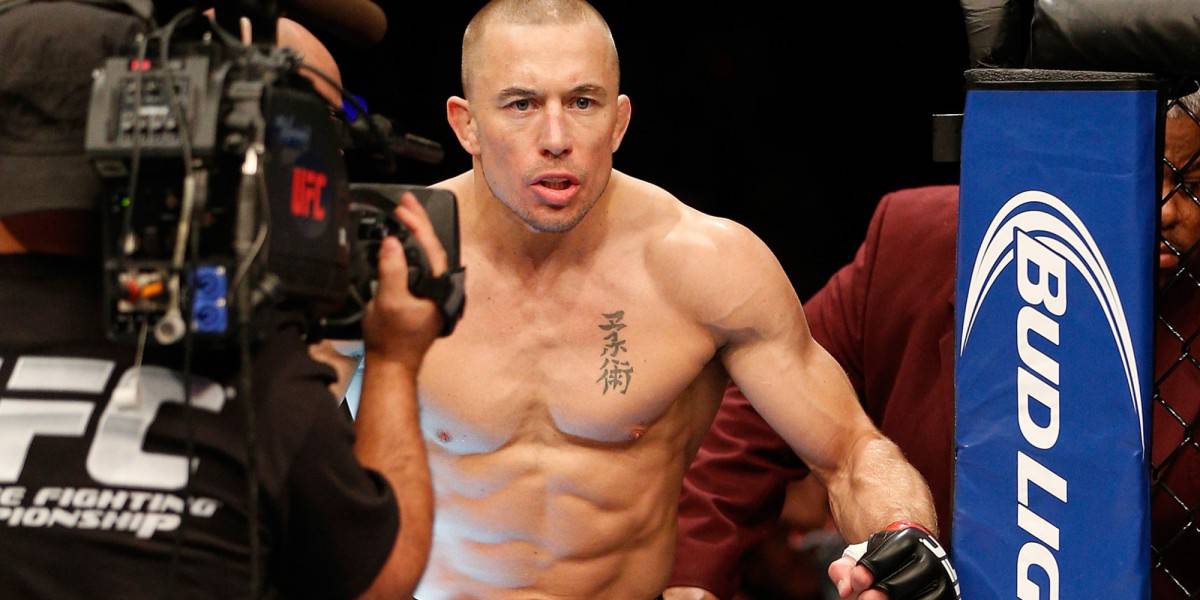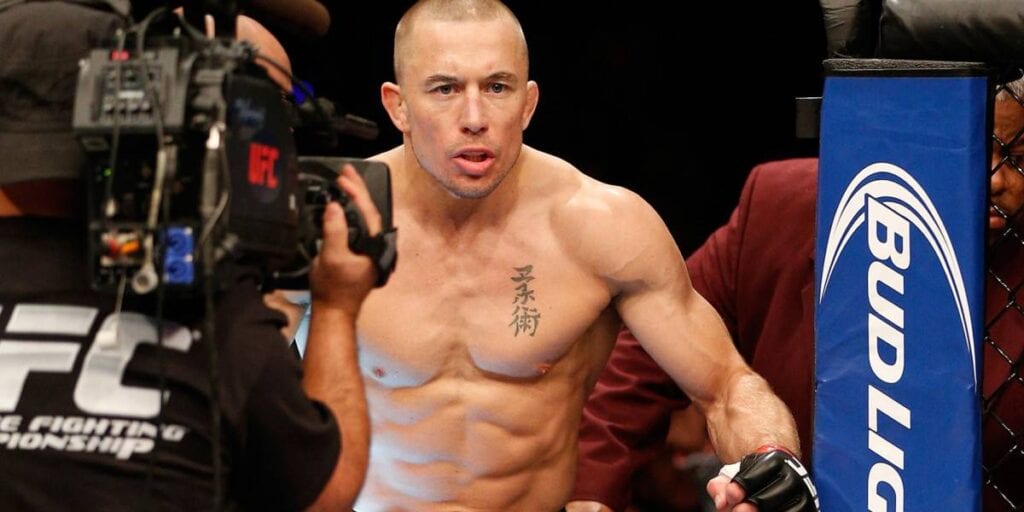 Size and Strength
Conor McGregor is an absolutely massive featherweight. The Irishman won't be undersized at lightweight and he could probably compete at welterweight if he really wanted to.
That being said, however, Georges St-Pierre is an athletic freak. The former 170 pound king is outstandingly strong and has been able to use his size and strength to his advantage for the majority of his career.
Not only would McGregor be potentially out muscled, but he would also lose his coveted height and reach advantage when facing off with "Rush".
The Irishman has towered over many of his opponents at featherweight, and uses this advantage perfectly in executing his long, kick heavy striking style. St-Pierre's 76 inch reach may be just enough to give McGregor problems, however.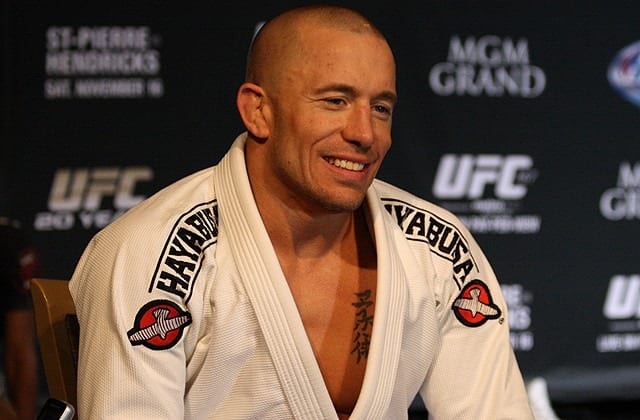 Ground Game
There's no question that McGregor is one of the best strikers in mixed martial arts right now. He uses a very unorthodox style that includes tricky movements, different angles, and a plethora of brutal attacks.
That along with his uncanny ability to put fighters to sleep with one clip of the left hand makes the Irishman a threat at all times when the fight is standing.
His ground game, however, isn't such a sure thing. Although he is a brown belt in Brazilian jiu-jitsu, McGregor has only one submission win on his resume, and both of his career losses have come by way of tap out.
He was held down and beat up for quite some time before knocking out Chad Mendes in their July 2015 interim title tilt. Mendes is not St-Pierre though, and the Canadian has quite a strong ground game.
A black belt in Brazilian jiu-jitsu, "Rush" has five submissions to his credit. Aside from the submissions, St-Pierre has shown throughout his career fantastic ground control, and brutal ground and pound which could very well be the key to beating McGregor.
Would the Irishman be able to survive fighting on the ground with GSP? That's an important question to think about.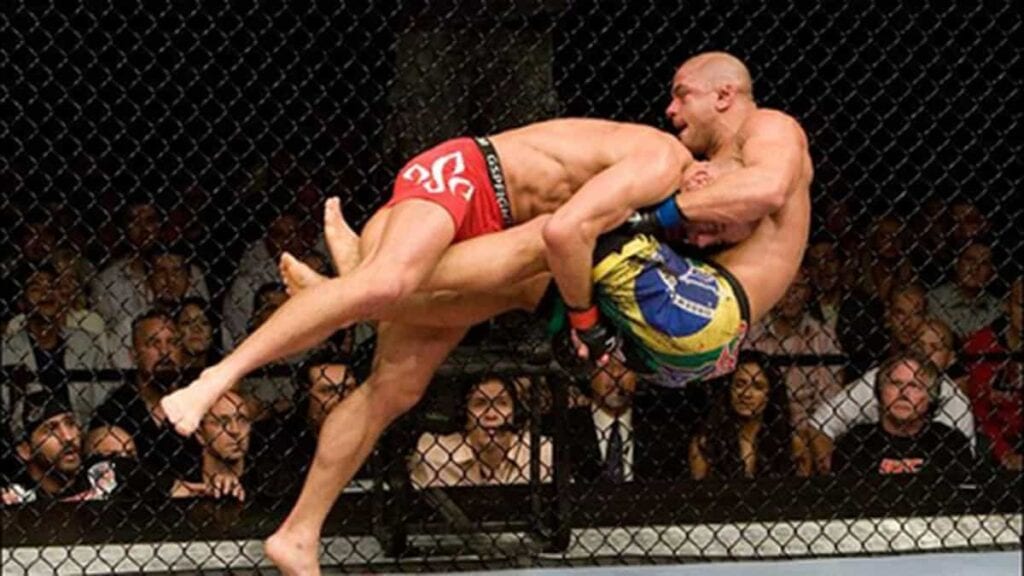 Takedowns
Not only does St-Pierre possess a skilled ground game, but the former champion is a very high level wrestler as well, specifically a high level MMA wrestler.
Although some have criticized him before for being a boring fighter, "Rush" has used his takedowns time and time again throughout his storied career to simply drag his opponent to the ground repeatedly for five rounds.
Once again referring to his fight with Mendes, wrestling seems to be one of the very few question marks surrounding McGregor, and if that's the case, St-Pierre is probably the last person the "Notorious" one would like to see standing across the cage.
While fully noting the almost inhumane knockout power and finishing ability of McGregor, it wouldn't be too surprising to see the Canadian use his wrestling and ground control to grind out a decision victory if the two ever did meet.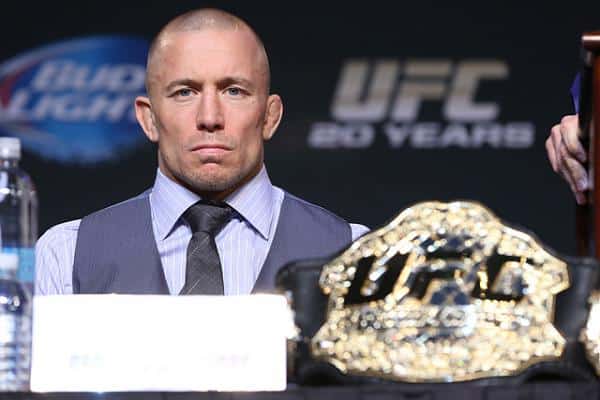 Little Effect of Mind Games
While McGregor has proven to be a killer inside of the cage, he also has showcased a natural knack for trash talking, putting himself amongst the best talkers and self-promoters the sport has ever seen.
With no pun intended, McGregor has become notorious for dishing out endless amounts of trash talk towards his opponents, seemingly breaking them before they even have a chance to step into the Octagon.
While he has used this intelligently to his advantage, St-Pierre likely wouldn't crack with a little bit of banter.
The former champion knows all too well what it's like to be in a huge fight, and has always shown calmness and composure, never having been affected by the talk of an opponent.
This can be perfectly seen with his UFC 158 bout with Nick Diaz, another infamous and relentless trash talker. Many felt as if GSP was rattled heading into the bout, but he would go on to win a very one sided decision victory, showing no signs of lost focus or emotional fighting.
McGregor would likely have to pull some different tricks out of his sleeve if he wants to get into the head of the cool and collective St-Pierre.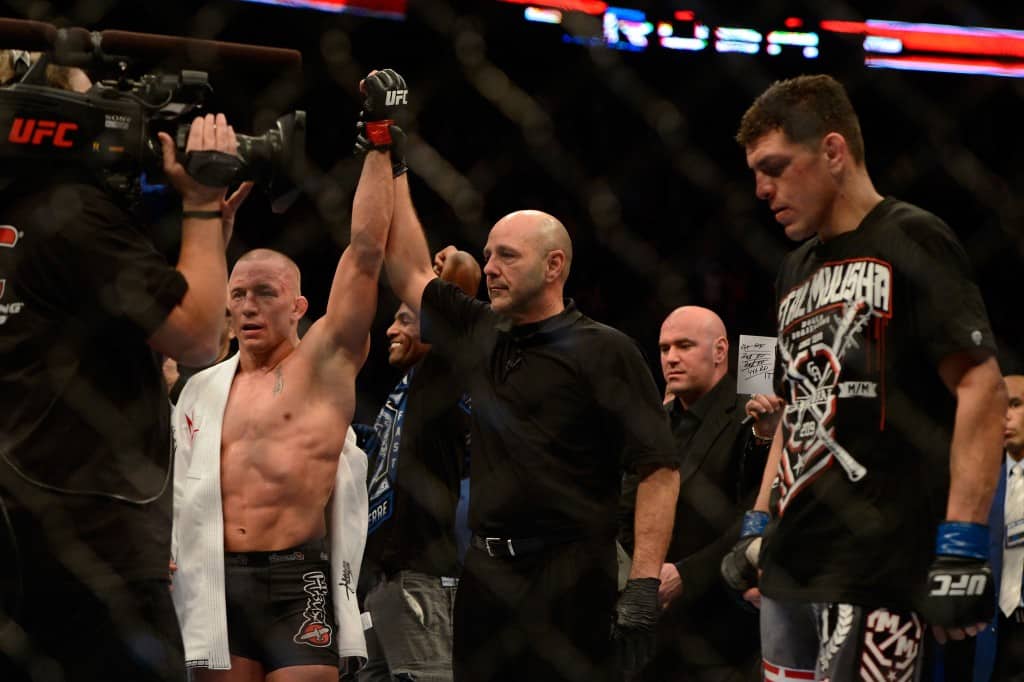 Experience & Competition
While McGregor is experienced in his own right and has taken on and beaten some of the best featherweights in the world, he has never faced a fighter like Georges St-Pierre.
St-Pierre is one of the best fighters to have ever graced the Octagon and he not only has a wealth of experience, but a wealth of championship experience. The "Notorious" one has yet to defend his 145-pound strap while "Rush" defended his welterweight crown a divisional record nine consecutive times.
A champion for five years, St-Pierre was victorious in 12 straight bouts before vacating his title in 2013. Taking on the likes of BJ Penn, Matt Hughes, Sean Sherk, Frank Trigg, Matt Serra, Carlos Condit, and Johny Hendricks, the Canadian has tangled with the elite of the sport for years.
He is no stranger to the bright lights.
Now of course we don't know what form "Rush" would return in if he were to come back, but his experience is second to none, something that would undoubtedly play into his favor in a bout with McGregor.
The likeliness of this bout coming to fruition is a bit foggy as of now, but the "Notorious" one seems to have something new on his mind every other month now a days.
While a bout with St-Pierre would be historic, it may not be the best choice for the Irish knock out artist.
What are your thoughts?