Joanna Jedrzejczyk Batters, Bloodies Jessica Penne For Third Round Stoppage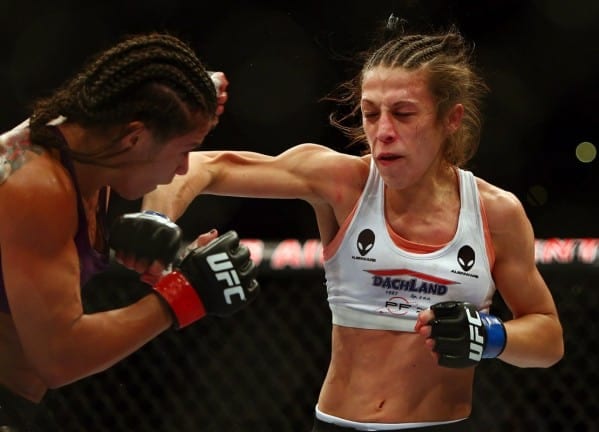 UFC women's strawweight champion Joanna Jedrzejczyk squared off with The Ultimate Fighter (TUF) 20 veteran Jessica Penne for the belt in the main event of today's (Sat., June 20, 2015) UFC Fight Night 69 from the O2 World in Berlin, Germany.
The first-ever title fight aired on UFC Fight Pass began with Jedrzejczyk pushing forward with some punches, including a strong shot to the body and a combo. The champion snapped a hook, prompting Penne to go for a takedown against the fence. Jedrzejczyk defended well and broke to land a knee, following with more quick strikes. Penne scrambled to get Jedrzejczyk to the ground briefly, clinching on the fence with light knees. The champ landed a hard elbow off a break but was quickly swallowed into Penne's bodylock again. She broke free, dropping Penne with an uppercut to swarm for ground and pound. With momentum on her side, Jedrzejczyk ended the first round with chopping low kicks to a ground Penne until the challenger got a Judo throw at the bell.
Jedrzejczyk came out with a flurry in the second, snapping strong punches and even going for a takedown of her own. Penne defended and blocked a head kick attempt, but Jedrzejczyk landed a front kick to the face and a combo ending with a low kick. A head kick landed from the champ, followed by a huge elbow that bloodied Penne's nose. A massive flurry of strikes unleashed from Jedrzejczyk, almost prompting a stoppage from Marc Goddard. Penne persevered and clinched to stay alive, but the Polish favorite unloaded knees and accurate power punches. A stiff jab came from the champion, and her trademark flurry followed, ended by a hard body kick. More shots found a home from the titleholder, with varied kicks and a knee landing as the champ ended the round with a rush of punches.
In the third Penne was bloodied and battered. Jedrzejczyk peppered her with punches, dropping her briefly with a kick. Combos found a home, including slapping body and leg kicks. A big left hook hit the challenger, and she badly missed on a telegraphed takedown attempt. Jedrzejczyk poured it on with a flying knee, but Penne clinched in an attempt to drag Jedrzejczyk down. It didn't work, and the champion returned to landing varied, damaging strikes. A short elbow blasted Penne, and more shots up top hit to earn a warning from Goddard, who stepped in to stop the fight in the third.
Final Result: Joanna Jedrzejczyk def. Jessica Penne via R3 TKO (strikes, 4:22)