There's nothing worse than a terrible decision where the winner loses and the loser clearly wins.
Unfortunately for both fighters and fight fans, it's more commonplace than you think.
The history of the UFC has produced some awful decisions. Let's take a look at the 10 worst robberies in the UFC, updated for 2018: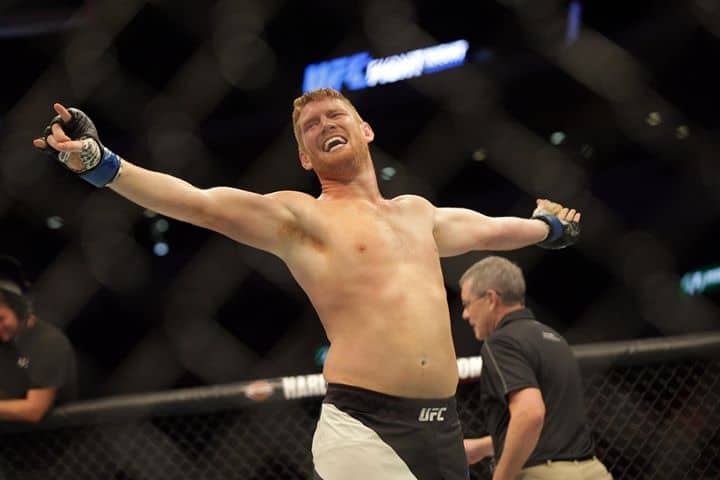 10. Sam Alvey Defeats Gian Villante – UFC Fight Night 131
As for more recent robberies, this one certainly stands out. When 'Smilin' Sam Alvey called out Gian Villante following Alvey's victory in his light heavyweight debut, fight fans oddly took notice.
Sure, they weren't the biggest names in the division, but both men are known scrappers with some thrilling knockout victories to their name.
Which is why the fight itself felt massively deflating watching it play out. Alvey resorted to the kind of extreme bouts of inactivity he's been known for when he can't score the knockout. Alvey did manage to knock his opponent down towards the end of the first round, but there wasn't enough time left to finish him.
Meanwhile, Villante did his best to cut off the cage and corner Alvey. The Long Island native showed excellent Octagon control and was winning the fight beyond the flash knockdown at the end of round one.
So it wasn't too surprising to see the crowd react the way they did once the split decision was announced in Alvey's favor. That one knockdown apparently negated the other 14 minutes and 45 seconds where Villante controlled the fight.
An obviously disappointed and stunned Villante left the arena scratching his head at how he could have lost that fight, and fight fans were left just as confused.
Sometimes, a single knockdown can win over the judges, even more so than the remaining 15 minutes of the fight.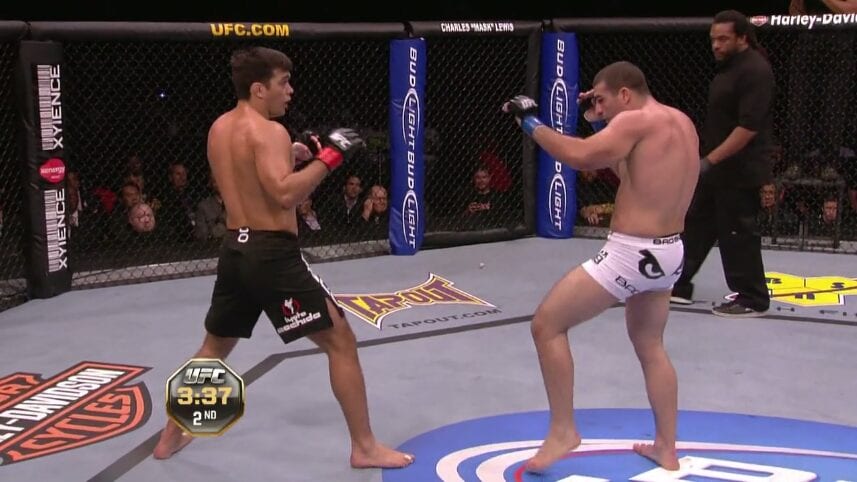 9. Lyoto Machida Defeats Mauricio "Shogun" Rua – UFC 104
The "Machida Era" was short-lived, but should have ended even sooner at UFC 104.
Machida was making his first title defense after knocking out former light heavyweight champion Rashad Evans at UFC 98. For the first time in "The Dragon's" MMA and UFC career, he looked hittable and human. For so long, Machida never lost a round or took any damage, but Shogun employed a smart gamplan to counter the karateka.
Using body and leg kicks, Shogun controlled nearly all five rounds and seemed to be well on his way to becoming UFC champion.
Then, horrible MMA judging happened.
Machida was awarded the winner by decision, but fans knew who won that fight. Shogun would avenge this robbery in their immediate rematch, knocking out Machida in the first round to eliminate the judges from the equation.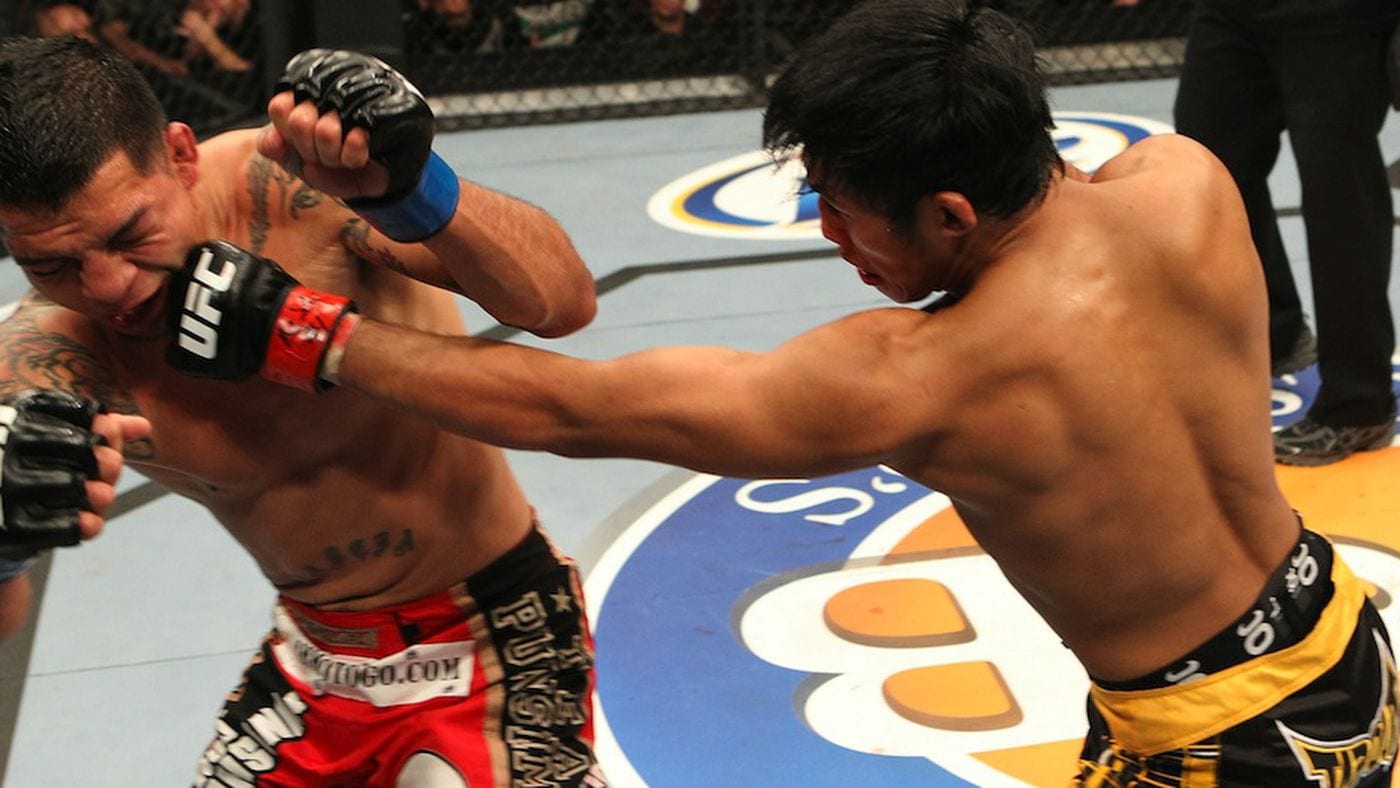 8. Leonard Garcia Defeats Nam Phan – TUF 12 Finale
These two former UFC sluggers delivered an epic battle for fight fans, but somehow in the midst of all the excitement, the judges awarded the wrong man the victory.
Garcia swung for the fences, as he usually does, but certainly didn't win a single round. Phan executed more efficient and effective striking throughout the fight, but the judges must have missed that.
Thankfully, Phan was able to rectify this epic judging error in their rematch, but the result of their first fight will always go down as a huge mistake.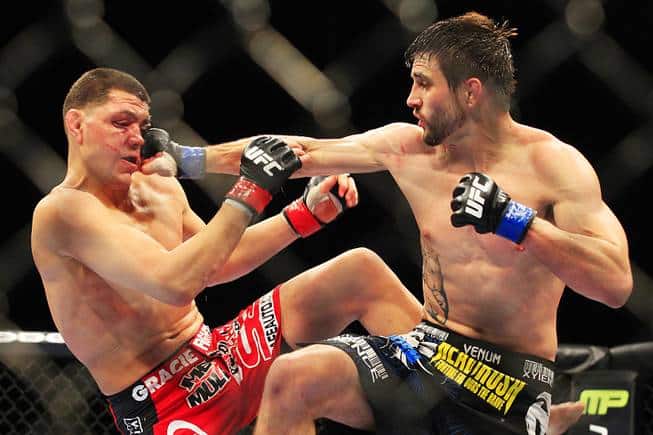 7. Carlos Condit Defeats Nick Diaz – UFC 142
The resulting fallout that ensued following this judging blunder continues on to this very day, with vocal Diaz fans always chiming in whenever Condit's interim UFC welterweight title is discussed.
The two duked it out to determine the UFC interim welterweight champion while GSP was sidelined with injuries.
Condit employed a rather mobile and "elusive" gameplan, oftentimes appearing to run away or avoid Diaz entirely.
Diaz spent the five round fight tracking Condit down, trying to cut off the cage while exerting Octagon control.
Somehow, the judges mistook Condit's inactivity with elusiveness, and awarded him the decision victory.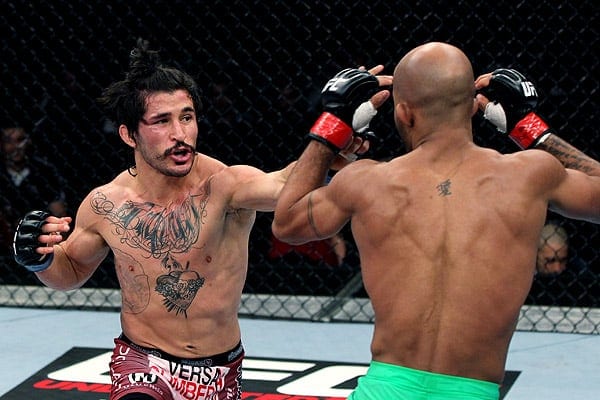 6. Ian McCall vs. Demetrious Johnson Draw – UFC on FX 2
When McCall and "Mighty Mouse" first threw down back in 2012, the judges down under must have been temporarily blind.
Despite knocking "Mighty Mouse" down and stuffing his takedowns repeatedly, McCall was punished by the result. Nothing Johnson did in that fight warranted a draw let alone a win.
McCall is still rightly remembered for dominating the eventual flyweight champion and UFC legend.
But to score this fight as a draw is complete madness. Definitely a historic robbery.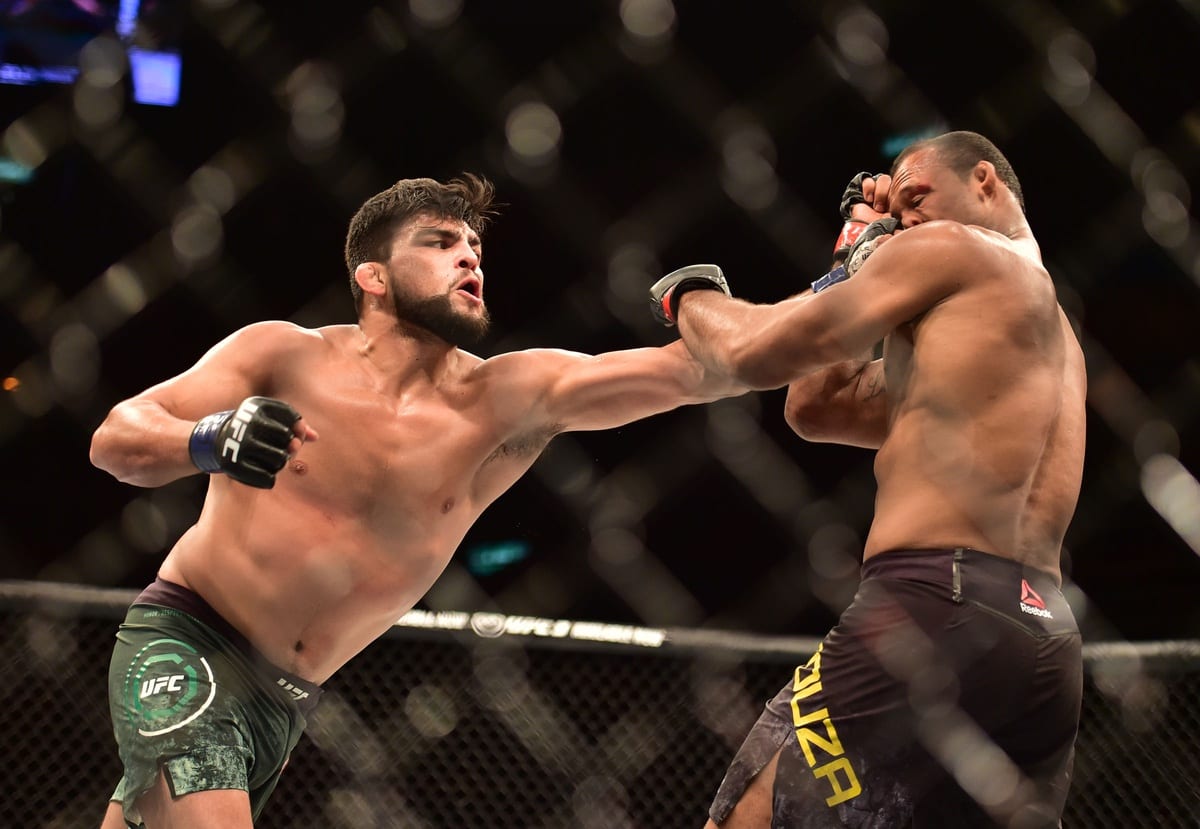 5. Kelvin Gastelum Defeats Jacare Souza – UFC 224
In this battle of middleweight contenders, Gastelum managed to get past perennial top three middleweight Jacare Souza with a split decision victory, but that doesn't reflect exactly what happened in the cage at UFC 224.
The Ultimate Fighter season 17 winner had been tearing through rly every middleweight he faced after moving up from 170 pounds, scoring first-round knockouts over former UFC champions Vitor Belfort and Michael Bisping. While the Belfort KO was eventually overturned, Gastelum had only lost to Chris Weismann at middleweight, and that likely should have changed after UFC 224.
Jacare likely saw his last chance for UFC middleweight gold go out the window because of this more than questionable decision.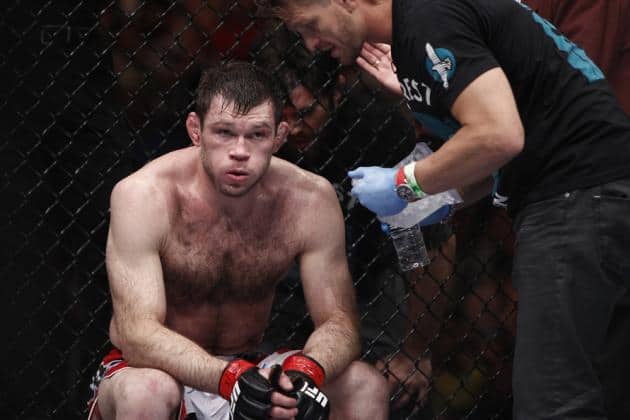 4. Forrest Griffin Defeats Rampage Jackson- UFC 86
The original Ultimate Fighter winner did the unthinkable after submitting Mauricio "Shogun" Rua before defeating "Rampage" to win the light heavyweight belt.
However, the "Rampage" victory will always have an asterisk next to it.
Outside of leg kicks, which Griffin employed very well, the challenger didn't really do enough to press the action or assert Octagon control. Griffin seemed just as surprised with the decision as the belt was wrapped around his waist, which just goes to show the flimsy nature of this decision "win".
The robbery cost "Rampage" his belt, and he would return and rebound with a vengeance by knocking out PRIDE FC rival Wanderlei Silva in the first round at UFC 92, the very event that Griffin surrendered the light heavyweight belt to Rashad Evans.
Griffin's improbable and questionable championship victory is one of the biggest feathers in Forrest's storied UFC career, but will forever remain one of the bigger judging robberies in the promotion's history.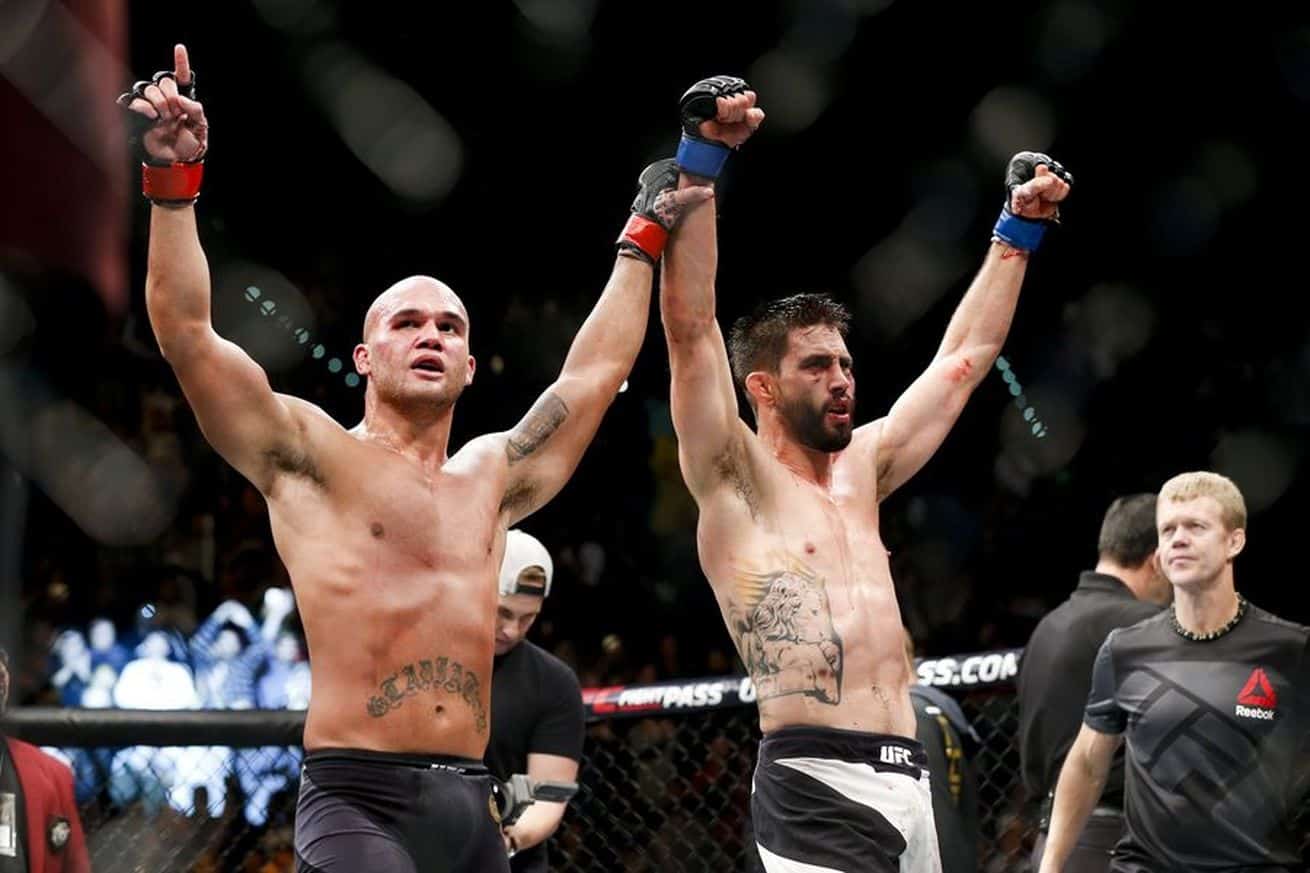 3. Robbie Lawler Defeats Carlos Condit – UFC 192
While this welterweight title fight was an extremely fun, back-and-forth kind of fight, the judges still got the final result wrong.
Everyone knows fifth round Robbie Lawler is hell on wheels, but Condit still pieced him up for the majority of the fight. The champion had his moments, too, which made the fight all the more entertaining.
However, Condit did more than enough to win on the judges' scorecards if the judges had paid attention to the fight. "The Natural Born Killer" used whipping leg kicks to slow Lawler down and employed pinpoint accuracy in his punches.
Most fight fans agree that Condit should have taken the belt home that night. In fact, that fight may have been Condit's best performance, and it happened to be a decision defeat.
Just remember that Lawler's win here has a serious asterisk next to it, due to the fact that Condit soundly outstruck him.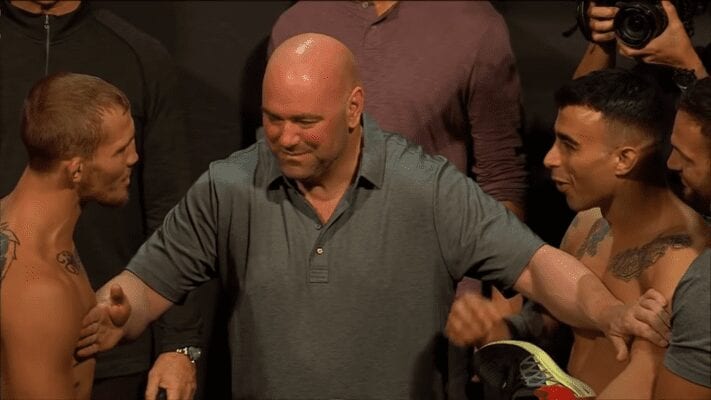 2. Makwan Amirkhani Defeats Jason Knight – UFC Liverpool
Thus far, Amirkhani's split decision win over Jason Knight has to be the biggest robbery of 2018.
In contrast to most of the other fights on this list, the loser of this fight was the one who scored a knockdown, two to be exact, and yet Knight still lost the fight.
Knight came into the bout in desperate need of a victory, having lost two in a row leading into UFC Liverpool. Knight looked like he was well on his way to snapping that losing streak in the first round, as he continued to drop Amirkhani with crisp boxing.
Amirkhani resorted to his stiffling grappling game to get back into the fight, but failed to really do any damage or threaten with any submissions. Instead, he seemed content to hold Knight down while sticking his tongue out and talking trash, which doesn't really win fights.
There is just no way Amirkhani won this fight, and the robbery put Knight on a three-fight losing streak.
So whenever you happen to be pouring through fighters' MMA records, just remember that Amirkhani was gifted this one. Anytime a fighter gets dropped multiple times and still goes on to win, one has to question the competency of the judges.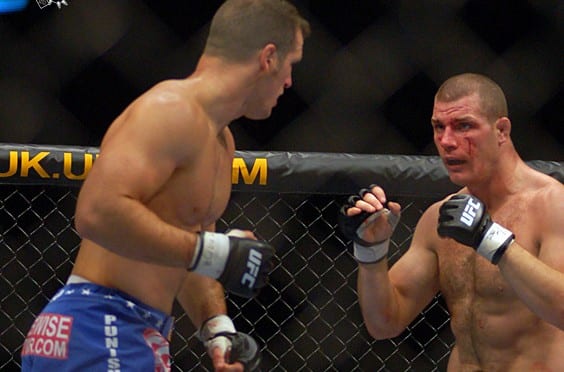 1. Michael Bisping Defeats Matt Hamill – UFC 75
Long before "The Count" was ever middleweight champion, Bisping was a light heavyweight, duking it out with the likes of Rashad Evans and Matt "The Hammer" Hamill.
Bisping lost to Evans in a close fight, but was gifted his own split decision victory against "The Hammer" just prior to the Evans fight, and it really should have gone the other way.
For one, the fight occurred in Bisping's native England, London to be exact, meaning he had the hometown support. Sometimes, partisan fans oohing and ahhing at your every strike, whether it lands or not, can sway the most fickle of MMA judges.
That was in full effect when Bisping got the nod over Hamill, who had dominated most of the fight with his wrestling.
Bisping's victory over "The Hammer" is a testament to the power of hometown support (and bias?), as Bisping would have lost that fight anywhere else.
Worse yet was his response to winning the fight. Bisping taunted the man who essentially beat him, and whipped up the crowd into a frenzy while doing so.
Winning this fight, a victory fans outside of England swear up and down is fraudulent, ended up giving Bisping his first platform to play the heel, something he refined and perfected as his UFC career carried on.