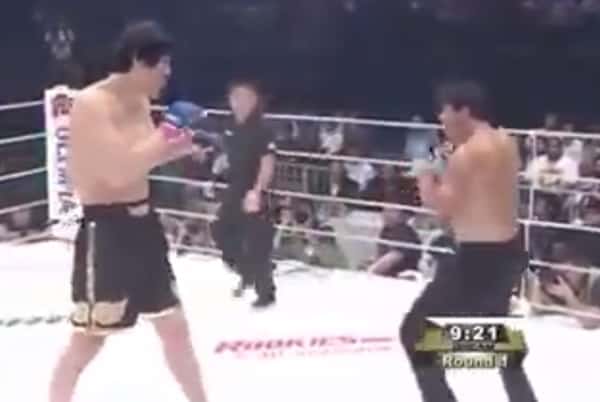 Hong Man Choi vs. Jose Canseco
The Japanese are the undisputed masters of the freak show, and a perfect example of that was when disgraced baseball star Jose Canseco made his MMA debut against the 7′ 2", 330-pound Hong Man Choi, aka 'The Techno Goliath' in the quarter-finals of the openweight 'Superhulk' tournament at DREAM 9 in 2009.
To be fair, Canseco was no small man himself, standing 6- 3" and weighing 240 pounds, but while he'd normally stand out in a crowd, next to Choi he was completely overshadowed.
In a later interview Canseco admitted that his game plan was simply "to stay alive," but he did land an overhand right in the opening seconds of the fight and a few kicks, which Choi barely seemed to notice.
Still, just for a moment Canseco might have been gaining some confidence, until Choi landed flush with a jab that sent him reeling across the ring.
A 'what the hell am I doing here?' look descended on Canseco's face as began to scurry away from his enormous opponent, and soon after Choi was able to force him to the mat and unleashed a thunderous series of strikes that forced a frantic tap from the outfielder with just 77 seconds on the clock.