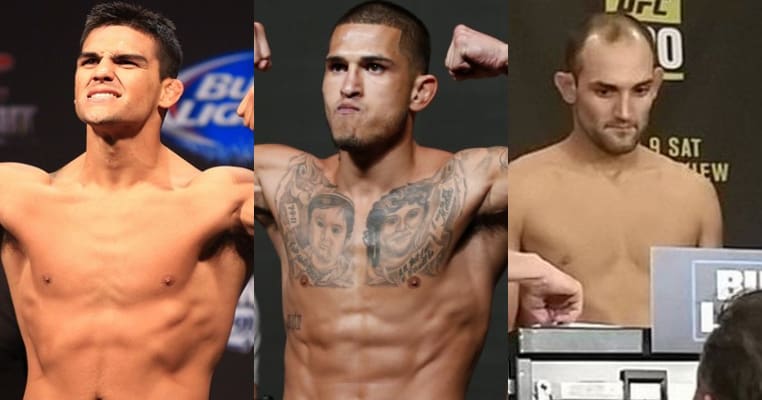 The dreaded scale fail.
It's something that mixed martial arts (MMA) fans never want to see. It certainly doesn't help when a fighter misses weight and squanders an opportunity such as a title shot or even their job.
This list of biggest failed weight cuts in Ultimate Fighting Championship (UFC) history focuses on the weight cuts that frittered away massive opportunities. For more brutal weight cuts, click here.
Let's get this started.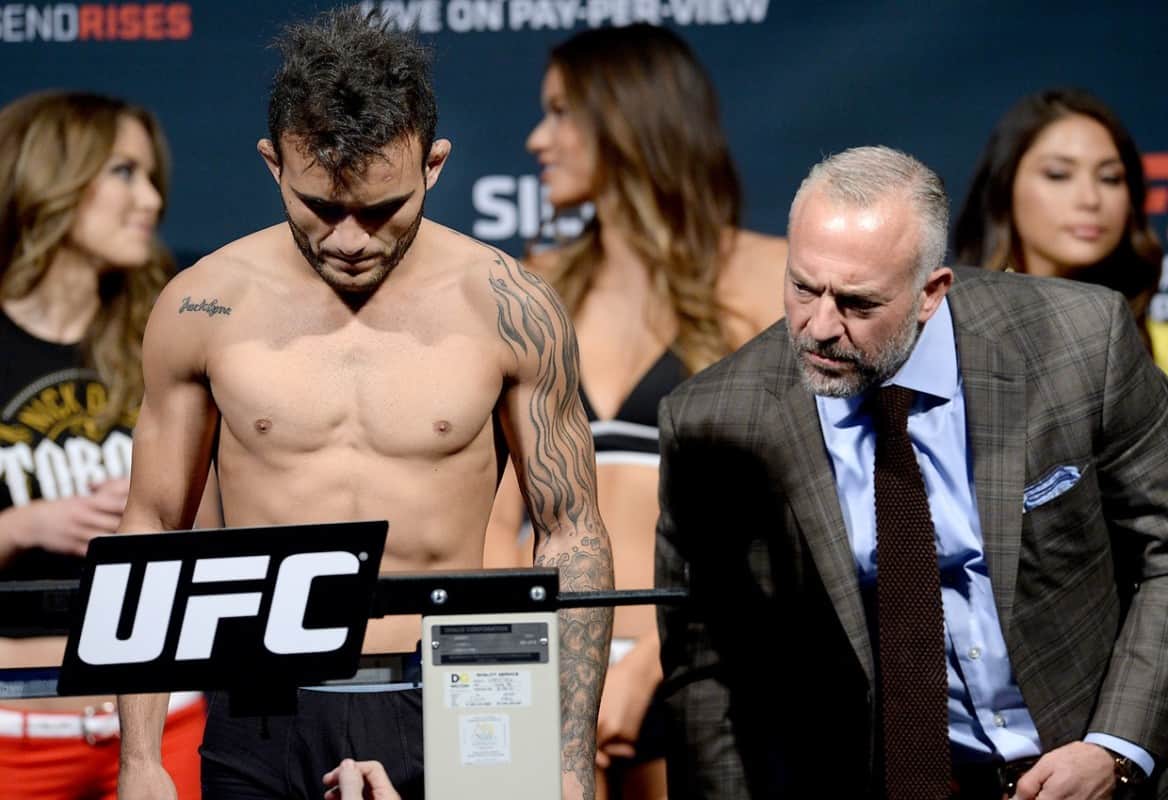 10. John Lineker – UFC 183
John Lineker was on a tear in the UFC's flyweight division. Eight fights into his 125-pound run, "Hands of Stone" earned six wins and four stoppages. The problem was, he didn't make weight for half his fights.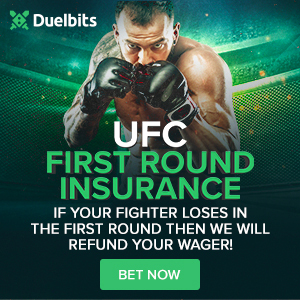 The final straw came when Lineker missed weight for the fourth time heading into his UFC 183 bout with Ian McCall. Lineker weighed in at 130 pounds. He went on to defeat "Uncle Creepy" by unanimous decision, but he was forced to move to the bantamweight division.
It's a shame that MMA fans missed out on a flyweight title showdown between Lineker and the sport's top pound-for-pound fighter Demetrious Johnson. Instead, Lineker has had to start over in the 135-pound weight class.
There is good news for "Hands of Stone," however. He is currently undefeated in the UFC's bantamweight division at 4-0. Of course, he did miss weight in his last bout with John Dodson so it's possible for him to squander another opportunity should he miss weight again.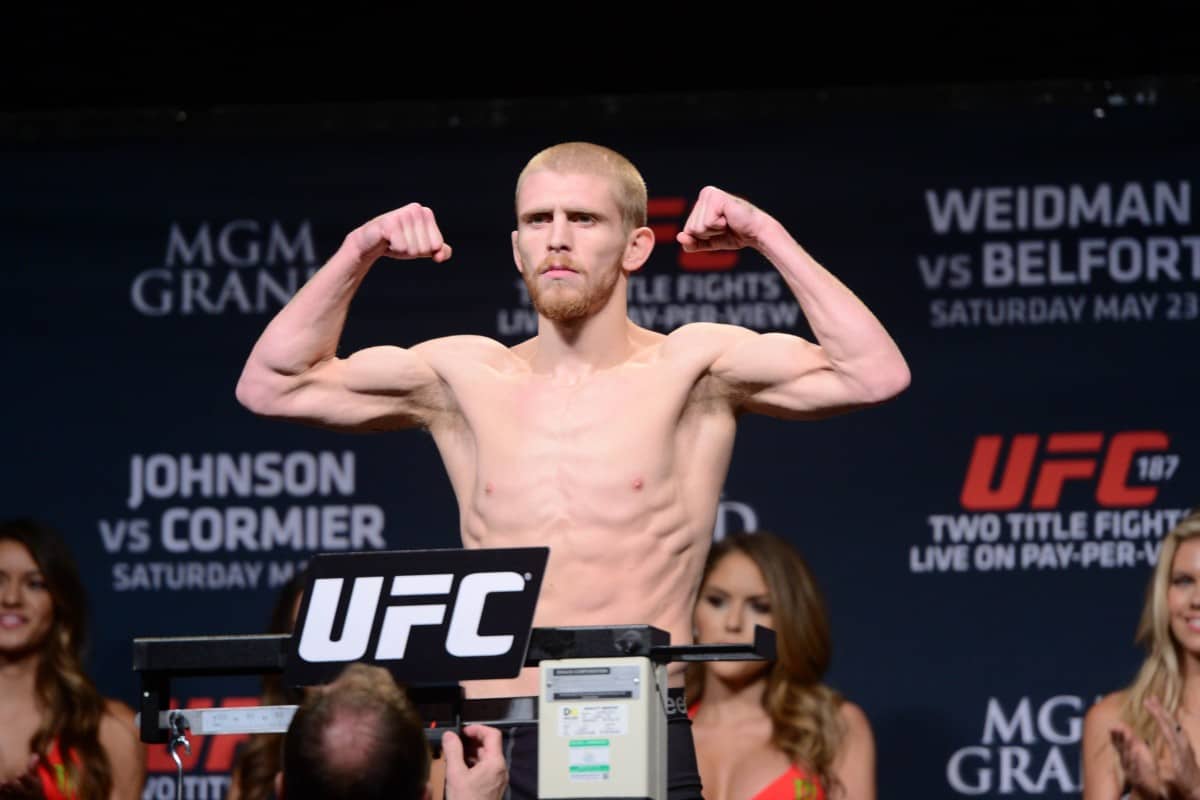 9. Justin Scoggins – UFC 201
Following back-to-back victories over Josh Sampo and Ray Borg, Justin Scoggins was offered a fight with Ian McCall. The bout was to serve as the opener for UFC 201's main card. McCall was the highest ranked flyweight Scoggins had been presented with.
Unfortunately, things went awry for "Tank." Scoggins informed the UFC that he would be unable to make the contracted weight due to a botched weight cut. The bout was replaced with another flyweight contest between Ryan Benoit and Fredy Serrano.
This scale fail was significant for Scoggins as it would've been his first bout on the main card of a pay-per-view (PPV). Instead of getting a crack at a top 10 flyweight, Scoggins was back on the Fight Pass prelims fighting Pedro Munhoz last month. "Tank" was submitted in the second round.

8. Thiago Alves – UFC 205
Former welterweight title contender Thiago Alves has had a history of weight cutting mishaps. Going into his UFC 85 bout with Matt Hughes, "Pitbull" weighed in at 174 pounds. He then missed weight heading into his rematch with Jon Fitch at UFC 117 back in 2010.
After his second miss, Alves would enlist the help of nutritionist Mike Dolce. Alves would go on to make weight for his next seven fights. Having gone 3-3 in his last six bouts, Alves felt it was time for a change and moved to the lightweight division.
Surprisingly, he ditched Dolce for his 155-pound debut against Jim Miller at UFC 205.
The change didn't pay off as "Pitbull" tipped the scales at 162.6 pounds, which was 6.6 pounds over the weight limit. Not only did Alves lose the fight by unanimous decision and had to give up 20 percent of his purse, but he was also suspended for three months by the New York State Athletic Commission (NYSAC) for missing weight.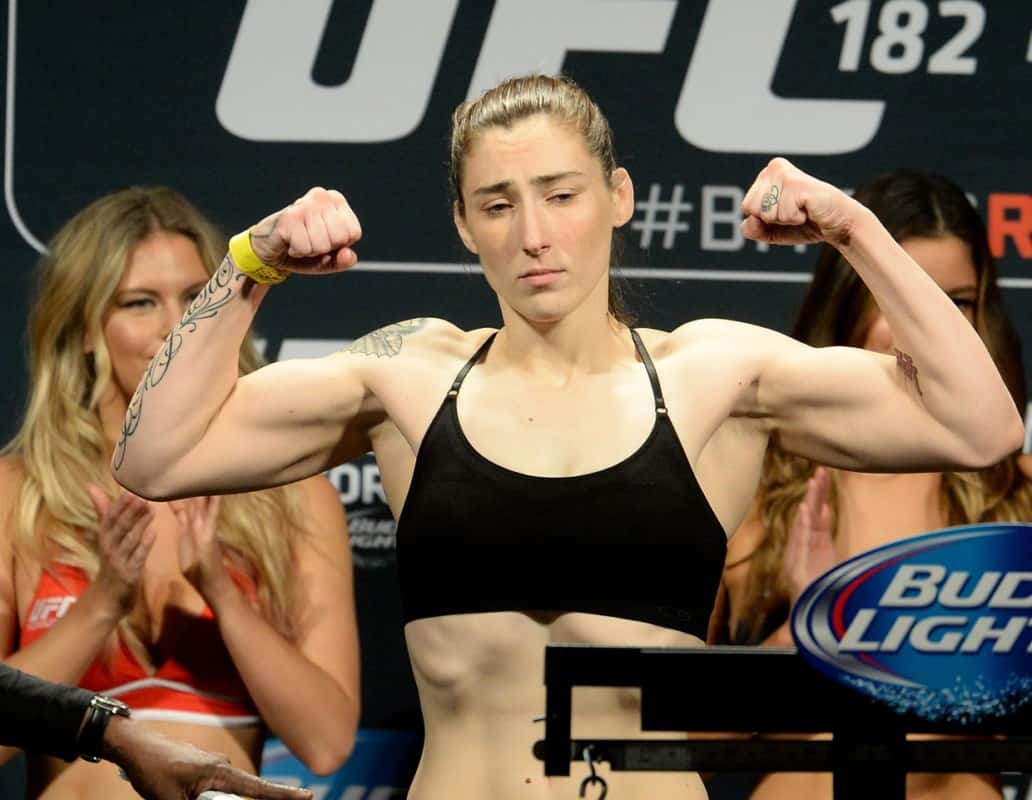 7. Alexis Dufresne – UFC 182
Missing weight your first two fights under the UFC banner probably doesn't leave a great impression. It doesn't do you any favors when you lose both of those fights decisively. That's exactly what happened to Alexis Dufresne.
The "Sneaky Zebra" was an undefeated prospect before stepping inside the Octagon. Her 45-second TKO win over Kim Couture is what brought her to the big stage. Granted, that fight was at a 150-pound catchweight but Dufresne signed on anyway knowing she'd have to make the 135-pound limit.
She couldn't do it.
Dufresne tipped the scales at 143 pounds before her UFC debut against Sarah Moras at The Ultimate Fighter (TUF) 19 finale. She lost the fight by unanimous decision. Dufresne missed weight again going into her UFC 182 bout against Marion Reneau. She was defeated in a lopsided affair and was released shortly after.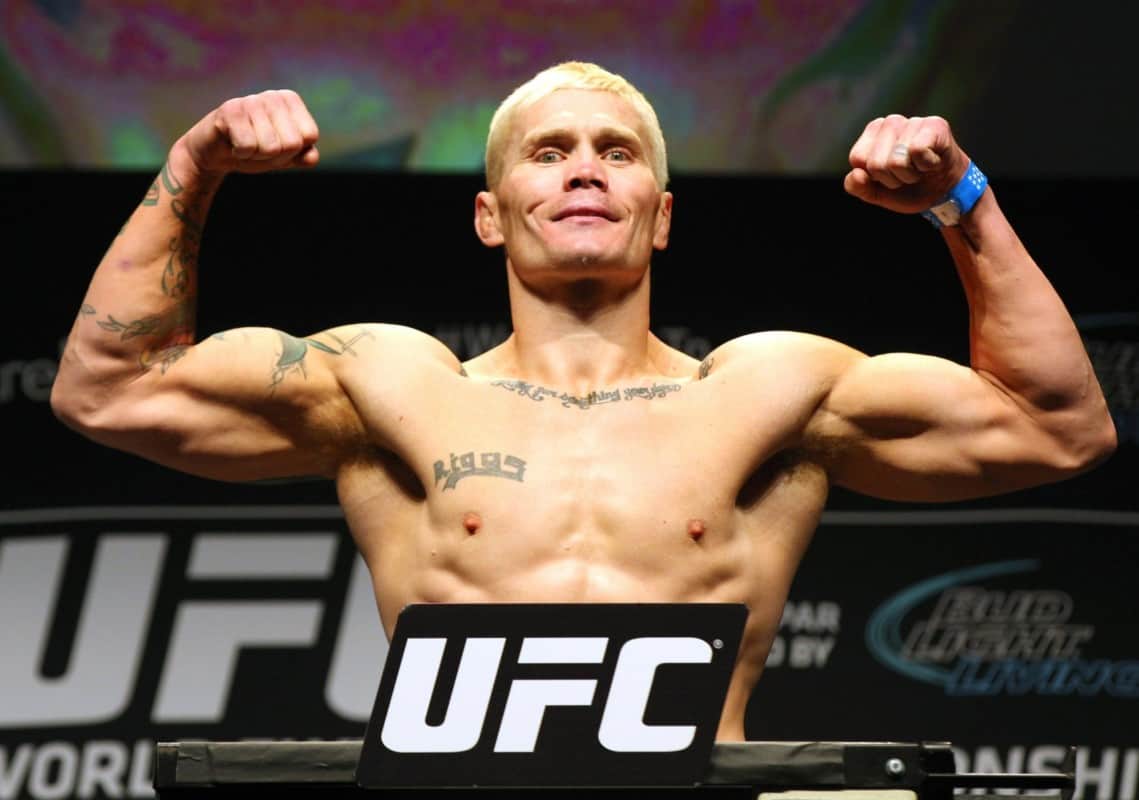 6. Joe Riggs – UFC 56
There was a time when Joe Riggs was considered to be a serious contender in the welterweight division. "Diesel" had beaten the likes of a young Kendall Grove, Joe Doerksen, and Chris Lytle before getting a shot at the welterweight title held by Matt Hughes.
Having won 10 of his last 11 fights, fans wondered if Riggs had what it took to dethrone Hughes, who had a professional record of 38-4 going into the bout. Despite this being the biggest fight in "Diesel's" career, he couldn't make weight.
Riggs initially weighed in at 172 pounds. On the second attempt, he even gained a pound. The third and final attempt was the death blow to "Diesel's" title opportunity. The bout still went on and Hughes submitted Riggs in the first round. Riggs eventually moved to middleweight, but didn't return to contendership status.

5. Kelvin Gastelum – UFC 205
When Kelvin Gastelum won TUF 17 against Uriah Hall, he knew he'd make the move from middleweight to welterweight. His first weight cut was a successful one as he weighed 170 pounds and submitted Brian Melancon in the first round. For a little bit, it appeared Gastelum would settle into his natural weight class.
Things didn't go according to plan.
Gastelum was forced to move back up to middleweight after missing weight twice. After running through Nate Marquardt, Gastelum was allowed to return to the 170-pound division. He rebounded from a loss to Neil Magny by beating former UFC welterweight champion Johny Hendricks. Gastelum looked to finally have his weight under control.
Except he didn't.
Gastelum was set to fight Donald Cerrone at the biggest PPV in UFC history, UFC 205. It was the first UFC event held in New York City inside Madison Square Garden. On the day of the weigh-ins, Gastelum didn't even attempt to hit the scale because he was well over the weight limit. The fight was canceled and UFC president Dana White claimed Gastelum would never fight at welterweight again.
The NYSAC would suspend Gastelum for six months due to his failure to make weight for UFC 205. Gastelum paid a $2,000 fine to settle with the NYSAC and compete against Tim Kennedy at UFC 206. Gastelum won the fight and vowed to return to welterweight.

4. Johny Hendricks – UFC 192
Former UFC welterweight champion Johny Hendricks is no stranger to weight cutting mishaps. His first title bout against Robbie Lawler was in jeopardy, but "Bigg Rigg" barely made the weight after getting extra time. Heading into his second bout with "Ruthless," nutritionist Mike Dolce claimed Hendricks began training camp weighing 218 pounds.
Undoubtedly, the worst weight cut Hendricks had to endure was the one leading to his fight with Tyron Woodley at UFC 192.
"Bigg Rigg" was used to cutting large amounts of weight in the past, but his body simply wouldn't let him do it this time.
The weight cut was a disaster as Hendricks had to be rushed to the emergency room. The former champion had a blockage in his intestine and a kidney stone. The fight was canceled as a result.
"Bigg Rigg's" weight problems continued when he went over the 171-pound limit for his UFC 200 bout against Kelvin Gastelum.

3. Anthony Pettis – UFC 206
Anthony Pettis was not ready for "Showtime" when he weighed in for his UFC 206 interim featherweight title fight with Max Holloway. Despite making weight for his successful featherweight debut against Charles Oliveira, lightening couldn't strike twice for Pettis.
"Showtime" weighed in at 148 pounds, three pounds over the weight limit. This disqualified Pettis from his chance to win the interim title, but Holloway still had a crack at gold because he made weight.
When it was time to fight, the former 155-pound kingpin was a step behind "Blessed." He complained of a broken hand at the end of the opening round, but that isn't where his problems stopped. Holloway picked his shots nicely and eventually finished "Showtime" in the third round.
Pettis informed Joe Rogan after the fight that he was ditching the featherweight division and going back to lightweight.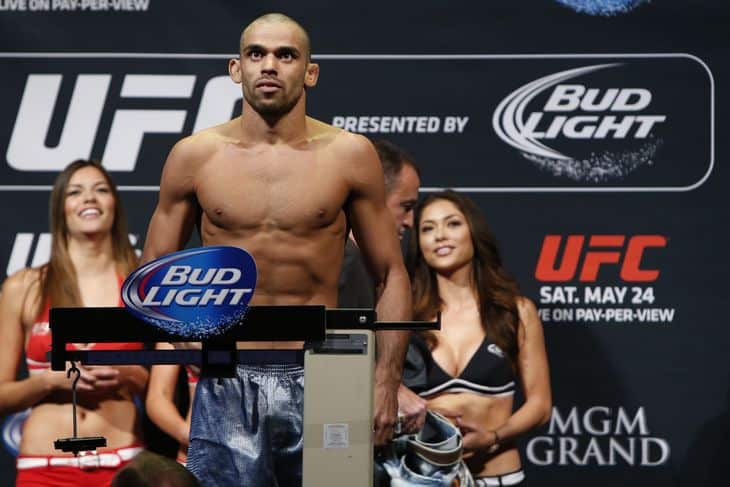 2. Renan Barao – UFC 177
The MMA world was stunned when TJ Dillashaw annihilated then bantamweight champion Renan Barao at UFC 173 to take over the 135-pound division. At the time, Barao was considered to be one of the top pound-for-pound fighters on the planet.
The stage was set for a title rematch at UFC 177. The main card wasn't considered to be strong on paper and the event relied heavily on the main event. While a championship bout did take place at the event, Barao wasn't in it.
"The Baron" found himself in the hospital on the day of the weigh-ins due to his attempts at cutting weight. He was removed from the card, leaving the UFC to scramble for a replacement. Dillashaw defended his title against Joe Soto and won by knockout.
Barao and Dillashaw did eventually have their rematch at UFC on FOX 16. It was another dominant display by Dillashaw, who retained his title via TKO in the fourth round.

1. Anthony Johnson – UFC 142
Believe it or not, Anthony Johnson once competed as a welterweight. "Rumble" often struggled to make weight and came in six to seven pounds over the weight limit in two welterweight bouts.
It was clear that Johnson needed to move up, so he chose the middleweight division. His opponent was Vitor Belfort at UFC 142. The weigh-in results couldn't have been worse for Johnson. He tipped the scales at 197 pounds, 11 pounds over the limit. This was the final straw for Dana White, who revealed regardless of the fight result Johnson would be released from his contract.
Belfort submitted "Rumble" in the first round and the UFC cut him shortly after.
Fortunately for Johnson, he has turned things around greatly. He went on a six-fight winning streak for other promotions and made the permanent move to light heavyweight. His turnaround earned him another chance with the UFC and he has not disappointed. He has gone 6-1 since his return, only losing to current 205-pound champion Daniel Cormier.