Just in case you haven't had enough coverage of the UFC's biggest star and champion Ronda Rousey lately, the promotion has taken things to an all-new level, and it has to do with their all-new Reebok uniform sponsorship deal.
In an effort to maximize exposure for their crossover star, the UFC decided to take advantage of her all-time high popularity by selling her fight-worn Reebok tank top from her massive 34-second knockout over Bethe Correia in the main event of August 1's UFC 190 from Rio de Janeiro, Brazil.
The (supposedly) one-of-a-kind item can be yours for the low, low price of only $9.999.95, although if it truly was the only top Rousey wore during the fight, and she could obviously wear only one, then there probably couldn't be "few left" as it says on UFC.com: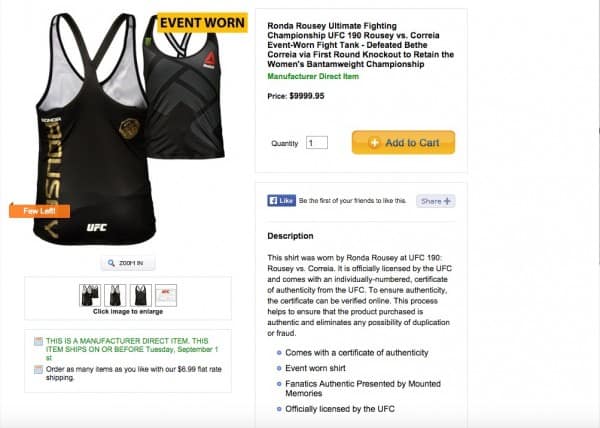 UFC fanatics could also purchase Reebok clothing like Michelle Waterson's shorts from her debut victory over Angela Magana at The Ultimate Fighter (TUF) 21 Finale, which already shipped out for a mere $999.95: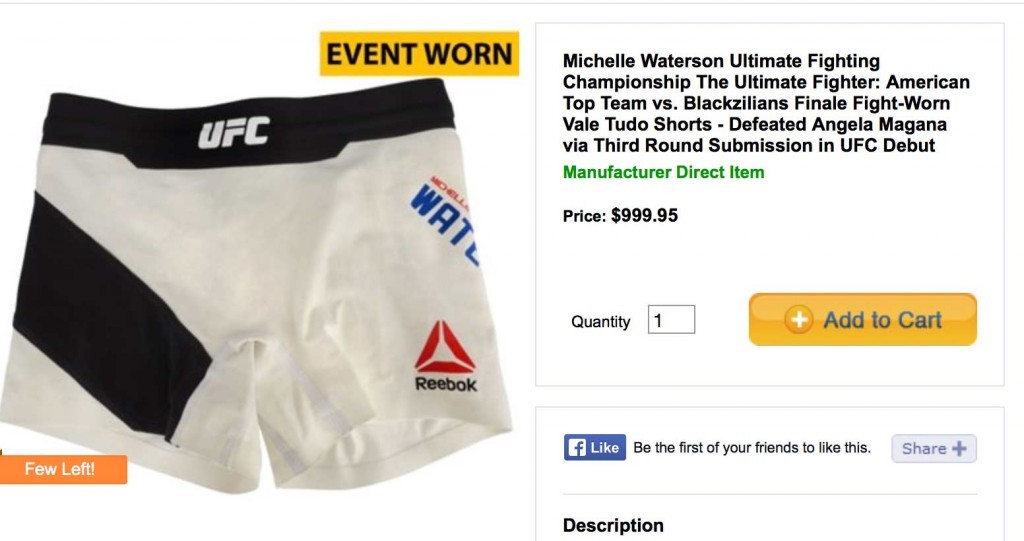 The UFC has taken fandom to a never-before-seen "heights," but it's unknown whether or not there's a market for this expensive and personal of an item will sell for such a lofty sum.
Either way, it's a clear sign that Rousey's stardom has risen to a never-before-seen place when one of her Reebok tanks sells for this much. The presence of the shirt online could be viewed as a money grab while Rousey's hot, or it could be viewed as a rare opportunity for a 'lucky' fan to purchase a rare piece of UFC history.
Is the UFC making their efforts to capitalize on "Rousey-Mania" a little too blatant, however?