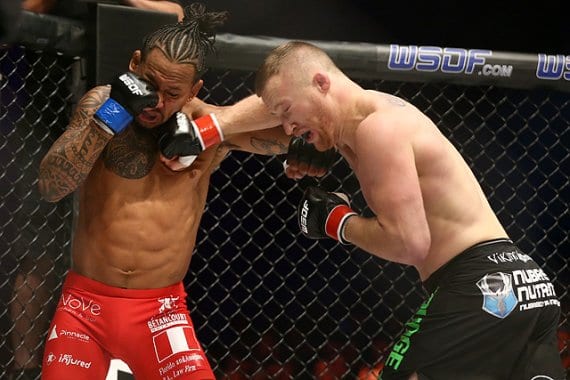 World Series of Fighting (WSOF) champion Justin Gaethje took on Luis Palomino in a rematch of their "Fight of the Year" contender at tonight's (Fri., September 18, 2015) WSOF 23 Comerica Theatre in Phoenix, Arizona.
The bout was similar to the first, with Palomino wobbling Gaethje with a flurry early on. The champ fought back with two solid takedowns and a huge uppercut, flooring Palomino to nail him with some elbows. In the second, Palomino came out strong with some elbows, only to eat a big shot from Gaethje. The fighters went to war with knees and traded low kicks. Gaethje hit Palomino with a stiff right, but he ate it.
Low kicks from Gaethje thudded 'The Baboon's' leg, and the champ kept pushing a nonstop pace. Gaethje dropped Palomino with a huge punch and a huge flurry of follow-up shots to earn the impressive stoppage and his second win over the always tough Palomino.
Check it out courtesy of Zombie Prophet on Twitter right here:
Justin Gaethje vs. Luis Palomino #WSOF23 https://t.co/V9Rjwh4hQA

— ZombieProphet (@ZProphet_MMA) September 19, 2015
In the co-main event, WSOF middleweight champion David Branch faced Teddy Holder for the inaugural WSOF light heavyweight title. Branch started out well with a takedown and some ground strikes, locking on a rear-naked choke in the first to send Holder away early. Watch Branch become the first WSOF two-division champ here:
David Branch vs. Teddy Holder #WSOF23 https://t.co/RNC654RU1E — ZombieProphet (@ZProphet_MMA) September 19, 2015
Timur Valiev absorbed some damaging strikes, but largely outstruck and outgrappled Tito Jones on his way to a clear unanimous decision win.
Despite eating some huge punches early, masked 'superhero' Phoenix Jones (AKA Ben Fodor) submitted Roberto Yong with an impressive first round leg scissors choke when he appeared he was looking for a kimura.
Kicking off the main card, Brian Foster nailed LaRue Burley with a vicious short straight right that dropped him like a knocked out sack of potatoes and stopped the fight only 32 seconds into the first frame. Check out the electrifying one-shot KO in slo-mo courtesy of Zombie Prophet right here:
LaRue Burley vs. Brian Foster #WSOF23 Slo-Mo of the KO https://t.co/jBLZk2OKzY — ZombieProphet (@ZProphet_MMA) September 19, 2015
Main card (NBC Sports at 10 p.m. ET):
Justin Gaethje def. Luis Palomino via R2 TKO (strikes)
David Branch def. Teddy Holder via R1 submission (rear-naked choke, 2:21)
Timur Valiev def. Tito Jones via unanimous decision (30-27, 30-27, 30-27)
Phoenix Jones def. Roberto Yong via R1 submission (scissors choke, 3:09)
Brian Foster def. LaRue Burley via R1 KO (punch, 0:32)
Undercard (Online, 7 p.m. ET):
Vagab Vagabov def. Brian Grinnell via R2 TKO (strikes, 2:29)
Clifford Starks def. Krasimir Mladenov via unanimous decision (30-27, 30-27, 29-28)
Matthew Frincu def. Danny Davis Jr. via split decision (28-29, 30-27, 29-28)
David Nuzzo def. Andres Ponce via unanimous decision (29-28, 30-27, 30-27)
Joey Miolla def. Randy Steinke via R2 KO (knee, 3:55)
Benny Madrid def. Jeff Fletcher via R1 submission (rear-naked choke, 1:26)
If you enjoyed this story, please share it on social media!