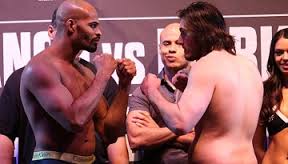 Tonight's (Fri., April 10, 2015) World Series of Fighting (WSOF) 20 main event from Foxwoods Resort Casino in Mashantucket, Connecticut, featured WSOF middleweight champion David Branch facing newcomer Jesse McElligott after former UFC fighter Ronny Markes was forced out of the original light heavyweight tournament semifinal due to illness yesterday.
Branch came out winging a big head kick, clinching to take McElligott down. The champion smothered McElligott, landing solid punches and some elbows to pick up a one-sided round. Branch wasn't playing games in the second, pushing forward with some big shots and hitting McElligott with a big body kick and some knees. He got a surprising takedown to lock on a tight Von Flue choke that put McElligott to sleep.
Check out highlights of Branch's dominant win right here:
In the co-main event, former lightweight title contender Nick Newell faced Joe Condon after Melvin Guillard was unceremoniously removed from his bout versus Ozzy Dugulubgov, who instead took on Lucas Montoya.
Newell came out pushing the pace with punches and low kicks, absorbing a stiff jab after he missed with a huge swing. Newell was finding a home for his sharp body kicks, landing them repeatedly and getting a big slam to sink in both hooks on the ground as bell rang on the opening round. Condon snapped a Superman punch in the second, following with a kick. Newell goaded Condon into fighting more, rushing to clinch and scoring a strong judo throw to take Condon's back standing.
Newell picked him up for another lifting slam, closing out the second round with a single leg. In the final round, Condon finally got a controlling position on the ground against a tired Newell. He landed knees and Newell looked for a guillotine only to have Condon take his back. He got up and Condon took him down again, yet Newell pushed the action to close out the bout, attempting a guillotine a the final bell sounded. In the end Newell took home a unanimous decision.
The event also featured the WSOF debut of famed crime-fighting superhero "Phoenix Jones," who is better known as Ben Fodor. He met Emmanuel Walo on the main card. All of the hype aside, Walo was largely able to use his wrestling skill to take "Jones" down repeatedly. Despite some big power shots from Fodor in the third, Walo took home the upset via unanimous decision.
NCAA wrestling champion Steve Mocco squared off with Julian Coutinho at heavyweight, and it was destined to be a one-sided affair. After landing some big right hands, Mocco got a takedown to smother Coutinho with a barrage of shots that forced the referee to call a stop to the fight.
The main card kicked off with Dugulubgov vs. Montoya. Dugulubgov used an early takedown as Montoya went for a few submissions. The referee ordered a restart with Montoya in Dugulubgov's guard, but the fight was stopped when the fighters got back to their feet when it was revealed that Montoya had broken his arm.
WSOF 20 Main Card Results:
Dave Branch def. Jesse McElligott via R2 technical submission (Von Flue choke, 1:28)
Nick Newell def. Joe Condon via unanimous decision (29-28, 29-28, 29-28)
Emmanuel Walo def. Ben Fodor via unanimous decision (29-28, 29-28, 29-28)
Steve Mocco def. Juliano Coutinho via R1 TKO (strikes, 4:02)
Ozzy Dugulubgov def. Lucas Montoya via R1 TKO (injury stoppage, 3:39)