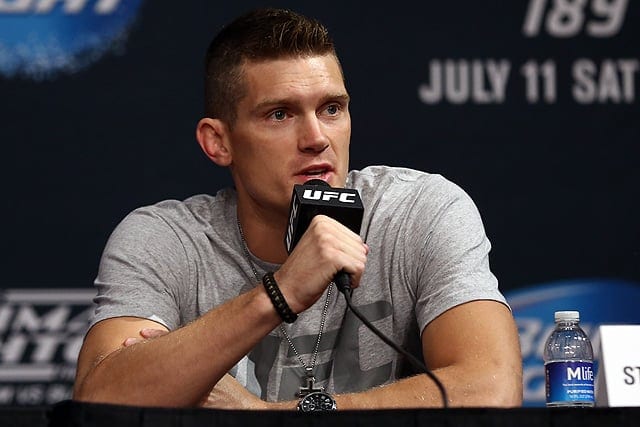 Hold the phone on that reported 'Wonderboy' vs. Darren Till booking early next year.
After news arrived from The Los Angeles Times' Lance Pugmire that top-ranked UFC welterweight Stephen Thompson would be taking on surging prospect Darren Till in the main event of UFC Fight Night 127 next February from London, Thompson's coach and father Ray Thompson shot down the reported booking.
Responding to the report to MMAFighting.com, Thompson said 'Wonderboy' may have two broken thumbs and/or ligament damage from his decision win over Jorge Masvidal at last week's UFC 217, and had not talked to anyone about the supposedly 'done' booking. In their eyes, Till should have to work his way up the stacked welterweight division before facing them:
"We've talked to no one [about fighting Till]," Ray Thompson added. "Not sure how this is a 'done deal.' As for Till, he needs to fight through the murderers row at welterweight like 'Wonderboy' did to get to the top.
Thompson elaborated more on their point of view, noting that they still want to fight top-ranked former champ Robbie Lawler, who will take on rising former lightweight champion Rafael dos Anjos in the main event of December 16's UFC on FOX 26. Thompson wondered why his son is essentially being moved out of contention after two incredibly close fights with champion Tyron Woodley:
"We want to fight forward. We've been calling out [Robbie] Lawler since before the first Woodley fight and have gotten crickets on it. Why? Why hasn't anyone talked to us about it? No one from the UFC, no one from Lawler's camp, no one. 'Wonderboy' had one of the most fantastic, exciting fights when he fought [Tyron] Woodley at UFC 205. That fight stole the show.

"The second fight was a snoozefest, mostly because Wonderboy chased Woodley around the Octagon for five rounds. We take part of the blame since we didn't pull the trigger often enough. Since then we feel like we are being moved out of title contention. Not saying that's the case but it sure looks that way. What happened to the rankings?"
'Wonderboy' himself also confirmed he had yet to be approached about fighting Till.
The unbeaten Liverpool native is gaining momentum in a big way after starching Donald Cerrone in the main event of October 21's UFC Gdansk, and the UFC was reportedly looking to book him at UFC Fight Night 127 from Orlando. The promotion now reportedly wants to move the card to Liverpool, where they've looked into booking the Echo Arena, for Till to headline.
The unbeaten rising star has expressed interest in fighting the former title challenger Thompson, but sources close to him confirmed there have been no official talks as well.

What went wrong in this chain of communication for the UFC?