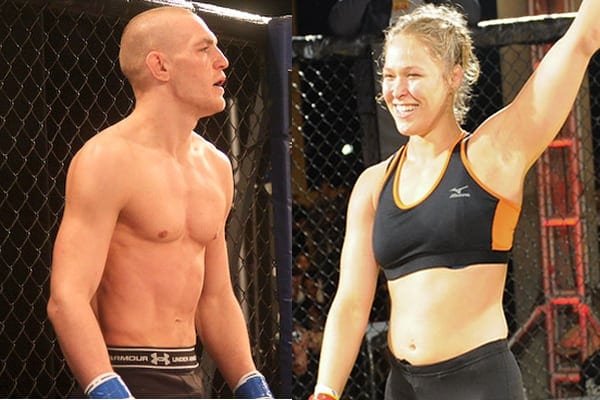 Any self-respecting fan of the sport can name the biggest fights their favorite fighters have had in the Octagon, but to get a full appreciation for their journey – to truly grasp how far they've come and what they've achieved – you have to go right back to the beginning and see where they came from.
By the time fighters reach the UFC they will often have had to prove themselves many times over in far less glamorous surroundings, often fighting for little or no pay in small, regional promotions as they attempt to build the reputation, experience and fight record that one day might lead to them getting their big break in the sport.
For this article we've scoured the internet to uncover footage of many of the biggest stars the sport has ever seen making their professional mixed martial arts debuts.
We hope you'll agree that it makes for fascinating viewing, so sit back, relax and enjoy part two of our chonicles of MMA history being made!
Jon Jones Vs Brad Bernard
Jon Jones made his professional debut at 'Full Force Productions: Untamed 20' in April of 2008, competing against Brad Bernard who had a 0-2 record at the time.
Bernard described himself as a 'bar-room brawler', and proved to be no match for the 20 year-old Jones, who displayed his skill and showmanship in a single, perfectly executed suplex throw in the opening round, which was followed immediately by him cockily raising his hand in triumph.
Jones clearly knew he was in control, and indeed the fight was over soon afterwards as Bernard wilted under his ground and pound, leading to a TKO victory.
The future light-heavyweight champion and pound-for-pound great would go on to amass a perfect 6-0 record in the space of three months on the regional circuit, which led to him being signed by the UFC, where he'd continue to manhandle far more experienced fighters en-route to the belt.
https://www.youtube.com/watch?v=JPXpvEWDGBA
Ronda Rousey Vs Ediene Gomes
Ronda Rousey wasn't just your average MMA newcomer when she made her debut at King Of The Cage: Turning Point in March of 2011, as she had already become the first American woman ever to win a medal (bronze) in Judo at the Olympics.
As such she wasn't handed an easy challenge for her first professional fight, going up against Ediene Gomes, a tough Brazilian with a solid 6-1 record.
In a sight that would become all-too-familiar to MMA fans in the years to come, Rousey was able to take Gomes down early in the fight and then lock in her trademark armbar finish with just 25 seconds on the clock.
Almost exactly a year later she won Strikeforce's bantamweight title, and within two years she'd become the UFC's first ever female champion and was well on her way to become one of the biggest stars ever in the sport.
Georges St. Pierre Vs Ivan Menjivar

It's somewhat amusing that the event that UFC superstar Georges St. Pierre made his debut at in his native Canada in January of 2002 was billed as 'UCC 7: Bad Boyz', given that he would turn out to be one of the most clean-cut, 'good guys' the sport has ever seen.
This was to be a true baptism of fire for the 21 year-old, going up against a young Ivan Menjivar who had a 4-0 record at the time and would himself later become a UFC fighter.
The fight was competitive in the opening round, with GSP showing his raw talent by both being able to both survive being put on his back by the ground specialist Menjivar a couple of times, and also landing a couple of takedowns himself.
The end to the fight was unfortunate, with Menjivar appearing to slip, which led to St. Pierre getting on top and starting to chip away with ground and pound. Menjivar told the referee he was ok, but the official misunderstood and thought he was verbally tapping out, which resulted in the contest ending with just one second of opening round remaining.
So, GSP's career got off to a winning start and two years later he'd sign with the UFC and forge a path to become a true legend of the sport.
https://www.youtube.com/watch?v=-Je7auRQAWo
Daniel Cormier Vs Gary Frazier
Having been a former Olympic wrestling captain who'd took fourth place at the 2004 games, Daniel Cormier's reputation preceded him when he shifted his focus to MMA, and so he skipped the regional promotions and headed straight for the Strikeforce Challengers series in September of 2009.
Cormier's heavyweight opponent, Gary Frazier was also making his debut and also had a wrestling background, but it soon became apparent that he was no match for this future star.
'DC' would get the better of Frazier in both the striking and grappling exchanges in the opening five minutes, and it was more of the same in the second, with Cormier eventually getting on top of his exhausted opponent and finishing him with ground and pound.
It was an assured performance by Cormier, and he would continue to gain valuable experience in the Strikeforce ranks for a few more years, eventually becoming the surprise winner of their heavyweight grand-prix in 2012 before moving on to the UFC, where he currently holds the light-heavyweight title.
https://www.youtube.com/watch?v=bdZ8EV8Sknk
Conor McGregor Vs Gary Morris
UFC superstar Conor McGregor made his professional MMA debut at 'Cage Of Truth 2' in his native Ireland in March of 2008 at just 19 years of age.
His opponent, Gary Morris was also debuting at the event, and would taste defeat for the first time at the hands of 'The Notorious'.
McGregor bested Morris in the opening round and then dropped him early in the second with a straight left, leading to a ground and pound assault that would produce the TKO stoppage.
McGregor would continue to ply his trade in Ireland for five years, amassing a 12-2 record during that period. The UFC then came calling and he seized the opportunity with both hands, becoming an overnight sensation in the Octagon and a future featherweight champion.
https://www.youtube.com/watch?v=mfjTllQ28M8
Wanderlei Silva Vs Dilson Filho
'The Axe-Murderer' Wanderlei Silva's famous MMA career began all the way back at 'Brazilian Vale Tudo 6' in November of 1996, and he'd start as he meant to go on by turning this fight into a war.
Silva could barely wait to get the action started, charging at his opponent from the opening bell, but Filho landed a powerful takedown, and in the opening half of the round he was getting the better of the action.
Silva hung in there though, and eventually he was able to turn the fight into the kind of toe-to-toe brawl that would become a trademark throughout his career, with both men all but emptying their gas tanks in the ensuing slug-fest.
The two men then clinched against the ropes as they tried to catch their breath and clear their heads. However, Silva still had violent intentions, and took advantage of the lack of rules in Vale Tudo by headbutting his opponent, then landed an elbow the head, and finally a thunderous uppercut that resulted in Filho slumping to the mat unconscious.
So, Silva earned the first of what would by many KO victories, became an instant fan-favorite, and less than two years later he'd make his UFC debut, with a reign of terror in the PRIDE organization still to follow.
https://www.youtube.com/watch?v=3wvd3LkY6eU
Brock Lesnar Vs Kim Min Soo
Brock Lesnar was already a superstar in the pro-wrestling world when he decided to make the transition to MMA, and so there was a great deal of interest for his high-profile debut which took place at K-1 Dynamite!! USA in June of 2007.
Lesnar had originally been scheduled to fight the 7ft 2" giant Hong Man Choi, but that bout fell through on just 10 days notice, and so Kim Min Soo took his place, holding a less than impressive 2-5 record at the time.
Nobody gave Soo much of a chance in the fight, and indeed it took Lesnar just 69 seconds to prove that theory correct. Lesnar took him down in the opening 10 seconds and soon moved to full mount. He began landing thumping blows to Soo's head and it wasn't long before the South Korean began frantically tapping to avoid further punishment.
Lesnar quickly signed with the UFC, and despite his lack of MMA experience he'd go on to win the heavyweight title.
Anderson Silva Vs Raimundo Pinheiro
Anderson Silva's didn't take the easy road when he made his professional debut in 1997, signing up for a one-night tournament to mark the first ever 'Brazilian Freestyle Circuit' event.
While Silva would become best known for his otherworldly striking, in his first fight against Raimundo Pinheiro (who was 1-1 at the time) he was forced to show off his grappling abilities after being taken down early in the opening round.
Threatening with a leg lock from his back, Silva was able to get on top, moved to full mount and then transitioned to Pinheiro's back and sunk in the fight-ending rear-naked choke.
In the other fight that night Silva would be paired up with another future UFC fighter Fabricio Camoes, and it turned out to be a drawn out battle that lasted more than 25 minutes, only ending when Camoes retired due to his legs being too beaten up to stand back up!
Of course Silva would then go on to become a long-time UFC champion, a national hero in Brazil, and one of the best pound-for-pound fighters of all time.
Chris Weidman Vs Ruebem Lopes
Chris Weidman's first taste of professional MMA action came at Ring Of Combat 23 in February of 2009 against Ruebem Lopes, who was also stepped into the cage for what would turn out to be both his first ever fight, and his last.
Weidman showed his high-level wrestling with a beautiful takedown in the opening 10 seconds, and was in complete control on the mat from that point onwards, until he seized on the fight-ending kimura submission with just 95 seconds on the clock.
'The All-American' would continue to compete for ROC until he signed for the UFC two years later, rising his way up the ranks to become their middleweight champion.