A tremendous 2015 for the UFC has just about neared its end, and the company hasn't wasted any time getting back into things, as UFC 195 is scheduled to go down this coming Saturday (January 2, 2016) night live on pay-per-view (PPV) from the MGM Grand Garden Arena in Las Vegas, Nevada.
With the first event of the New Year now just days away, it's time to take a deeper look into what fans are in store for.
The UFC has built a solid event consisting of a highly anticipated headliner, alongside a few pivotal, must see scraps.
That being said, let's take a look at why you should clear your schedule and tune in to watch UFC 195 this weekend: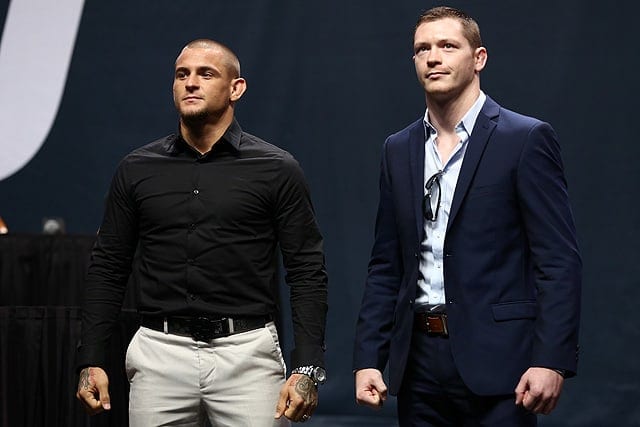 A Fight Pass Feature
A lightweight clash between former top-5-ranked featherweight Dustin "The Diamond" Poirier and rising contender "Irish" Joe Duffy was scheduled to headline a Fight Pass show this past October in Dublin, Ireland.
However, the situation flipped when Duffy was forced out of the bout on extremely short notice due to a concussion suffered in training.
Poirier was scrapped from the card all together, with his bout with Duffy being rescheduled for UFC 195.
While undoubtedly deserving of a spot on the main card, the UFC has booked this bout as the feature fight on the Fight Pass prelims, which is an absolute steal for subscribers of the online subscription service.
Since losing to current 145-pound kingpin Conor McGregor in September 2014, "The Diamond" has looked resurgent at 155-pounds. He has gone 2-0 at lightweight, scoring impressive finishes over Carlos Diego Ferreira and Yancy Medeiros.
Duffy on the other hand, who's ironically most known for being the last man to beat McGregor, has won both of his Octagon bouts also by way of finish, stopping Jake Lindsey via strikes, and submitting Ivan Jorge.
If you are indeed a Fight Pass subscriber, tuning into this scrap between two potential contenders at lightweight is a must.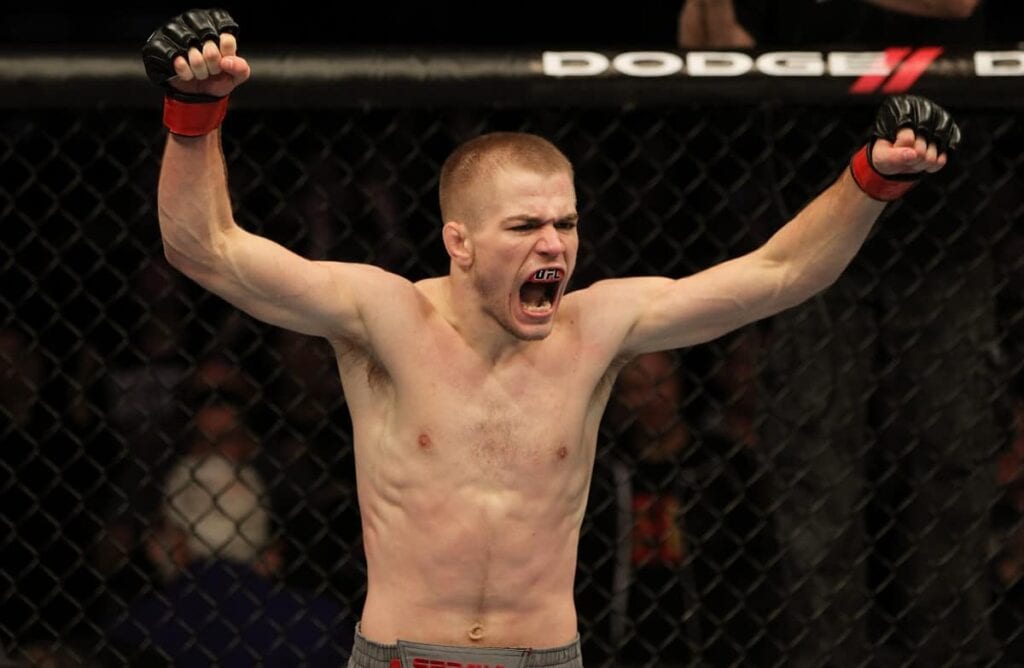 The Return of a Bantamweight Contender
Michael "Mayday" McDonald is currently ranked at No. 8 in the bantamweight division, and is only 24 years of age.
McDonald has formerly challenged for the interim 135-pound title, and has gone 5-2 in the UFC with his only losses coming at the hands of the division's elite in Renan Barao and Urijah Faber.
So what's the interesting part here? Well, "Mayday" hasn't competed in over two years, but that will change when he takes on Masanori Kanehara on the preliminary portion of UFC 195.
Despite the layoff, the young and skilled McDonald still has the potential to make some serious noise in the rather thin bantamweight division.
His opponent, Kanehara, may be rather unknown, as he's only competed twice in the UFC, going 1-1, with his most recent fight being a loss to Rani Yahya.
All eyes regarding this fight will most likely be on McDonald, and it will be intriguing to see what form he returns in. In addition to that, the 24-year-old could find himself in yet another big fight if he comes out of UFC 195 victorious.
Tune in to see what comes from the return of one of the division's bright spots.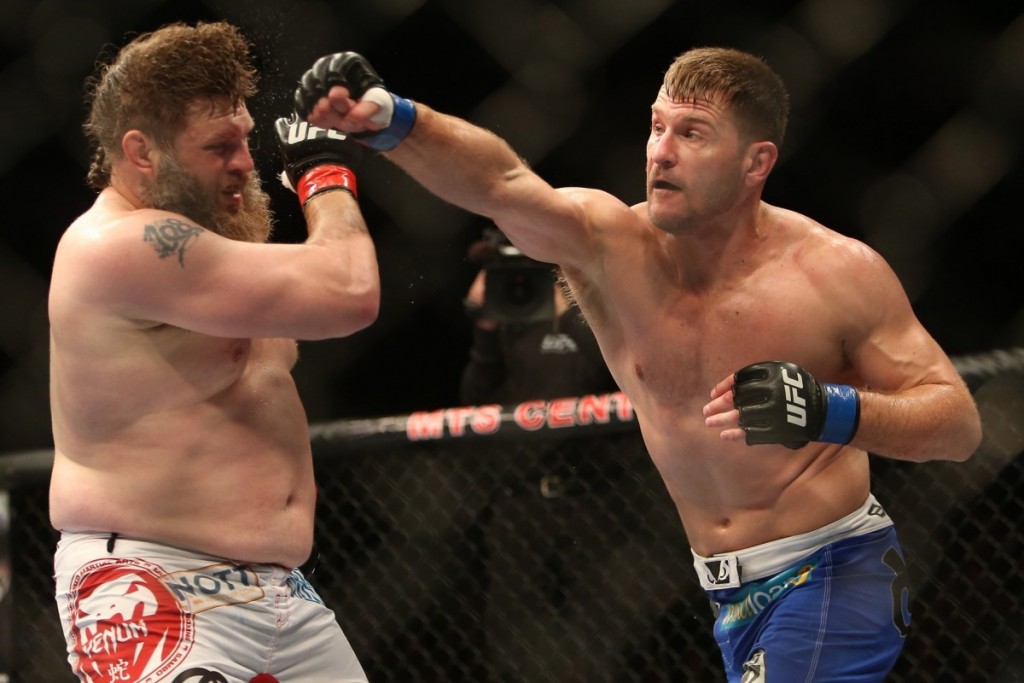 The Possible Emergence of the Next Heavyweight Title Contender
Moving onto the main card of UFC 195, we can shift our focus to the night's pivotal co-main event between heavyweight standouts Stipe Miocic and Andrei Arlovski.
Miocic, who is currently ranked at No. 3 in the division, has slowly emerged as a true threat in the heavyweight division, going 7-2 in the Octagon, and going 4-1 in his last five bouts.
In that stretch, the Croatian's only loss came in a back and forth bloody slugfest with former champion Junior Dos Santos. Despite the loss, however, Miocic's stock seemed to only grow from that contest, and he built on that with a dominant win over Mark Hunt last May.
Arlovski, a former UFC heavyweight champion, made his return to the world's largest mixed martial arts promotion in 2014, and has gone on a tear since, winning all four of his UFC bouts with two coming by way of finish.
"The Pitbull" sits at No. 4 in the rankings, and while the excitement for this fight speaks for itself, the stakes have been made higher, given the fact that the winner could very well find himself next in line for a title shot.
The title is set to be defended in February when Fabricio Werdum rematches Cain Velasquez at UFC 196, and both Miocic and Arlovski will be looking to make a statement this weekend.
War
When the cage door closes and the bell sounds off for the main event of UFC 195, the chance of fans being treated to a war of attrition, and a back and forth slug fest are very high.
Reigning 170-pound champion "Ruthless" Robbie Lawler will put his crown on the line for the second time against former WEC champion Carlos "The Natural Born Killer" Condit in a highly anticipated affair.
A matchup between two of the sport's most lethal finishers, Lawler and Condit have combined for 49 stoppage victories in over 70 professional MMA bouts.
Since returning to the UFC in 2013, the "Ruthless" one has rattled off seven victories in eight bouts with four finishes. With a more well-rounded skillset and a rejuvenated attitude, Lawler has placed himself amongst the elite in the welterweight class.
Condit has suffered lately with an injury, but he recently returned last May to dish out a beating to former title challenger Thiago Alves.
While some have said that Condit may not have deserved a title shot right now, the clash of styles between "The Natural Born Killer" and Lawler is simply mouth-watering.
Neither man is opposed to a war, neither has ever shied away from a scrap.
Each man is a fighter and a warrior in the truest since, and for that reason, UFC 195 possesses one of the most intriguing main events out there.