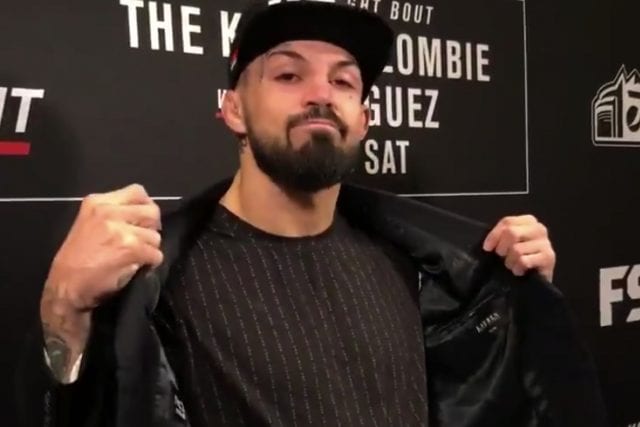 There's no shortage of bad blood between Mike Perry and Donald 'Cowboy' Cerrone heading into their co-main event showdown at this weekend's (Sat., November 10, 2018 ) UFC Fight Night 139 from Pepsi Center in Denver, Colorado.
Much of that stems from the ongoing feud between Cerrone and longtime JacksonWink coach Mike Winkeljohn. The beef initially appeared to be focused on JacksonWink's decision to side with 'Platinum' over Cerrone. Perhaps it was and is, yet it's become plain to see the discord had spilled over into much more than this one fight.
In truth, it was brewing for years. It's also resulted in quite the messy public battle. "Cowboy" claims he's squashed the bad blood with 'Platinum' for now. His spat with Winkeljohn is a different story, however. It appears Perry isn't quite as in agreement. Speaking up to Brett Okamoto today, Perry revealed the classic Conor McGregor 'F**k You' pinstripes on his shirt.
He said it was to send a message to "Cowboy":
"F*** you Cowboy.' Let's go. F*** 'Cowboy,' that's the meaning behind that. There's no love until Sunday, and I don't think he'll wanna be friends after that."
Mike Perry (@PlatinumPerry) came to media day in Denver in Conor McGregor (@TheNotoriousMMA) "f—- you" pinstripes. Why? pic.twitter.com/WvlJbHvxXv

— Brett Okamoto (@bokamotoESPN) November 8, 2018
Considering how the feud seems to be heating up before Saturday, Cerrone may not want to be friends.
Perry may not either, depending on the outcome of the fight.