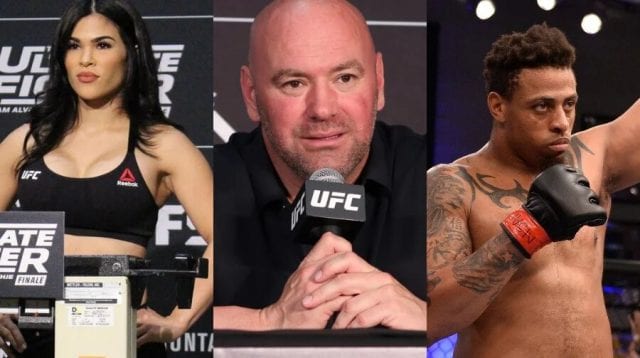 Dana White gets frustrated with the media over being questioned about the decision to put Greg Hardy and Rachael Ostovich on the same card.
Hardy is slated to make his UFC debut when he meets Allen Crowder in a heavyweight showdown. On the flip side, Ostovich is slated to fight Paige VanZant. Both of these fights will go down at the upcoming UFC on ESPN + 1 event. 
Ostovich is a recent victim of an alleged assault and domestic abuse. She is still healing up from the injuries that she suffered in the attack. Hardy, on the other hand, has a history of domestic violence in 2014.
It all started once he was arrested for allegedly assaulting a former girlfriend. As a result, he was convicted of domestic violence. After an appeal, the charges were eventually expunged from his record.
The Situation
The UFC President recently did a media scrum where he got frustrated about the situation that was captured by MMaJunkie.
"I'm not going to talk about Greg Hardy anymore," White said. "I already covered this. I'm not playing this bullshit with you guys. He's on the UFC roster. He's on the UFC roster, period, end of story."

"He's on the roster. You guys want to be sensitive about shit. Anybody can be sensitive about anything. You can make an issue about everything. The weird thing is you guys give a (expletive), but she doesn't. She doesn't care. You know what she said yesterday in her statement? 'Please stop asking me about this. I want to focus on training. I don't want this to be an issue for me. I don't know this guy. This guy has nothing to do with me. I have nothing to do with this guy. This guy's never done anything to me. This isn't an issue.'
Footage
UFC On ESPN + 1 is set to take place on Saturday, January 19, 2019 at Barclays Center in Brooklyn, New York. The main card will air on ESPN +.
White continued by stating that other people are making this an issue while making it known that Ostovich is done talking about it.

"You and a lot of other people are making this an issue. It's not an issue for her. She actually doesn't want to talk about it anymore. If you guys want to keep bringing this up and making it an issue, you can. And I get it. It probably gets hits, and it probably does well for you guys. I get it. But she doesn't want to talk about it anymore. So that's the end of the story. I'm done with it. I'm done with it. I'm done with it."