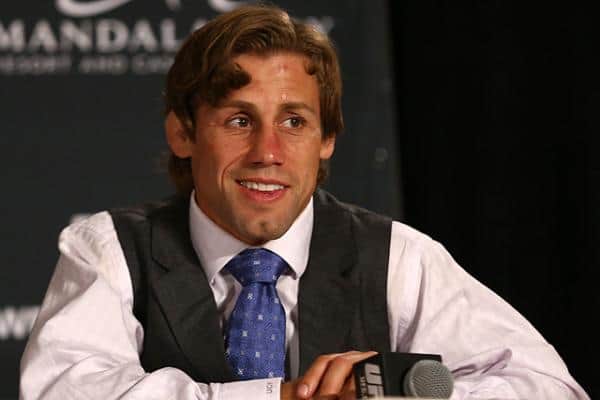 Exciting UFC bantamweight and former WEC featherweight champion Urijah Faber has been through an eventful few weeks lately. Amidst the media storm of TJ Dillashaw leaving Team Alpha Male and his ongoing beef with Duane 'Bang' Ludwig, 'The California Kid' experienced a bizarre house call like few we've ever heard of.
Faber opened the door to a drunk lady in the early hours of the morning at his California home, and the rest is messy history, as the woman proceeded to crap and puke all over the place before passing out barricaded in the bathroom. Speaking to MMAJunkie Radio, 'The California Kid's' only wish for the last few weeks is that he didn't let the boozy girl in to his home. Quite telling considering how close he and Dillashaw were, that he'd rather changed this part of his life:
"I wouldn't have opened the door and let the girl sh-t all over the floor, that whole thing caught me by surprise."
On to more serious matters, and Faber says the split between himself and 'The Viper' is unfortunate, but he really isn't going to pay it that much more attention.
"It wasn't like we had a discussion in talking about what T.J.'s next move is," Faber said. "I had heard some things through the grapevine; I actually confronted him about it, and he assured us that there's no way he's going to be leaving, and then a week-and-a-half later, he kind of let us know that he had a house leased and he's making a move and not representing the team any more."
"It's unfortunate," Faber said. "I haven't listened to the interviews, but it sounds like T.J.'s trying to turn himself into a victim like he was kicked out of our gym, and that's by no means what happened. He said, 'I'm from now on, I'm going to be doing all my training camps and be representing a new team,' and that was a choice that he made and I have to respect that."
"I don't feel sorry for the guy, the fact he wants to represent another team and get paid to do his thing, but still wants to represent our team. But it is what it is."
It's never easy when money gets in the way of a friendship, but of course an entire team full of hungry fighters at the Alpha Male gym have seemingly been dejected by 'Killashaw.' Faber has since allegedly banned Dillashaw from attending the CA based gym.
So what do we have here, A potential basis for a rivalry to promote a fight? Sure, it's a bout that's always made sense except for the fact Dillashaw and Faber trained together. Now with that out of the equation, anything is possible.
Watch this space.
If you enjoyed this story, please share it on social media!