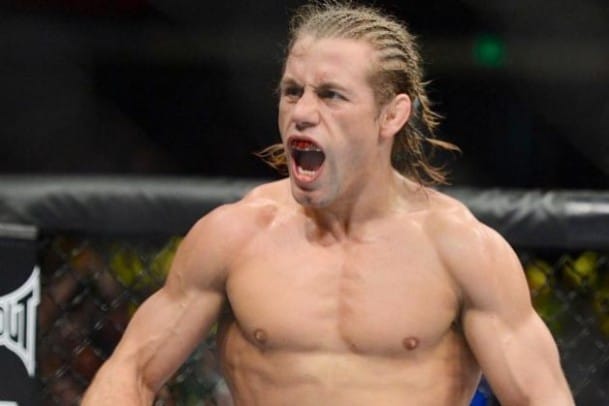 The ongoing feud between Urijah Faber and Duane 'Bang' Ludwig took a sinister turn last night, as the former WEC featherweight champion levelled some serious allegations towards his former coach. Since departing from Team Alpha Male, Ludwig has been involved with 'The California Kid' in plenty of beef, even going as far as to say that only TJ Dillashaw could ever be the champ in that camp.
It sounds as though Faber has had enough of hearing 'Bang' talk, as he went on The MMA Hour to talk about the initial phases of Ludwig joining the team in California. Check it out:
"So right off the bat (after initially looking to hire Duane), I go to a GLORY fight in Las Vegas, and one of the guys who trains out with Duane in Colorado is like, 'hey man, I just want to warn you, Duane is gangster about money.' And I was like, what do you mean? He said, 'I'm just telling you, he'll fight people over money. He gets really weird about money.' And I'm thinking, I've had never an issue with anybody about money anyways, so not a big deal, whatever."
"So [Ludwig] comes out and does two days with us. We start talking on the phone. I said, 'look, this is what we can offer.' This is the year where I fought once in 13 months, and I was the top breadwinner for this team at that point. I fought one time in 13 months, and as far as money raised from contributions to the team, it was far below what we were going to offer him as a coach.  I said, 'you know Duane, because I funded this team anyways and I always contribute more, because it's my team, I will contribute my discretionary bonuses, because sometimes they're large, to make sure that we meet that salary so we get to that point where we have enough, and also when the five-percent gets bigger, then you can have that.' He's like, 'okay, okay.' I put all of this in writing. Salaries and everything else."
"Seriously, like two days later, Duane calls me and wants more money."
So right away there were issues starting to build between Faber and 'Bang', but things only got darker from there, as 'The California Kid' drops the bomb on the whole situation:
"So then it comes to my first fight that he corners me. I have my partner Scott who's in Texas who owns Torque, and so Duane wants to wear his own shirt in my corner with a conflicting brand, Fear the Fighter, instead of Torque. "Apparently, I didn't find this out until afterward, he tries to shake down my partner for $300. He's trying to get my guy to pay him $300 to wear my shirt, this and that. I didn't know until way later when my partner told me, and it just baffled me."
"I had a girl from Alaska who said that Duane keeps on saying these comments. And first off, Duane refused to work with any females. He said, 'I just want to tell you, I'm not supportive of women's MMA. I won't be working with anybody, I won't be working with Paige (VanZant), I'm not going to be working with Nicky, I'm not going to work with Veronica. I don't believe in it.' Okay. That was an issue."
"The second thing was, he was saying racial things. And that's what I'm saying when I say, things aren't jokes just because you laughed at them, especially if they're hurtful. So I had two of the African-American guys on our team who approached me and said, 'this is getting real uncomfortable. It's funny one time, I guess, when he says stuff like, all the black guys at the end of the line. But he's saying it every single day.' Then one guy says, 'every single time I'm in the gym and I'm talking to a girl, Duane yells across the gym,hey, so-and-so, all black guys 25 feet away from the females.' He says, 'I get it, he thinks it's funny, whatever. But he keeps doing it and it's really getting on my nerves.'
"On top of that, I had my managers who Duane basically struck a little fear into. One time, my one manager was talking and Duane told him to 'shut the f— up when he's talking.' It got real awkward and silent, and my manager says, 'no one talks to me like that.' So Duane says something like, 'when I'm speaking, don't speak.' That kind of thing. I had to talk to him about that."
"So the last one was a UFC executive. So this guy was an instrumental guy in my career, someone who really helped me out. He's been a big part of the UFC and is just a good guy all-around. And Duane wanted some tickets from the guy. So he asked if he could hook him up with some tickets because he had two friends coming into town. And we later find out that the guy actually went through and tried to do it, but it didn't go through. You know, they get yay'ed or nay'ed for tickets.
"Duane sees him in the hallway. The guy is with his wife, and [Duane] gets close to him and starts saying stuff about the tickets. Then he puts his hands on the guy. And the guy trains MMA, he's not a scared guy, and he basically sticks up for himself. He's in front of his wife, etc. Then he calls me distraught, saying, 'I'm just going to let you know, if I report this, Duane will not be allowed to coach anymore. There's a real strict rule about people touching executives, and he got in my face and was trying to punk me because of some tickets, and I don't even know why. I did try to get him his tickets. I didn't even know they didn't go through.'
"So I had to take Duane aside and I had to say, 'Duane, you're on the verge of being kicked out as a coach. You can't be bullying people because you want things. If you want something and someone can't do it, it's not your opportunity to go and intimidate them.'
"This [UFC executive], I actually talked him out of turning Duane in, and talked to Duane, and Duane went and apologized to the guy. But that kind of thing right there, Duane again says he was joking. It's not a joke if you're intimidating people and making people feel uncomfortable and saying racial things, etc.
"Then a year-and-a-half later, a week before I'm about to fight Frankie Edgar — Duane had been slowly trying to break the team apart … and I get a freaking letter from a lawyer whose email was like 'asiankickboxer101,' and it's the most delusional claim basically saying he's going to sue the gym. Duane says he's going to sue our team on this: 'I was offered a contract which I did not sign, but I did my obligations and helped the team grow, and in turn I grew as well. But I am going to ask that there was $100,000 in discretionary bonuses' — which is a figment of his imagination, which is hilarious — 'that is owed to [me].'
"He feels like he is entitled to that contract, a contract which he changed because three months in we agreed to pay him more. If he wanted to enforce that contract, he would owe me probably $40,000 because he was overpaid according to that contract! On top of that, he demands five-percent, because that's what was in the contract, of discretionary bonuses which didn't exist, and he calculates that to be $25,000.
"So I'm like, are you kidding me? This is a year after he's been gone and I still haven't put him on blast for being a tyrant and a bully and everything else that he has been. Unbelievable. So obviously my lawyer just sent a message that said, 'we have declined your request. If you have any questions, please call.' And I hadn't heard anything from him, until a week ago when he puts out his fake apology where he says that I had done him wrong on the business side, which is complete bull. And the only reason he did that, this is the only time I've heard him other than a lawyer's letter, was because one of the guys called him and said, 'dude, you're trying to ruin our team, I don't want to work with you anymore.' That's why he's [come to the media]. So here we are. That's the real story."
Duane Ludwig's behaviour since departing from Alpha Male to open his own gym has most certainly been bizarre, but we had no idea whatsoever that his time with the Californian crew was this heated.
This seems like the craziest report of the feud so far and, if true, could seriously shed some bad light on Ludwig's exploits. Without waffling on too much after such a lengthy quote-fest, this stinks to high heaven of douche-baggery.